Precious metals and precious metals stocks all swung to the upside today following the Fed announcement today. In most, if not all, cases the stocks and the metals ETFs all reversed to the upside after moving lower earlier in the day, staging outside reversal days on their daily price/volume charts. Both the SPDR Gold Trust (GLD), not shown, and the iShares Silver Trust (SLV), shown below on a daily chart, flipped to the upside after finding support right above their 10-day moving averages for a pocket pivot continuation buy point in each.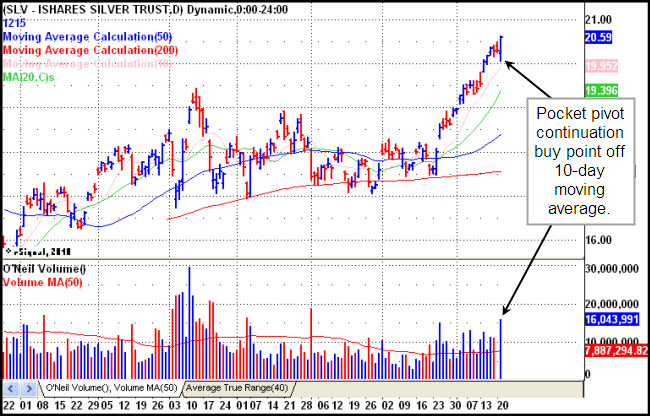 Newmont Mining (NEM), the "big stock" in the precious metals sector and the one likely favored by institutional investors, also flipped to the upside after finding support right at its 10-day moving average which also coincided with a pullback to its initial breakout point of six days ago, as we see on the daily chart below.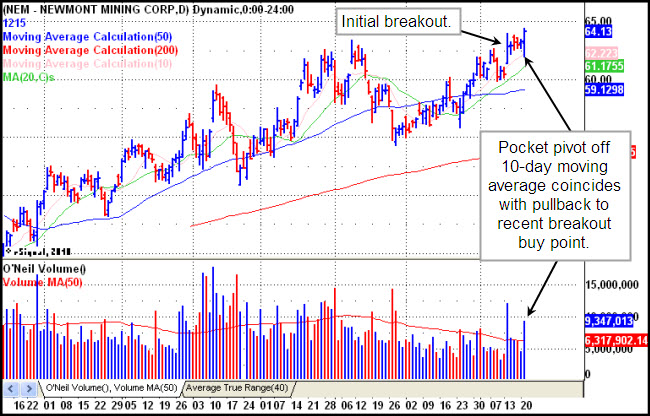 We consider NEM and Randgold Resources (GOLD) to be among the higher-quality gold stocks, and GOLD also came through with a pocket pivot type of continuation move. In this case, GOLD did not touch its 10-day moving average on the pullback this morning, instead holding well above the 10-day line in an extended position as we see in the daily chart of GOLD below. However, this can be viewed as a sign of strength in that it begrudgingly refused to pull all the way down to the 10-day moving average.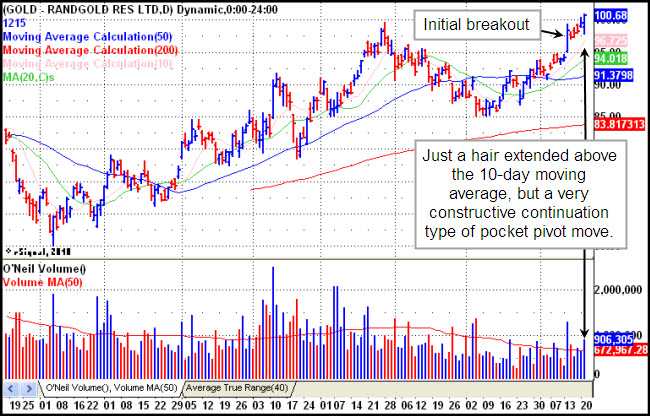 For the most part, precious metals stocks have remained somewhat choppy, generally failing to follow-up on strength with more strength. We see the potential here, however, for a sustained move in the metals and the stocks in a continued market rally phase. Precious metals stocks have had their moments in stock market history, although they have been far and few between. The real question remains: will we see another window of opportunity open in these stocks similar to the big move they had in 1987? Possibly, and so at the very least we tend to think that investors should be positioned somewhere in this area, as long as this possibility exists.