We note that some big-cap favorites of ours are looking like they are ready to join in on the fun with some pocket pivots and potential pocket pivots percolating today. We noted that railroader Norfolk Southern (NSC) flashed a pocket pivot buy point at its 10-day movinga verage today, as the daily chart below shows. Union Pacific (UNP), another railroad stock, has been acting very well following a recent breakout, and NSC may be flashing signs of its own impending breakout as UNP sets the pace. Note the heavy-volume buying along the lows in July as NSC bottomed well before the market. We would use the 50-day moving average as our guide for selling the stock, about 5% below where it closed today.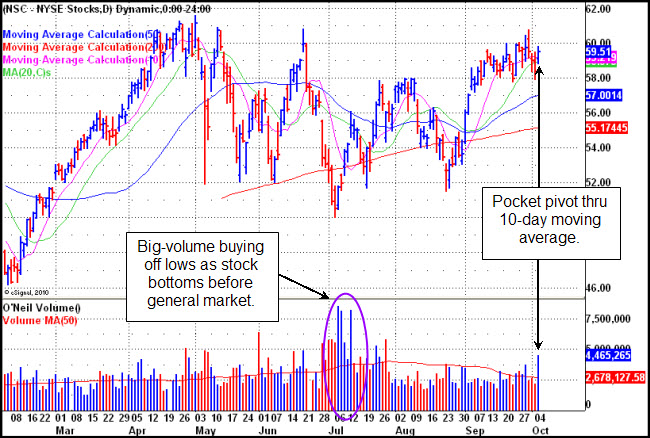 Berkshire Hathaway, Inc. (BRKB), the ultimate "hard asset stock," broke out of a cup-with-handle when the market turned in late August/early September, and has been tracking above the breakout point in the low 80's since mid-October. today the stock flashed a nice pocket pivot buy point at the 10-day moving average. We would use BRKB's 50-day moving average as our guide for selling, as this also coincides with the recent breakout from the handle at around the 81 price area in early September.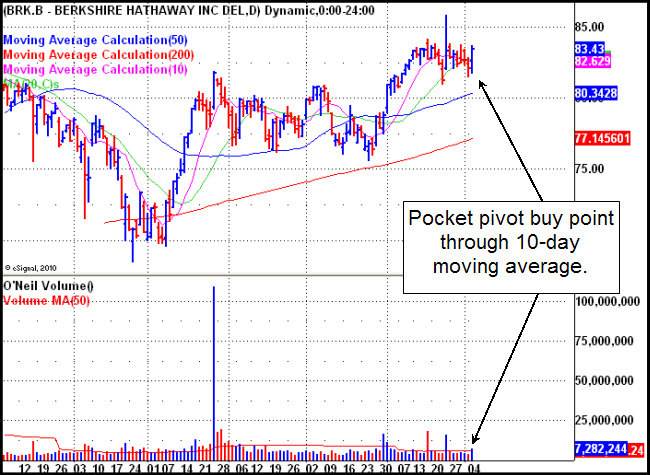 Oracle Corp. (ORCL), the grand-daddy of cloud-computing stocks, is setting up in a very nice high, tight flag formation following a buyable gap-up three weeks ago. The stock is acting well around its 10-day moving average here and looks buyable in anticipation of a pocket pivot type of breakout from this very tight little flag. Preferably, we would like to see any move to new highs from this flag formation occur on volume that exceeds the down-volume day of eight days ago as we've noted on the daily chart of ORCL below.