Over the weekend in our Focus List Review report we discussed
Celsius Holdings (CELH)
as a potential double-top and Punchbowl of Death (POD) short-sale set-ups. The stock attempted to break out from a 63%-deep cup, what we refer to as a punchbowl, after what is technically a one-week handle on the weekly but a short flag on the daily chart. That breakout has failed, and we indicated that
CELH
could be shorted on a breach of the prior 110.22 left-side peak of the large punchbowl formation which is then used as a selling guide. Below is the weekly chart shown in that specific report.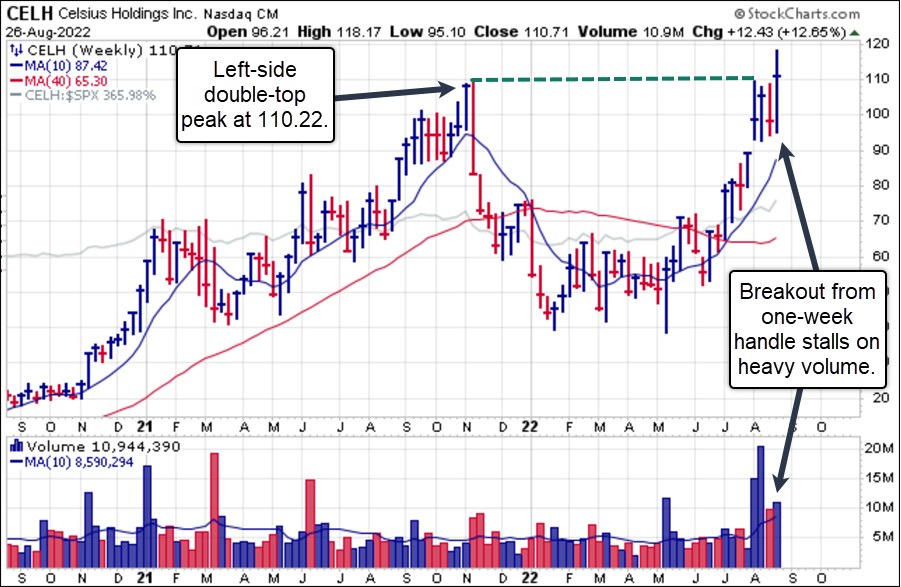 Today
CELH
gapped below the 110.22 left-side punchbowl peak and is currently trading just below its 10-day moving average as we head into the close. This would trigger an aggressive secondary short-sale entry at the 10-day line which now becomes a covering guide for any portion of a short position taken at that point. We would prefer that this be an add point to a position taken closer to the 110.22 level. We would now watch for any break below the 20-dema confirmation of a possible Punchbowl of Death short-sale set-up as discussed in our books,
Trade Like an O'Neil Disciples (Wiley 2010)
and
Short-Selling with the O'Ne3il Disciples" (Wiley 2015)
.