Our best short-sale idea since this latest bear leg to the downside began has been our first, energy drink hype-stock
Celsius Holdings (CELH)
. It first triggered as a DTSS after breaching the 110.22 left-side peak of its current punchbowl formation (see prior Focus List Review reports for further details) and then as a Punchbowl of Death (POD) last Thursday when it broke below the 20-dema. It now appears headed for a test of the 50-day line which may figure in as a short-term cover point after which we would watch for a) a bounce back up into the 20-dema as a short re-entry point or b) a break below the 50-dma which would trigger a fresh short-sale entry at the line which then becomes your covering guide.
Lithium producer
Albemarle (ALB)
closed today just 73 cents below its 20-dema so is in a short-sale entry position using the 20-day line as a covering guide. Keep in mind that depending on market context ALB could rally as far as the 10-dma. If that happens then look for the 10-dma to serve as potential shortable resistance. For now the 20-dema serves as shortable resistance pending further evidence to the contrary.

The six names below were shown as examples of the types of right-side formations we were seeing in a number of stocks including these six in our weekend Focus List Review. In each case you are watching for a break below the 10-dma or 20-dema or, if they are trading below one or the other or both of these moving averages, any weak rally back up into the 10-dma or 20-dema as potential short-sale entries. If one surveys any list of stocks in this market currently these patterns are very typical for many so the basic concepts and techniques can be applied to any.
BJ's Wholesale Club (BJ)
remains above 10-dma support, so has yet to trigger anything, although it dipped slightly below its 10-dma today before recovering. If one tested this and was immediately stopped out, it can still be watched for future entry triggers. Short-selling requires persistence.
Chesapeake Energy (CHK)
triggered a short-sale entry at its 20-dema and closed below the line.
California Resource Corp. (CRC)
triggered a short-sale entry at its 20-dema last Friday and continued lower today.
Corteva (CTVA)
rallied up into its 10-dma which offered a short-sale entry and the stock reversed back below its 20-dema to trigger a second short-sale entry which remains in force after CTVA closed 34 cents below the 20-dema which now serves as a covering guide.
First Solar (FSLR)
is holding tight although it did approach the 123.13 left-side peak of its current punchbowl formation. We continue to watch for any break below 123.13 as a DTSS entry trigger using the 123.12 as a covering guide.
ON Semiconductor (ON)
triggered short-sale entries at the 10-dma and 20-dema last Friday and is just continuing lower. Semiconductors in general are quite extended to the downside, and ON can be watched for weak rallies back up into the 20-dema as potential short-sale entries from here.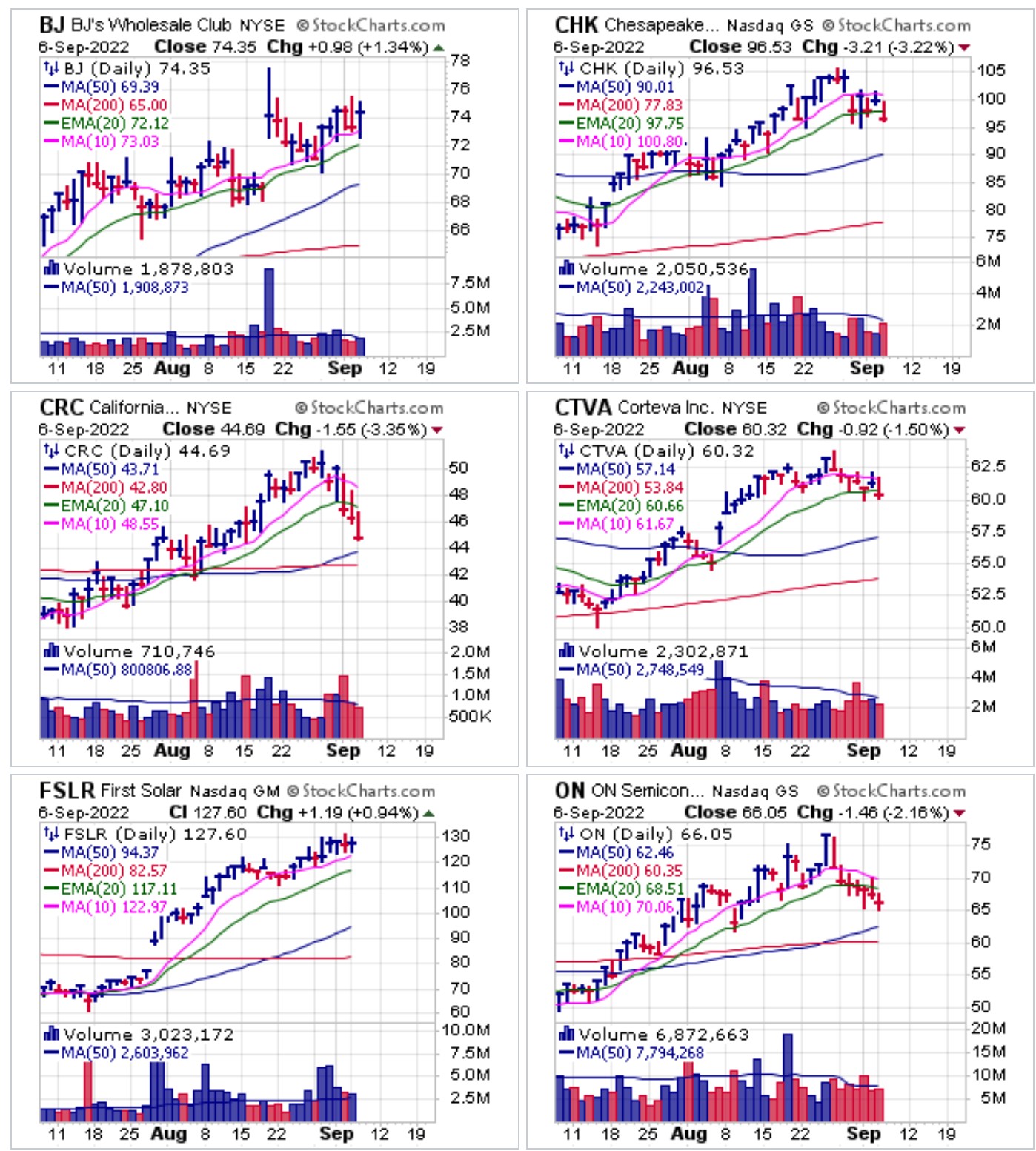 As previously stated, right-side failure types of set-ups are to be found among many individual stocks and groups. For example, the fertilizers, consisting of
CF Industries (CF)
,
Mosaic (MOS)
, and
Nutrien (NTR)
all triggered short-sale entries on reversals at their 20-demas today which now serve as covering guides. Note the extreme correlation between the three fertz, not uncommon for stocks in the same group and/or thematic classification.
We can also see that
CF Industries (CF)
was a double-top short-sale (DTSS) entry last Tuesday when it dropped below the left-side double-top peak at 112.58. A DTSS is simply a corollary to a late-stage failed-base (LSFB) set-up where the base-failure occurs from the left-side peak of a big cup, or double-top, formation.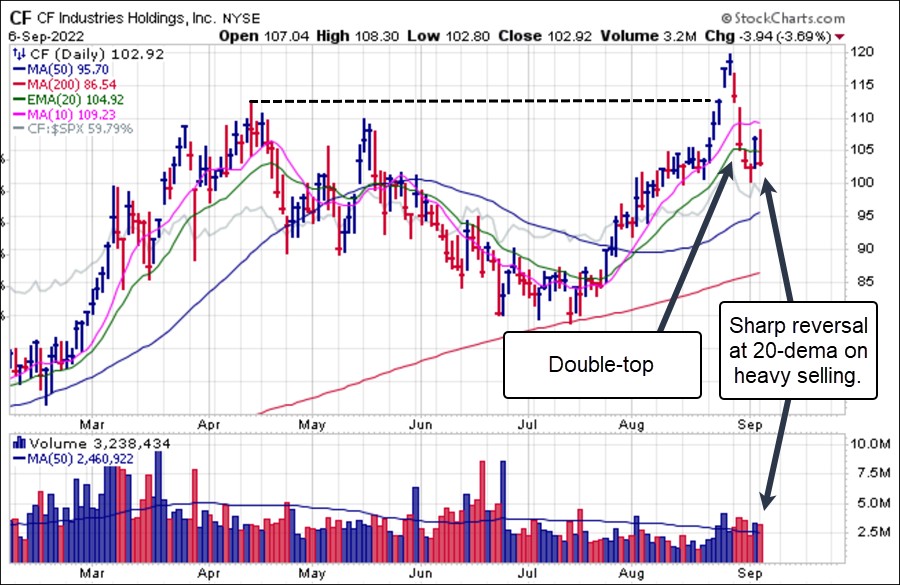 One question came in regarding how one handles short-sale targets if they move back and forth along an entry point, whether at a moving average or a specific price level (as in a DTSS set-up). We have discussed using the trigger point as a covering guide while adding 1-3% to account for upside porosity depending on one's personal risk-preferences. Those who wish to take a more active approach can test entries near the moving average or price level trigger point and stop out immediately with the idea of coming right back in if the stock fails again. This is not a perfect process, however, and one can be stopped out either way, only to see the stock head back to the downside. The bottom line is that if one is going to act on short-sale entry triggers one must be prepared to act in a flexible, opportunistic, and persistent manner as it may take more than one entry attempt before success becomes apparent.