We have discussed Tesla Motors (TSLA) as a short-sale in several previous Pre-Market Pulse reports that are issued every day before the open. Initially, as the chart below shows, we discussed the stock as shortable around the 250 level back in late September/early October. In our November 4th pre-market pulse we discussed the post-earnings gap-up in TSLA as follows: "Tesla Motors (TSLA) illustrates why we do not advocate playing "earnings roulette" by holding stocks, long or short, through earnings. In the case of TSLA, members who might have been holding a short position from the 50-day moving average where we last recommended the stock as a short on October 1st, had some cushion to sit through earnings. This morning, the stock is set to gap up above the 220 level, which is still well below the 200-day moving average in the 230 price area. A continued rally into the 200-day line could set up a new short-sale entry point for the stock, and should be watched for."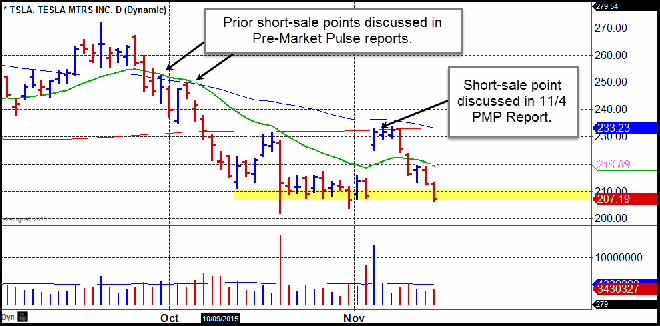 TSLA did find resistance right at the 200-day moving average, where it was again shortable. Now, on the weekly chart, we can see the stock appears poised to make a move towards our near-term downside price target for the stock at $180. Notice that this would undercut a couple of major lows in the pattern extending all the way back to September of 2014. Given that the stock is approaching its prior late October lows as highlighted on the daily chart, above, any bounce up to the 20-day line, currently at 219.47, would present a highly optimal short-sale point from here. For now, we would also suggest using the 20-day line as a trailing stop for any short position taken around the 200-day line last week or early this week.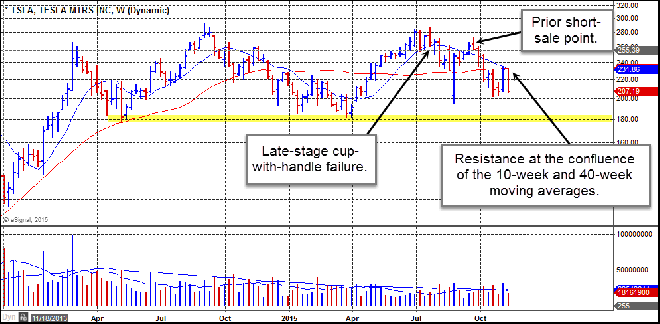 Members will note that we do not send out that many SSS reports, choosing instead to be selective and focus on "big stock" shorts with a thematic basis as institutional money that has piled into the stock on the way up now reverses course. When a stock falls, it often falls fast, so focusing on the best set-ups is key. These are often become your best candidates on the short side. So far TSLA has represented a strong thematic short-sale set-up on which we have been quite correct. Gil Morales goes into far more detail regarding other types of tactical or short-term short-sale set-ups in our live webinar service for those seeking more guidance on an active approach to the short side.