Special Report on Bitcoin ETN GBTC
Dr. Chris Kacher, Managing Director, MoKa Investors, LLC
Bitcoin ETN GBTC is having a pocket pivot. It also had two prior 5-day pocket pivots. The GBTC daily chart is best looked at on a log plot since its moves have been massive. Log plots remove the linear distortions on stocks/ETFs that make huge moves so provide a more accurate assessment of the price action.
Keep in mind bitcoin is highly volatile so understand the risks before investing any money. Bitcoin has been known to correct as much as 94% (it's done this twice since 2010) but still has managed to be worth over $6000 today, up from 0.001 in 2009, or a 6-million fold gain. Nevertheless, don't let the mind-boggling large numbers lull you into a sense of greed. Bitcoin is more volatile than any stocks so always know your exit points!
That said, we may provide members with some guidance in terms of how GBTC trades as it tends to overshoot as it did in May and in August. One can sell into such climax moves.
The beating heart of bitcoin is the blockchain which removes trust and thus the middle man from the equation. Over the years, I've made some "crackpot" predictions on the price of bitcoin, starting in early 2013 when it was trading around $10. Bitcoin $10,000.
But then it hit $1000 at the end of 2013 so I revised my prediction: $100,000.
Now with bitcoin above $6000, I've revised once again to $1,000,000 by 2022 based on key fundamental points. Bitcoin is decentralized and exponential. I believe it will in time prove itself a superior store of value over gold and various fiat currencies among numerous other functions that provide massive utility and therefore value. Keep in mind that the average lifetime of fiat is 40 years. Governments inflate themselves away.
Bitcoin cannot be inflated away. There will never be more than 21 million bitcoin.
BITCOIN $1,000,000 BY 2022 ?
My rationale is based on price history and fundamentals.
Price history:
• 2009 $0.001 to June 2012 $5 = 5000-fold gain in 3 years
• June 2012 $5 to Sept 2017 $5000 = 1000-fold gain in 5 ¼ years
• $1,000,000 = $16 trillion = 166-fold gain in 5 years from $6000 seems achievable
Here is a log plot of the price of bitcoin since 2012: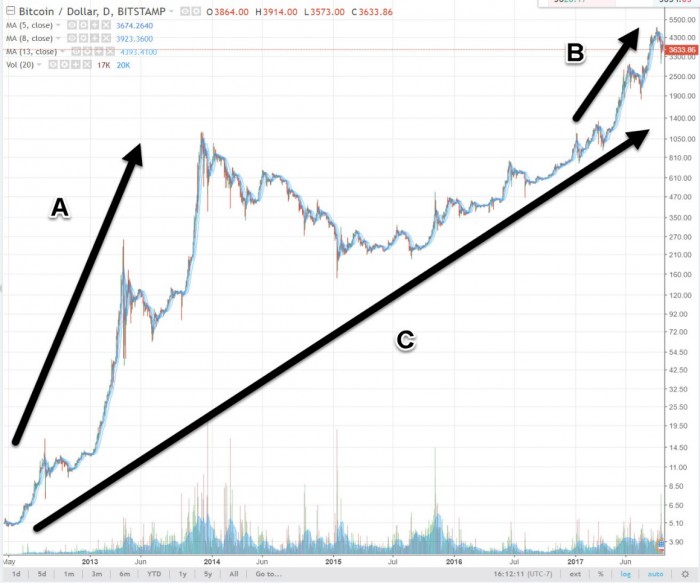 Some fundamentals: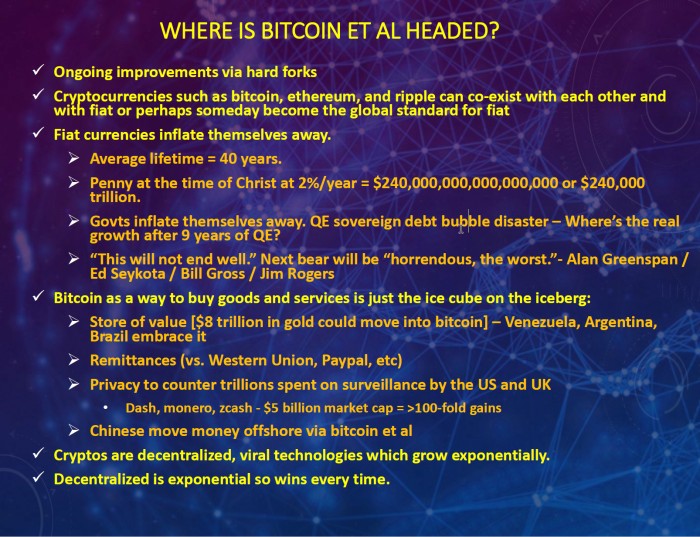 But why so much negative press, especially in its early days?
Jamie Dimon of JPMorgan and hundreds of other CEOs have called bitcoin:
• A fraud
• Used mostly for illegal activities
• No concrete value (My heated argument with Nouriel Roubini)
• A Ponzi scheme
I found it monumentally hypocritical for Dimon to call bitcoin a fraud when his company was fined billions for creating fraudulent mortgage-backed securities that led to the 2008 financial collapse. If Frank Zappa were alive today, he may agree that while he once said stupidity is as common as hydrogen, hypocrisy would give it a run for its money.
Indeed, since 2010, Bitcoin has "died" 175 times:
https://99bitcoins.com/bitcoin-obituaries/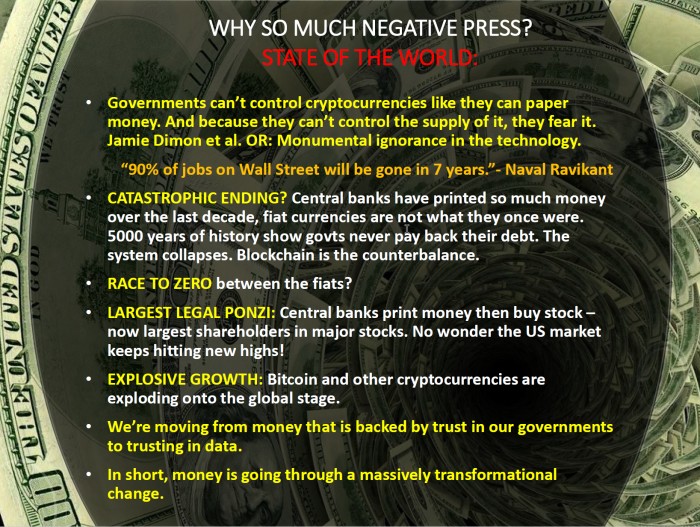 Sidebar: Back in the day, I would ask people if they had been long term holders of bitcoin. I never found one person who held simply because of all the bad press, plus they wanted to take their massive profits. Anyone who bought when it was pennies on the dollar naturally took huge profits when it zoomed to $1 then to $10. But of course, we know that was just the beginning.
And on the basis of the cryptospace which is massively transformational as a whole, I predict it will reach a total valuation of $32 trillion also by 2022: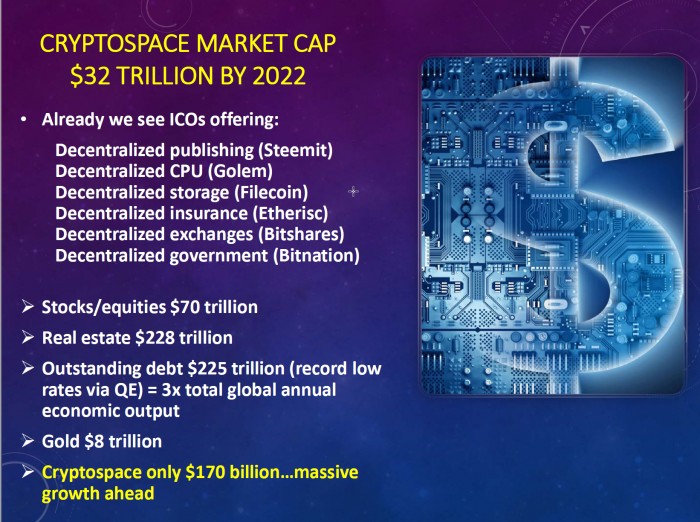 Meanwhile, bubble, bubble toil and trouble... with the stock market. Below is a chart showing how central bank balance sheets peaked earlier this year, and since, have been shrinking, first by the Federal Reserve, then by other CBs such as the ECB starting in January 2018: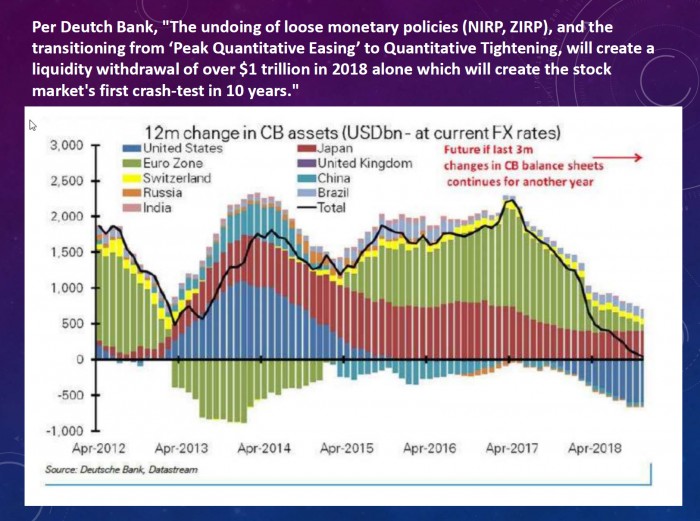 A plot I sent in a prior report showed the high correlation between the S&P 500 and the US monetary base since QE began in 2009.
With massive disruptions ahead there will be massive opportunities ahead. Whether bitcoin can remain in pole position is of course a point of contention as other competing cryptotechnologies emerge. There are close to 900 of these cryptocurrencies that now traded. And as with the dot.coms, most will go to zero as their business models are weak. But bitcoin has the network effect because of its first mover advantage. And it provides a truly unique alternative to fiat currencies as the global sovereign debt bubble gets closer to bursting.