Apple (AAPL) undercut the November low a bit more decisively today, trading under the 500 level for a period of time in pre-open trade this morning. The stock closed at the peak of its daily range on above-average volume, and so one must consider whether the short-term downside in the stock is mostly wrung out of the stock, and it must now spend a period of time building another right shoulder, at the very least. This would make sense given the technical position of the stock and the shift in sentiment as reflected by a number of analysts downgrading their price targets for the stock, with the lowest coming in at 520. We can congratulate that analyst for that one, since the stock is already trading above his price target after-hours today.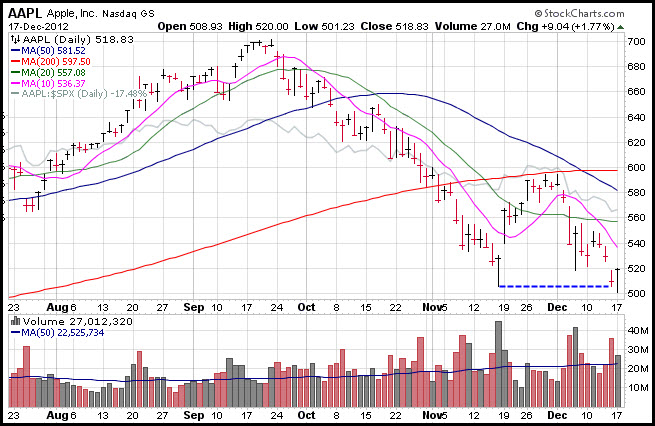 The daily chart above shows the obvious undercut and reversal that occurred today, and common sense would tell us that the stock is certainly in a position to rally, even if the rally is nothing more than a reaction type of move that helps to build another right shoulder in the overall pattern. If one insists on holding a longer-term short position, then one should prepare for the possiblity of holding through a rally that could conceivably carry to the 50-day moving average, currently running just above the 580 price level. While each trader must manage their position in AAPL according to their own plan and risk preferences, we would emphasize that our initial downside price targets have been hit and we see no reason to be pigs at this point. In fact, we are long AAPL shares based on the closiing action and are looking for a tradeable bounce. However, we only mention this for purposes of fair disclosure, as we intend to operate with a very tight stop and could be out of the trade very quickly and back on the short side - but that's our problem, and if you choose to make it your problem then that is your decision as this is not intended as a recommendation to buy AAPL. Caveat emptor!
Meanwhile Google (GOOG) was up another 1.77%, clearing the high of this past Thursday, so that's enough to stop us out of that short-sale probe. Priceline.com (PCLN) remains under its 50-day moving average and so remains in a shortable position on rallies into the 50-day line, and it is currently well within 1% of the 50-day moving average. Those who want to play "Quickdraw McGraw" with their stops on this one would simply use the 50-day line as a very tight and quick stop.