The NASDAQ Composite Index, shown below on a daily chart, undercut its mid-March low of 2603, setting up today's intra-day rally going into the close. The reversal was not all that convincing as the index failed to get into the green and closed beneath its 200-day moving average. The S&P 500, however, reversed and bounced off of its own 200-day moving average today, and this sets up the possibility of a short rally in the general market indexes. How far any bounce from here carries is another question, so members should also keep an eye on the position of their short positions. Today's undercut of the 2603 level in the NASDAQ would have been a reason to take at least partial profits in short positions, but it is also possible to stay with short positions as long their upside stops are not hit with the idea of sitting through any bounce and looking for the market to eventually make lower lows. Keep in mind that we have come down sharply for 12 days, and so the odds of a bounce increase as the market moves lower. We might even welcome a bounce here as an opportunity to add or re-short short-sale target stocks. What was interesting to see today was how quickly the NASDAQ broke and undercut that 2603 low as we were expecting it to perhaps take another day to do so. The situation remains fluid.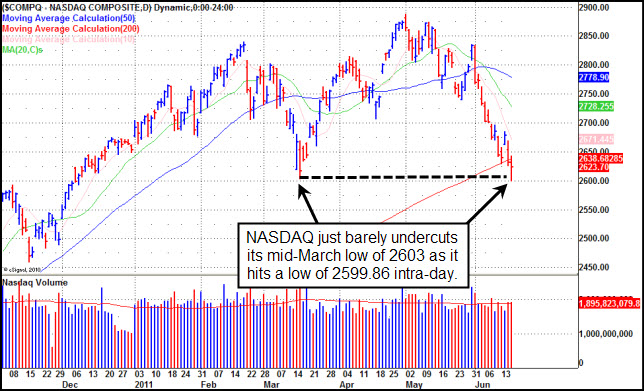 AAPL mimicked the market today as it undercut its low of 320.16 from mid-April and turned and rallied back up into its 200-dma while still closing below it. AAPL could bounce back up through the 200-dma or it might now find resistance at the 200-dma. There is always potential for AAPL to bounce back up into its 50-day moving average up at 339.33, but that would likely depend on how far the general market is able to rally on any bounce, if at all. For now, the area around the 200-dma is considered resistance until the stock proves otherwise. In reality, AAPL has only come down about 6% or so from the 50-day moving average where we first sent out a Short-Sale Set-Up alert on the stock, so it remains in play.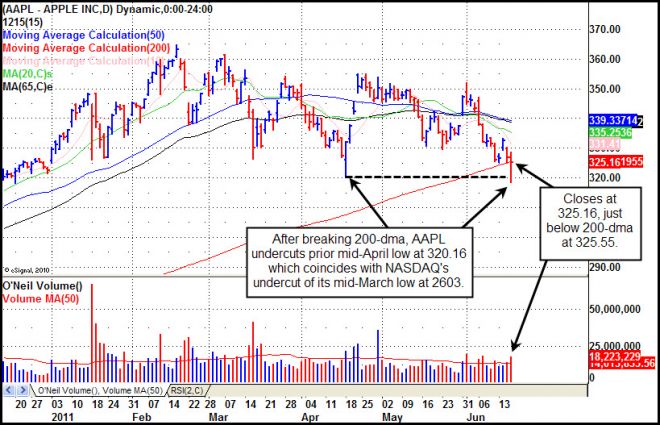 Netapp, Inc. (NTAP) ran right into its 50-day moving average this morning before turning tail and closing down sharply on the day. Interestingly, NTAP is an example of two potential topping formations in one: a head and shoulders and a late-stage failed cup-with-handle breakout, also known as an LSFB (late-stage failed-base, as we've outlined in the chart below. The initial downside target is the 46 low where the stock might find temporary support. If the market rallies for a couple of days or more, watch how NTAP handles resistance at the 50-dma.