Current Focus List
There are currently no names on the Focus List.

The VoSI Focus List is a compilation and reference list of stocks for which Pocket Pivot or Buyable Gap-Up Reports have been issued and which have been deemed suitable for inclusion on the Focus List. Not all stocks for which a Pocket Pivot or Buyable Gap-Up report has been issued will necessarily be added to the list. It is not intended as a "buy list" or a list of immediately actionable recommendations. Stocks on the list may or may not be in proper buy positions, and investors should exercise discretion and proper judgement in determining when and where stocks on the Focus List can be purchased. The following notes are intended to assist in this process. Please note that members can enlarge the Focus List image by clicking on the body of the email and then holding the Control Key while pressing the "+" key until it is large enough to read.
General Observations:
The market remains in a downtrend, with the S&P 500 Index and the Dow Jones Industrials Index posting their lowest closing lows since the October peak. There is no reason to act aggressively, if at all, on the long side of this market as long as a clear downtrend remains in force.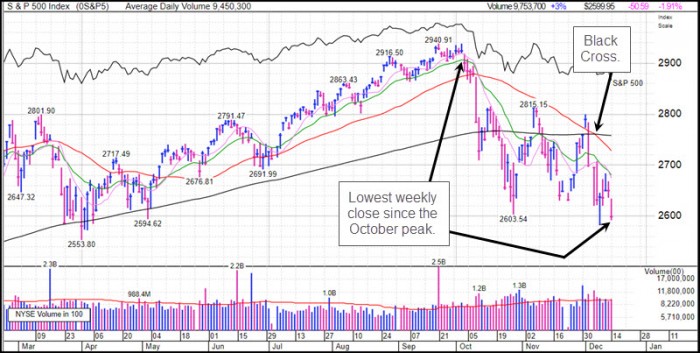 The "risk-on" area of the market, small-cap names, continues to take a beating. The small-cap Russell 2000 Index posted a lower low on Friday as it continues to plummet after peaking in late August, a month ahead of the peak seen in the other major market indexes. At that point, its action served as a leading indicator for the rest of the market, bringing up the possibility that its lead in posting lower lows is indicating the same for the other major market indexes as we move into the New Year.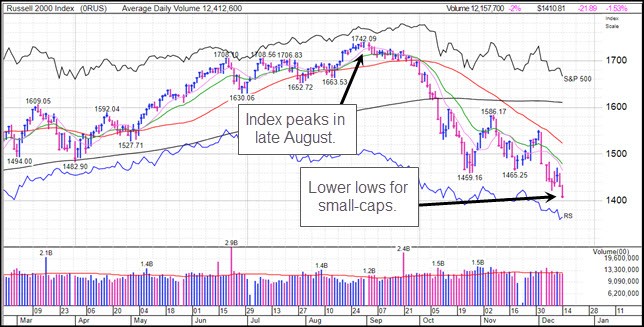 As Gil discussed in Friday's live webinar, a number of leading and formerly leading stocks are hanging near their prior highs, some in what may be the peaks of right shoulders in head and shoulders formation.
Zscaler (ZS)
remains on our target list as it rallies up to higher highs, stalling on Friday on heavy volume. We would either look to short the stock here, using our five-minute 620 intraday chart as a guide for doing so as well as for limiting upside risk, or wait for a clean reach of the 20-dema as a short-sale trigger. In many cases, the short side of the market has required persistence and an opportunistic approach as one "bobs and weaves" with a stock until it finally breaks.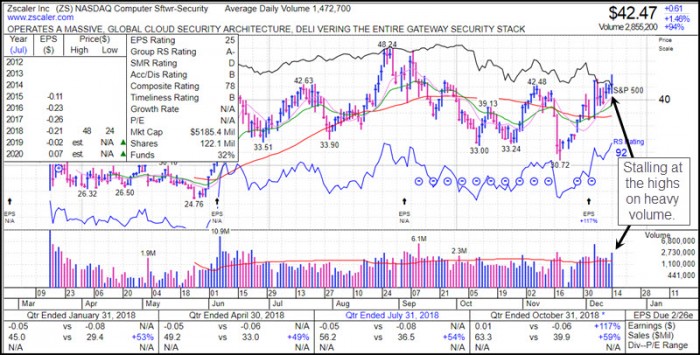 Shopify (SHOP)
has also remained a short-sale target and is a good example of how one "bobs and weaves" with a short-sale target in this market. One has to campaign the stock by shorting into rallies and then covering on sharp breaks to the downside. Thus, it has required a flexible approach. The stock gapped down from the mid-point peak of a double-bottom formation on Friday after pricing a 2.6 million share secondary offering at 154 on Thursday evening. As you can see from the weekly chart the stock has a lot of room to drop, based on Friday's late-stage base-failure. We would certainly view any rallies up to the 50-dma or 200-dma as short-sale opportunities from here.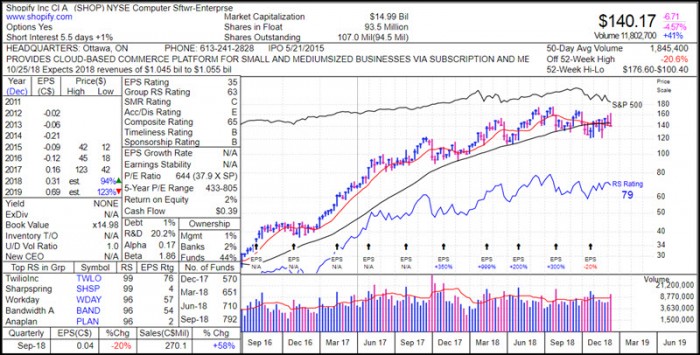 The
Market Direction Model (MDM)
remains on a cash signal.