Current Focus List
There are currently no names on the Focus List

The VoSI Focus List is a compilation and reference list of stocks for which Pocket Pivot or Buyable Gap-Up Reports have been issued and which have been deemed suitable for inclusion on the Focus List. Not all stocks for which a Pocket Pivot or Buyable Gap-Up report has been issued will necessarily be added to the list. It is not intended as a "buy list" or a list of immediately actionable recommendations. Stocks on the list may or may not be in proper buy positions, and investors should exercise discretion and proper judgement in determining when and where stocks on the Focus List can be purchased. The following notes are intended to assist in this process. Please note that members can enlarge the Focus List image by clicking on the body of the email and then holding the Control Key while pressing the "+" key until it is large enough to read.
General Observations:
The NASDAQ Composite Index finally pushed above its 200-dma on Friday, joining the S&P 500 and Dow Jones Industrials Index. The 200-dma for all of the Big Three major market indexes serves as a reference for near-term support. Both the S&P 500 and the Dow have tested the 200-dma over the past week or so, and so far support at this key moving average has held. With the NASDAQ just recently clearing the 200-dma, the same now applies to this major market index.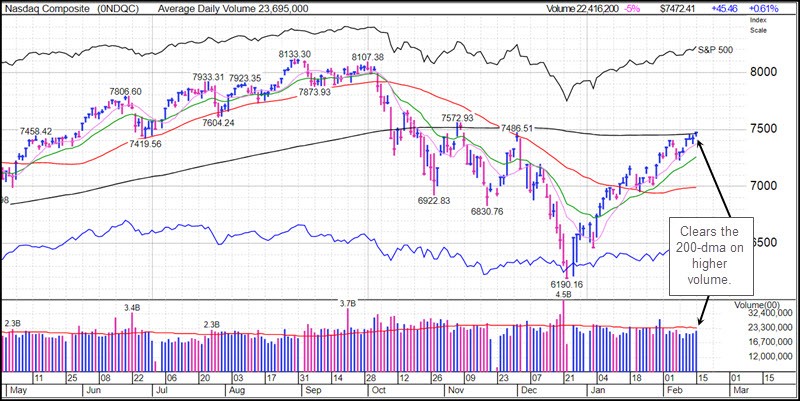 While many of the stock that led the market off the Christmas Eve lows are extended on the upside, the market uptrend remains intact. The
Market Direction Model (MDM)
remains on a buy signal.
While there are currently no names on the Focus List, below is a list of stocks that have been reported on since the market bottom in late December, sorted by Earnings Due Date. These names have all performed well, with some breaking out recently after we reported on them much lower in their patterns.

Five9 (FIVN)
is expected to report Tuesday after the close, while
Dexcom (DXCM)
and
Roku (ROKU)
are expected to report on Thursday after the close. We sent reports out on all three of these stocks early in January, and all three have advanced significantly higher since then.
Advanced Micro Devices (AMD)
posted a five-day pocket pivot at its 10-dma on Friday. We like to see a cluster of five-day pocket pivots in lieu of a single ten-day pocket pivot. So far, however, the stock is holding along near-term support at its 10-dma and 20-dema.
Exelixis (EXEL)
gapped up after earnings on Wednesday and stalled. The gap-up move failed as the stock pulled down and filled the gap, but it found support at its 50-dma. Thus Wednesday's move qualifies as a pocket pivot instead of a buyable gap-up. The company is showing strong earnings and sales growth, and should be watched for further tests of the 50-dma as potentially lower-risk entries.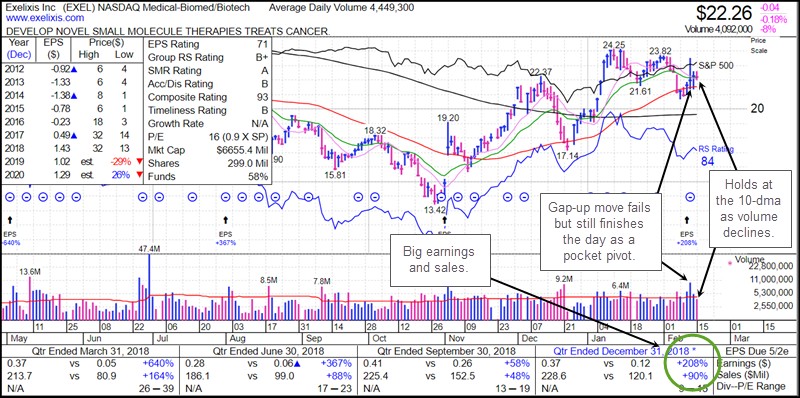 Pinduoduo (PDD)
looks to be absorbing the 55-million additional shares that were dropped into the market two Fridays ago at a pricing of $25 a share. The stock is stalling and churning along its 20-dema, but closed above the line on Friday. Tests of the 50-dma would offer the more opportunistic entries should they occur.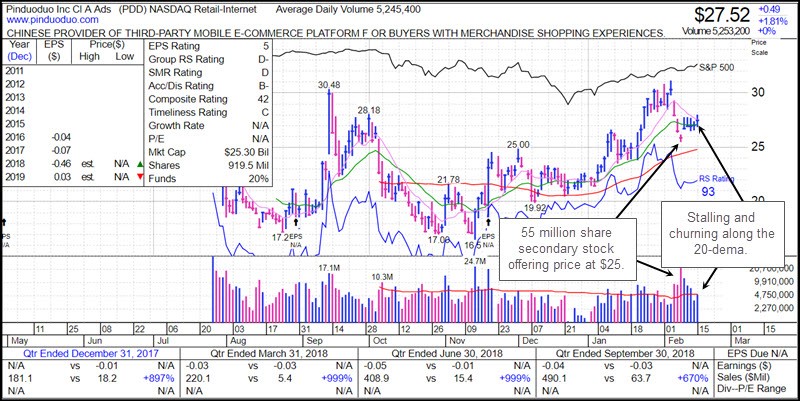 We reported on
Viavi Solutions (VIAV)
two Fridays ago after its buyable gap-up move and the subsequent lower-volume retest of the 11.70 BGU low. The stock held well there and has since rallied about 10% higher as it flirts with its prior 12.82 high from early October. Pullbacks closer to the 12.30 level would offer lower-risk entries from here, although the best entry occurred on the day we first reported on the stock down around 11.80.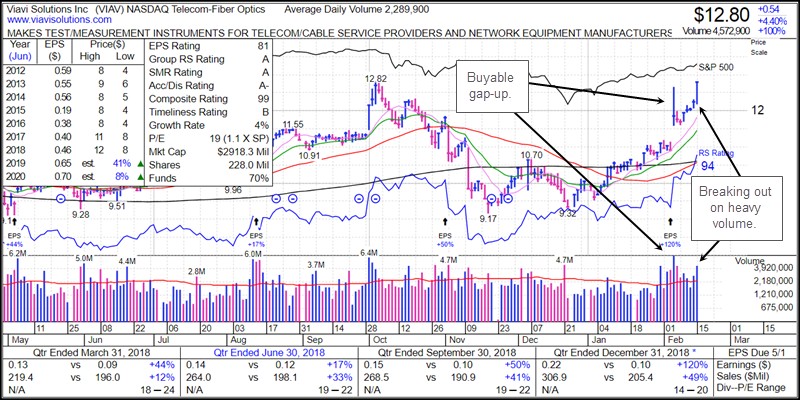 Yeti Holdings (YETI)
, which we first reported on in early January after its initial buyable gap-up that subsequently failed, posted another high-volume BGU on Thursday after reporting earnings that morning. The stock set a low at 19.86 early in the day and then rallied higher from there. It is now extended pending its next consolidation and potentially lower-risk entry opportunity.