Current Focus List
There are currently no names on the Focus List

The VoSI Focus List is a compilation and reference list of stocks for which Pocket Pivot or Buyable Gap-Up Reports have been issued and which have been deemed suitable for inclusion on the Focus List. Not all stocks for which a Pocket Pivot or Buyable Gap-Up report has been issued will necessarily be added to the list. It is not intended as a "buy list" or a list of immediately actionable recommendations. Stocks on the list may or may not be in proper buy positions, and investors should exercise discretion and proper judgement in determining when and where stocks on the Focus List can be purchased. The following notes are intended to assist in this process. Please note that members can enlarge the Focus List image by clicking on the body of the email and then holding the Control Key while pressing the "+" key until it is large enough to read.
General Observations:
The general market rally continues, with the N
ASDAQ Composite Index
moving further above its 50-dma. Also of note is the small-cap
Russell 2000 Index
which also cleared its 200-dma on Friday, the first time since the late December market lows.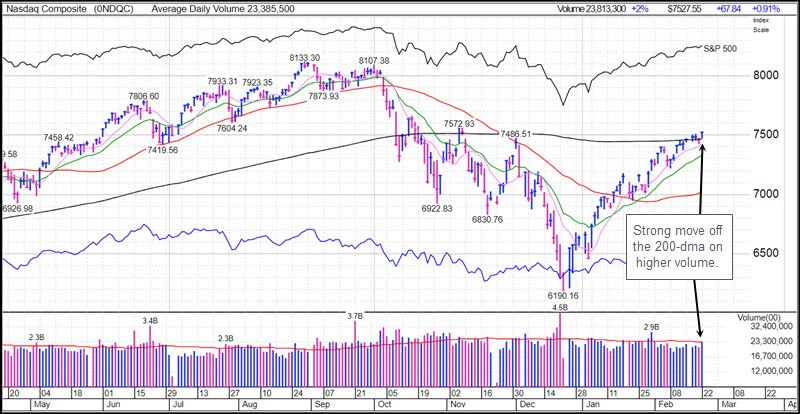 The
Market Direction Model (MDM)
remains on a buy signal.
Notable Action among Recently Reported Stocks:
Advanced Micro Devices (AMD)
is moving tight sideways in a small cup-with-handle following its post-earnings BGU. This puts in a buyable position using the 10-dma as a selling guide.
Chipotle Mexican Grill (CMG)
has met up with its 10-dma which puts it in a buyable position using the 10-dma as a selling guide.
CyberArk Software (CYBR)
successfully tested the $100 Century Mark again on Thursday and has since rallied higher. We reported on the stock after its BGU of two Fridays ago.
Dexcom (DXCM)
posted a big-volume outside reversal to the upside on Friday after reporting earnings Thursday after the close. We previously reported on the stock as a buyable gap-up back in early June and it moved steadily higher from there. Friday's move, while ugly, took the stock right down to its 50-dma. We've seen many stocks break down like this only to find support at a key moving average like the 50-dma and then turn and proceed higher. We give DXCM at least a 50/50 chance of doing this as well, so opportunistic buyers could test this on the long side here while using the 50-dma as a very tight selling guide. By the way, 50/50 works as long as one knows potential upside is typically 3:1 or better on the set ups we trade. So one can be wrong 3 times to every time they are right and still come out ahead.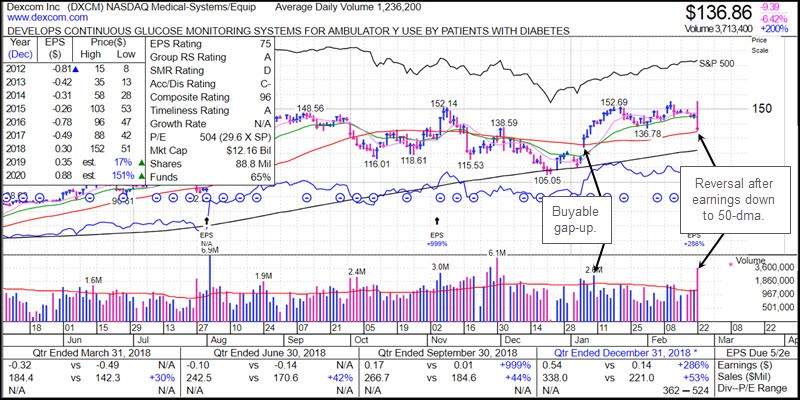 Exelexis (EXEL)
sold off after gapping up on its earnings report and has since drifted below its 50-dma. Note that it undercut the prior 20.73 low of February 8th and rallied back above the low. This can be considered an undercut & rally long entry set-up using the 20.73 low as a tight selling guide. EXEL has a tendency to rally from pullbacks, as the chart since mid-December shows, and this at least provides a very low-risk spot at which to test the stock on the long side if one so chooses.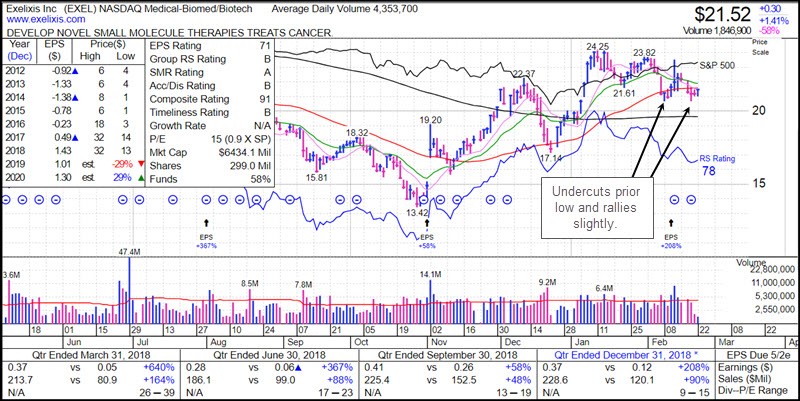 Five9 (FIVN)
reported earnings Tuesday after the close and gapped up on Wednesday but then reversed to close down in an ugly outside reversal. However, note that the stock held support at the 20-dema and the top of the prior base. This may put it in a lower-risk entry position using the 20-dema as a tight selling guide.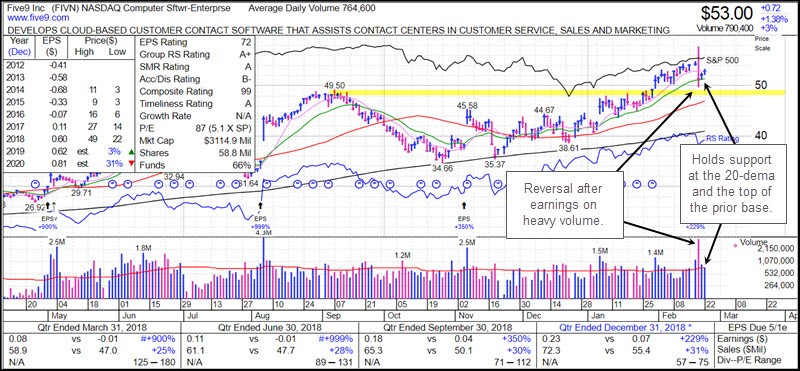 Mimecast (MIME)
posted a buyable gap-up nearly two weeks ago and has since drifted lower to test the 47.25 intraday low of the BGU day's price range. Thus, the stock remains within buying range of the BGU using the 47.25 intraday low as a tight selling guide.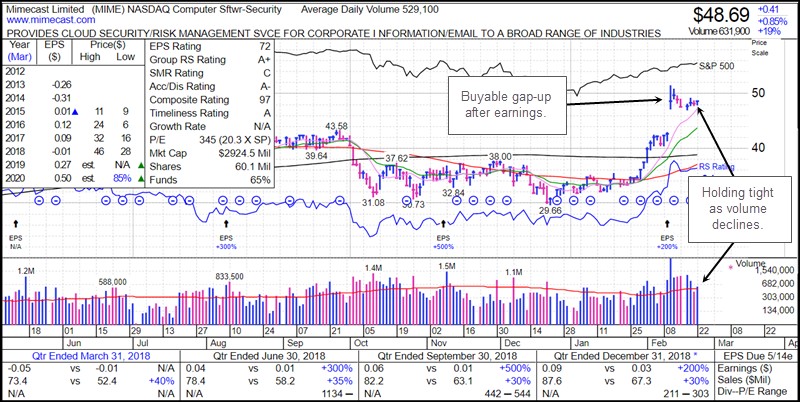 Invitae (NVTA)
posted a buyable gap-up on Wednesday which reported on at that time. We advised looking for a move down closer to the BGU low of 17.41. That occurred on Thursday when NVTA pulled down to an intraday low of 17.74, and it has continued higher from there.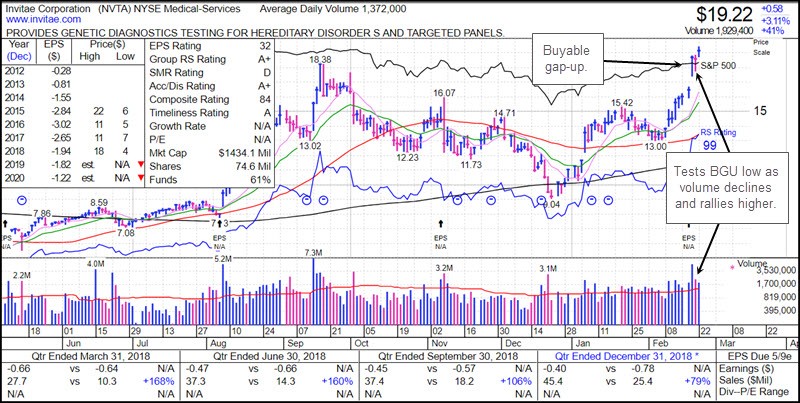 Roku (ROKU)
gapped up on Friday after beating on earnings Thursday after the close. Strict breakout buyers are still sitting here waiting for a breakout to buy the stock, but we first reported on the stock in early January when it posted a bottom-fishing buyable gap-up. The stock was also discussed a few days prior in our live webinar when it was trading at around 29-30. It has now more than doubled from there, and all without a base breakout.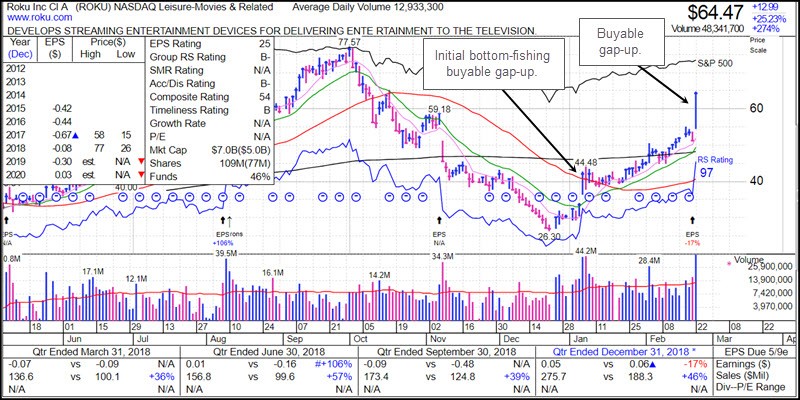 Below is a list of stocks we've reported on since the market turn in late December, with the sole exception of
Cronos (CRON)
, which was reported on in early December. The list provides a useful long watch list in lieu of a Focus List and is sorted by earnings date, with the earliest at the top. Note hat both
Medpace Holdings (MEDP)
and
Wingstop (WING)
are expected to report this week on Monday and Wednesday after the close, respectively.