Current Focus List
There are currently no names on the Focus List

The VoSI Focus List is a compilation and reference list of stocks for which Pocket Pivot or Buyable Gap-Up Reports have been issued and which have been deemed suitable for inclusion on the Focus List. Not all stocks for which a Pocket Pivot or Buyable Gap-Up report has been issued will necessarily be added to the list. It is not intended as a "buy list" or a list of immediately actionable recommendations. Stocks on the list may or may not be in proper buy positions, and investors should exercise discretion and proper judgement in determining when and where stocks on the Focus List can be purchased. The following notes are intended to assist in this process. Please note that members can enlarge the Focus List image by clicking on the body of the email and then holding the Control Key while pressing the "+" key until it is large enough to read.
General Observations:
The
Dow Jones Industrials Index
remains the only major market index to trade above its 200-dma. It has held several tests of the 200-dma in constructive fashion over the past several days. Meanwhile, the
NASDAQ Composite Index
and the
S&P 500 Index
both continue to run into resistance at their 200-dmas. A move above the 200-dma by either or both indexes to join the Dow above this key line of resistance would confirm the bullish nature of the current market rally.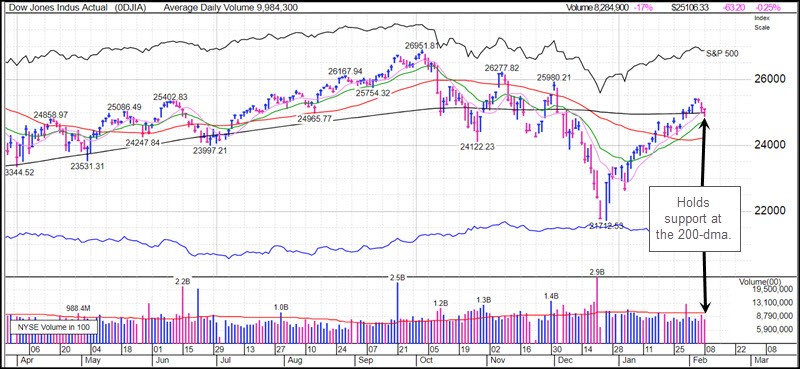 The
Market Direction Model (MDM)
is currently on a BUY signal.
Among stocks we have reported on since the market rally began in late December,
Advanced Micro Devices (AMD)
has pulled back to near-term support at its 10-dma and just above its 20-dema. This puts it in a lower-risk entry position following its buyable gap-up move after earnings nearly two weeks ago.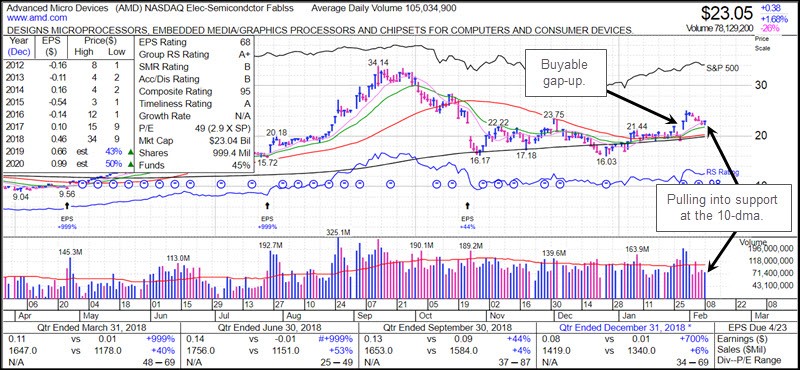 Boeing (BA)
has continued higher since its buyable gap-up after earnings last week. On Tuesday it cleared the $400 Century Mark level, qualifying it as a second long entry point based on Jesse Livermore's Century Mark Rule on the long side. Friday's pullback to the $400 price level was constructive, and BA remains within buying range of the $400 Century Mark as a lower-risk add point following the original entry on the BGU.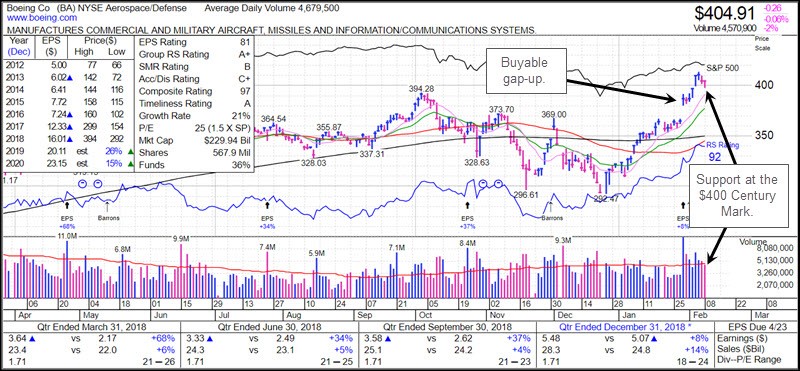 Pinduoduo (PDD)
became quite extended to start the week off, flirting with all-time highs on Tuesday before reversing to close near the $30 price level. The company announced a 55-million secondary stock offering on Tuesday afternoon, sending the stock below its 10-dma. Nimble traders could have used the 10-dma on Wednesday or the 20-dema on Thursday as trailing selling guides. The offering was priced at $25 on Friday, and PDD stabilized at 25.95. It is now back near its cup-with-handle breakout point.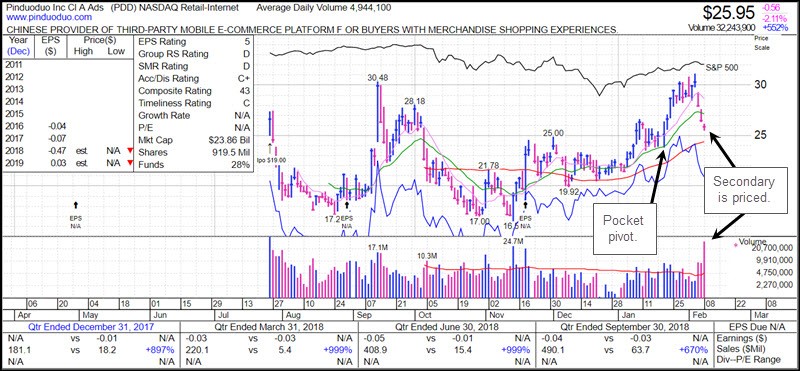 Note that other names reported on in December and January are expected to report earnings within the next two weeks, including
CRON
(2/13),
YETI
(2/14),
FIVN
, (2/19),
DXCM
(2/21), and
ROKU
(2/21). The source for the earnings release date information is Briefing.com. We suggest checking the individual company websites to confirm earnings release dates.