Current Focus List
There are currently no names on the Focus List.

The VoSI Focus List is a compilation and reference list of stocks for which Pocket Pivot or Buyable Gap-Up Reports have been issued and which have been deemed suitable for inclusion on the Focus List. Not all stocks for which a Pocket Pivot or Buyable Gap-Up report has been issued will necessarily be added to the list. It is not intended as a "buy list" or a list of immediately actionable recommendations. Stocks on the list may or may not be in proper buy positions, and investors should exercise discretion and proper judgement in determining when and where stocks on the Focus List can be purchased. The following notes are intended to assist in this process. Please note that members can enlarge the Focus List image by clicking on the body of the email and then holding the Control Key while pressing the "+" key until it is large enough to read.
General Observations:
The S&P 500 and Dow Jones Industrials Indexes joined the NASDAQ above their respective 50-dmas on increasing volume over the past week. The market remains in a sharply v-shaped rally off the Christmas Eve lows, with no signs of letting up just yet. The next test for the indexes is the 200-dma, which remains well above where the indexes are trading currently, so there is room to run. That said, the 50-dmas now serve as convenient references for support on any pullbacks from current levels as we progress through earnings season.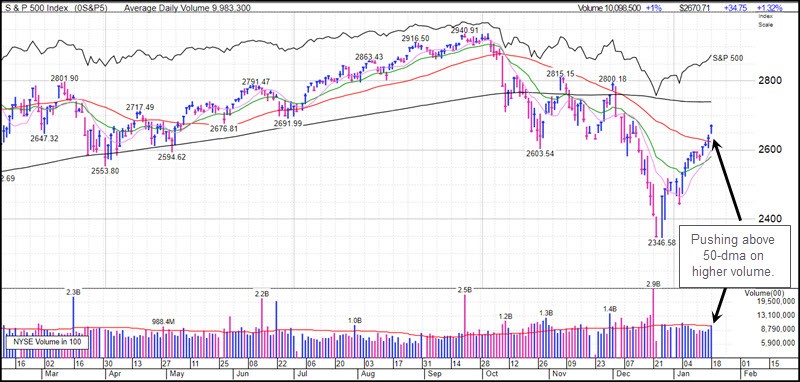 The
Market Direction Model (MDM)
remains on a cash signal.
Among names we have reported on recently,
Atlassian Corp. (TEAM)
reported earnings on Thursday after the close and gapped up to the $100 price level where it ran into heavy selling volume. It did hold above the 20-dema and the prior base breakout point where we originally reported on the stock, however. If it can hold support here this may put it in a lower-risk entry position, but we would warn that a breach of the 20-dema and breakout failure could also trigger this as a possible late-stage base failure.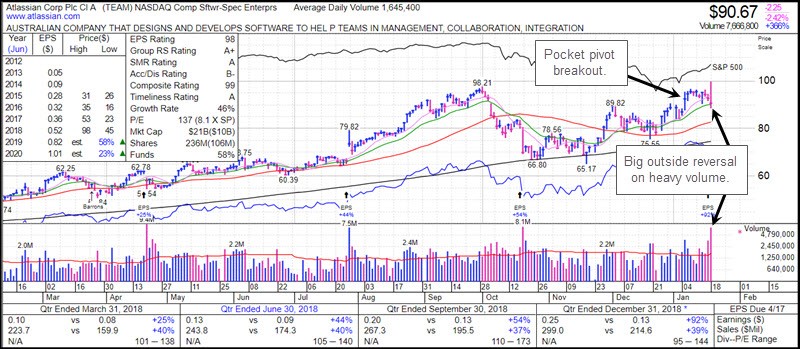 Yeti Holdings (YETI)
is holding its recent buyable gap-up move after successfully testing the 17.35 low of Monday's gap-up price range. The stock is holding tight along the 18 price level over the past two days, which keeps it within buying range of Monday's BGU, although any retest of the 17.35 price level would offer even better entry opportunities. Earnings are expected on February 28th.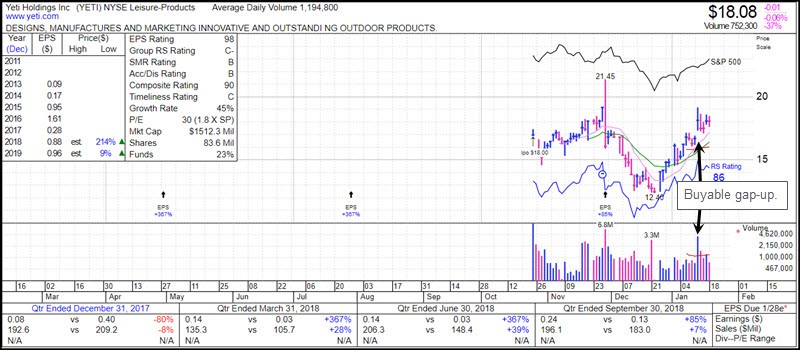 Roku (ROKU)
continues to hold its recent buyable gap-up move off the lows two Mondays ago. It has since held tight along the 50-dma, but selling volume has remained above-average. We would watch for lower-volume pullbacks to the 10-dma, the 20-dema, or the 36.50 intraday low of the BGU gap-up price range as potentially lower-risk entry opportunities. Earnings are expected on February 20th.
Dexcom (DXCM)
was reported on as a buyable gap-up two Mondays ago, and the stock has moved steadily higher, with only one down day since then. It is now back up to its prior pre-correction highs, and may need some time to consolidate. Earnings are expected on February 21st.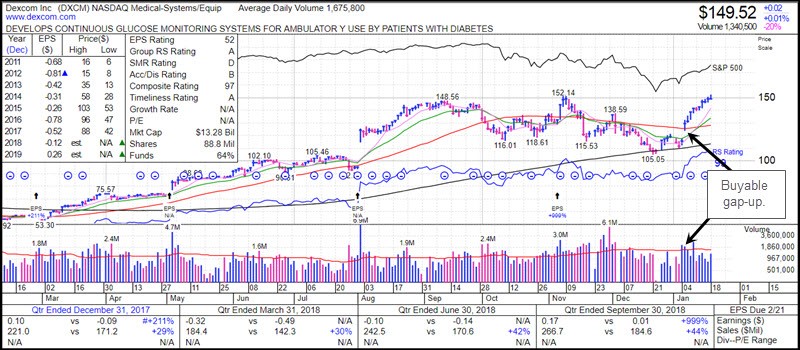 Five9 (FIVN)
was reported on as a buyable gap-up and cup-with-handle breakout two Mondays ago but has tried to make further upside progress with no success. It does, however, remain above the 44.64 intraday low of its BGU price range. We would view moves closer to this price level and the 20-dema as potentially lower-risk entries. Earnings are expected on February 20th.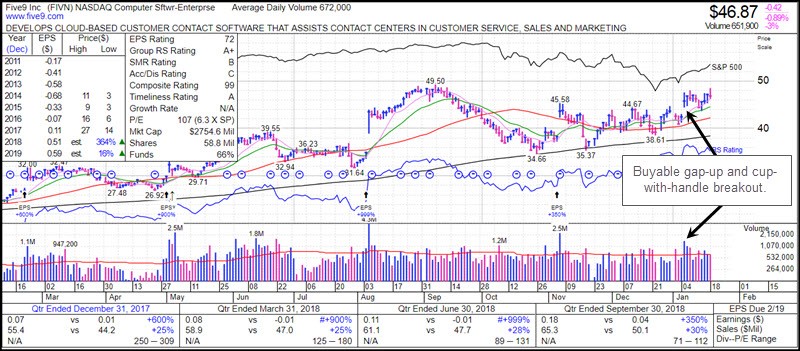 Wingstop (WING)
posted a pocket pivot and low-range base breakout two weeks ago and has since made a bid for new highs before correcting back down to its 20-dema. We view the current pullbacks down to the 20-dema as lower-risk entry points on the chart