Current Focus List
There are currently no stocks on the Focus List.

The VoSI Focus List is a compilation and reference list of stocks for which Pocket Pivot or Buyable Gap-Up Reports have been issued and which have been deemed suitable for inclusion on the Focus List. Not all stocks for which a Pocket Pivot or Buyable Gap-Up report has been issued will necessarily be added to the list. It is not intended as a "buy list" or a list of immediately actionable recommendations. Stocks on the list may or may not be in proper buy positions, and investors should exercise discretion and proper judgement in determining when and where stocks on the Focus List can be purchased. The following notes are intended to assist in this process. Please note that members can enlarge the Focus List image by clicking on the body of the email and then holding the Control Key while pressing the "+" key until it is large enough to read.
General Observations:
The major market indexes have continued to hold above their 50-dmas, with the
NASDAQ Composite Index
posting a higher high on Friday as volume increased from the prior day. It has roughly retraced 50% of the prior decline off the September/October highs. We note that very few standard base breakouts have occurred since the follow-through day on January 4th, and most stocks leading the rally are simply coming sharply up and off the late December/early January lows in their patterns. For the most part, this is problematic for those who are strict base-breakout buyers.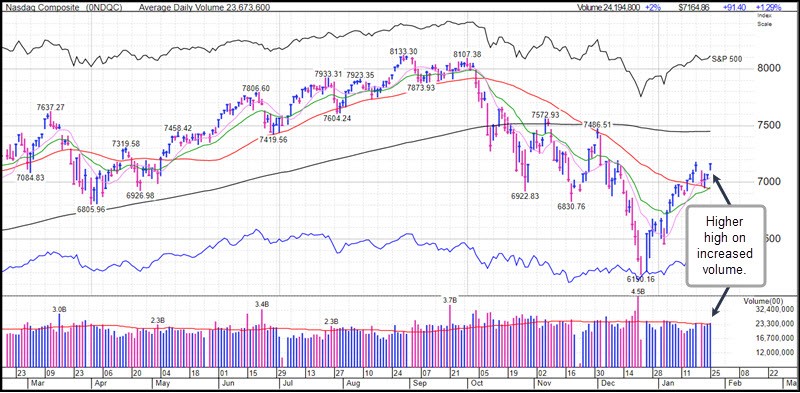 Our approach has been to focus on potential Ugly Duckling-style long set-ups off the lows, such as with names like
Roku (ROKU)
and
Dexcom (DXCM)
. We sent out reports on both of these names back on January 7th. This remains a difficult market for breakout buyers, but alternative buy points have worked well. With very few stocks showing strong, new trends, we have not found anything that would meet our criteria for inclusion on the Focus List, which is why it remains empty for now. In the meantime, we have reported on many alternative long set-ups in stocks coming up from within their current bases or even lower in their patterns, such as was the case with ROKU.
The
Market Direction Model (MDM)
is currently on a sell signal.
Among names we have reported on since the market turn in early January,
Edwards Lifesciences (EW)
is expected to report earnings after the close on Thursday.
Roku (ROKU)
continues to work on a bullish flag formation following its bottom-fishing buyable gap-up move of near three weeks ago. On Thursday, it posted a five-day pocket pivot on a breakout attempt, but is currently holding just below the prior 44.48 peak in the handle.We would consider pullbacks to the 10-dma or even the 20-dema as potentially more opportunistic and hence lower-risk entries if we saw them.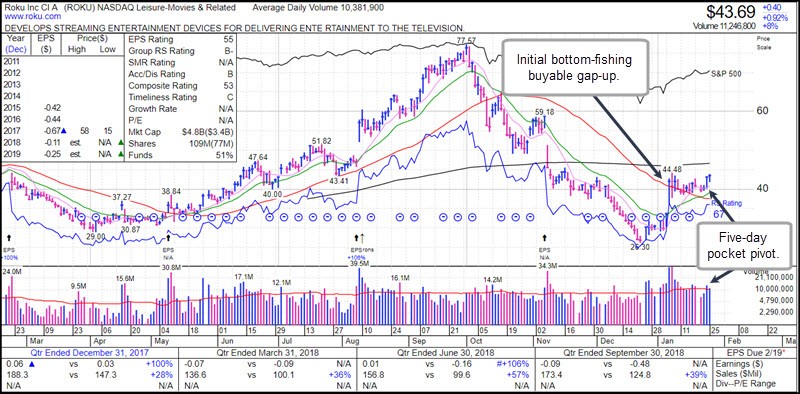 Yeti (YETI)
has not shown any inclination to thrust higher following its buyable gap-up of nearly two weeks ago. However, this does not appear to be abnormal given the large amount of overhead supply that may exist as a result of the big-volume move up to and reversal from the 21.45 price area. Thus, it appears to be working off this overhead at current price levels as it now builds a handle to an overall cup-with-handle formation. We would use pullbacks to the lower reaches of this handle area as lower-risk entry opportunities.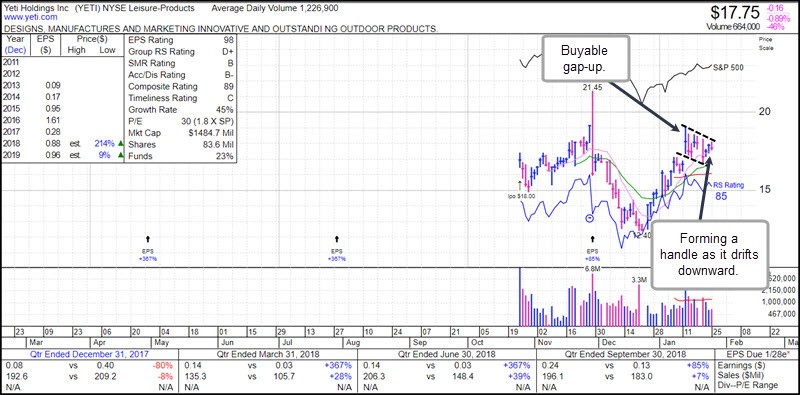 Wingstop (WING)
was originally reported on as a pocket pivot trendline breakout nearly three weeks ago and the stock has encountered resistance along the prior 72.01 high on the left side of the base. It has since pulled back into its 20-dema where it ran into some volume on Friday but closed off its intraday lows and the 20-dema. This has the look of possible supporting action bringing the stock into a lower-risk entry position using the 20-dema as a tight selling guide.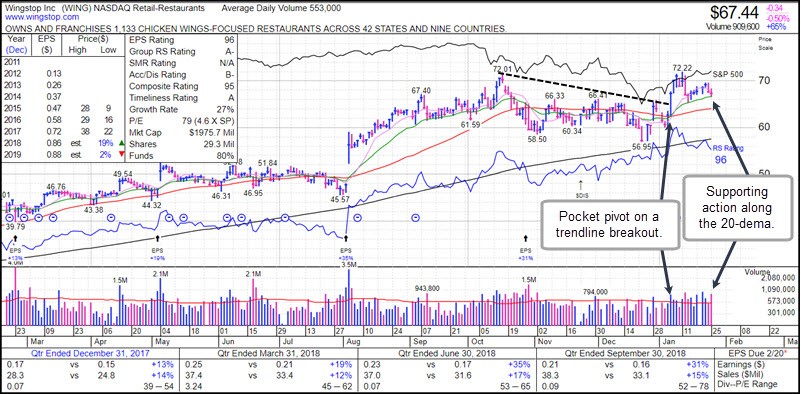 Five9 (FIVN)
broke out on Friday on a volume increase that was 20% above average. We initially reported on the stock as a buyable gap-up type of pocket pivot move three weeks ago, after which it tracked sideways for three weeks before pushing to higher highs on Friday.
Atlassian Corp. (TEAM)
held at the top of its prior base following an ugly post-earnings reversal. As we noted in last weekend's Review, if the stock could hold support on the pullback then it would be in a lower-risk entry position, and that has turned out to be the case. TEAM staged a "re-breakout" move on Tuesday and has since rallied back up to its highs on declining, or wedging, volume. We would like to see a constructive retest of the 20-dema on a small pullback from here to help correct the wedge and bring the stock into another potentially lower-risk entry spot.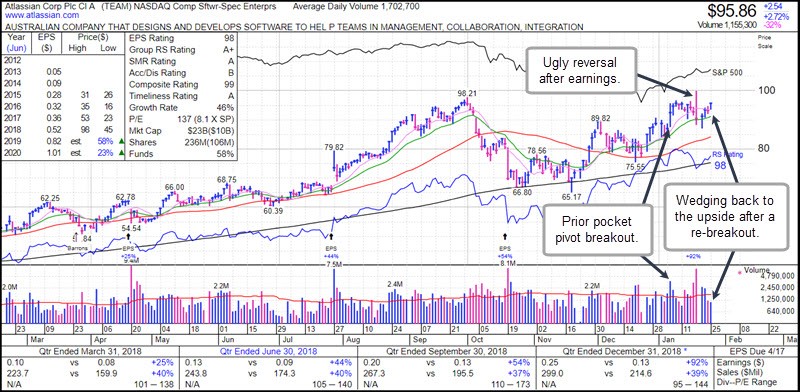 We reported on
Pinduoduo (PDD)
this past Friday after it posted a pocket pivot after testing support at its 20-dema early in the day. The stock's IPO lock-up period expired that day, but that did not result in a sell-off. Instead, the stock has pushed higher since breaking out from a cup-with-handle formation and is now approaching its prior 40.48 all-time high.