Current Focus List
There are currently no names on the Focus List.

The VoSI Focus List is a compilation and reference list of stocks for which Pocket Pivot or Buyable Gap-Up Reports have been issued and which have been deemed suitable for inclusion on the Focus List. Not all stocks for which a Pocket Pivot or Buyable Gap-Up report has been issued will necessarily be added to the list. It is not intended as a "buy list" or a list of immediately actionable recommendations. Stocks on the list may or may not be in proper buy positions, and investors should exercise discretion and proper judgement in determining when and where stocks on the Focus List can be purchased. The following notes are intended to assist in this process. Please note that members can enlarge the Focus List image by clicking on the body of the email and then holding the Control Key while pressing the "+" key until it is large enough to read.
General Observations:
The
S&P 500
and
Dow Jones Industrials Indexes
both posted seventh-day follow-throughs on Friday as the market rallied sharply on a strong jobs number and more dovish comments from Fed Chair Jerome Powell, who was speaking at the annual meeting of the American Economic Association.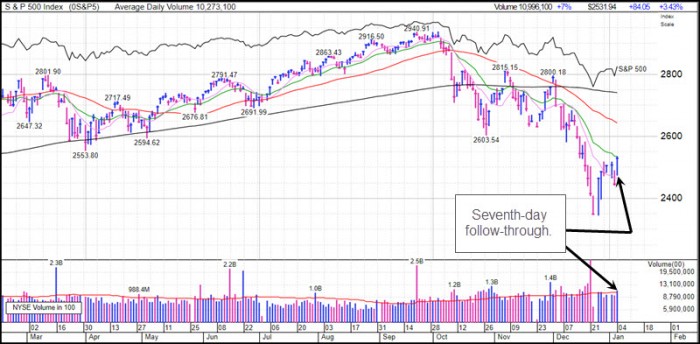 The NASDAQ Composite, which posted a much strong upside move Friday than either the S&P or Dow on a percentage basis, did not post a follow-through day as volume was lighter vs. the prior day. However, Thursday's volume was inflated somewhat by the big gap-down sell-off in
Apple (AAPL)
following its lowering of sales guidance on Wednesday after the close. However, for those who adhere to the idea of the follow-through as an "all-clear" signal that can rely on the action in the NYSE-based indexes, buyer beware as there are no standard breakouts among so-called leading stocks that necessarily look compelling, even after Friday's strong move. Virtually all leading stocks remain in crippled patterns for now suggesting the current follow through is highly suspect. In addition, starting a number of years back, S&P 500 and Dow follow throughs had a horrible track record. Only NASDAQ Composite follow through still had any merit. Still, all follow throughs regardless of index must be accompanied by constructive action by a sufficient number of leading stocks. Thus, Friday's "follow through" was no follow through as 1) it did not appear on the NASDAQ Composite, and 2) virtually no leading stocks suggested the market is ready to about-face and launch higher in any sort of sustained manner. Contrast this to October 1998 when the major indices lost more than -30% from the summer yet numerous leading follow throughs not only managed to buck the generally sharp downtrend, but also set up pocket pivot patterns which were all actionable.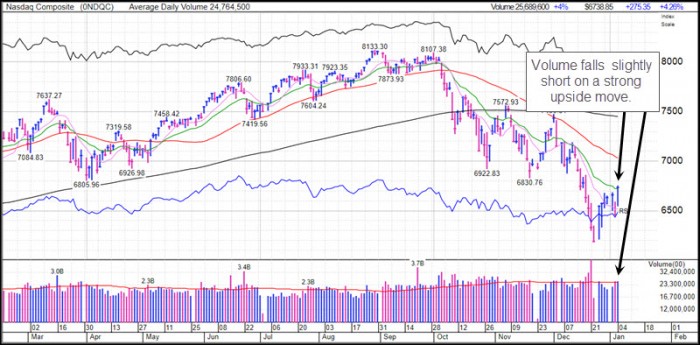 That said, if we can even assume this current follow-through day does not suffer the fate of prior failed follow-throughs seen since the early October market peak, we expect that long set-ups will be forthcoming. Time will tell. Currently there is nothing in the way of compelling breakouts, which would be the de minimus requirement for taking action at the time of a follow-through day. If and as we see any set-ups develop in real-time, we will be sending out real-time email alerts to members as we judge necessary. Our Focus List would also once against become populated.
The
Market Direction Model (MDM)
remains on a cash signal. With elevated levels of volatility, cash is often the best place to be in terms of market timing. In terms of long or short positions, we will send individual reports as specific stocks become actionable, whether on a shorter term basis not representative of a Focus List stock, or on a longer term basis, which would thus be added to the Focus List.