Current Focus List
There are currently no names on the Focus List.

The VoSI Focus List is a compilation and reference list of stocks for which Pocket Pivot or Buyable Gap-Up Reports have been issued and which have been deemed suitable for inclusion on the Focus List. Not all stocks for which a Pocket Pivot or Buyable Gap-Up report has been issued will necessarily be added to the list. It is not intended as a "buy list" or a list of immediately actionable recommendations. Stocks on the list may or may not be in proper buy positions, and investors should exercise discretion and proper judgement in determining when and where stocks on the Focus List can be purchased. The following notes are intended to assist in this process. Please note that members can enlarge the Focus List image by clicking on the body of the email and then holding the Control Key while pressing the "+" key until it is large enough to read.
General Observations:
The
Dow Jones Industrials Index
remains the market's leading major index as it rallies back up through its 200-dma. Earlier in the week, on Monday, the index failed afters its follow-through day (FTD) of two Wednesdays ago as then plummeted below both its 50-dma and 200-dma before finding its feet intraday on Thursday and pushing back above the line. Triple-witching options expiration inflated volume on Friday as the index completed a two-day rally. The index looks to be forming a large, wide-ranging pennant formation. A test of the highs of this pennant is possible going into the shortened Thanksgiving holiday weekend, but most formerly leading stocks remain in busted patterns.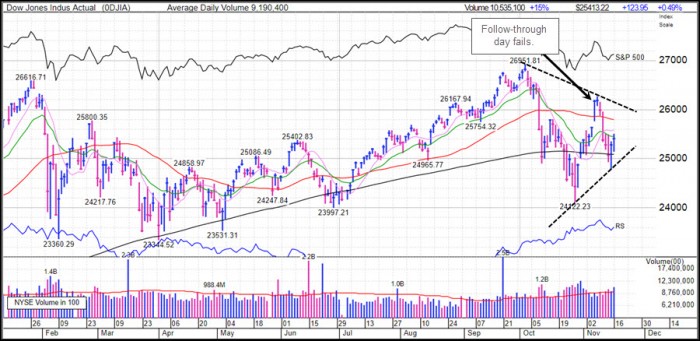 Both the
S&P 500
and the
NASDAQ Composite Indexes
remain below their 200-dmas, with the
NASDAQ Composite
the weakest of the big-three major market indexes. The index is forming a bear pennant below the 200-dma after testing its late-October lows this past week and holding, for now. A rally back up to the 50-dma and the highs of the current bear pennant range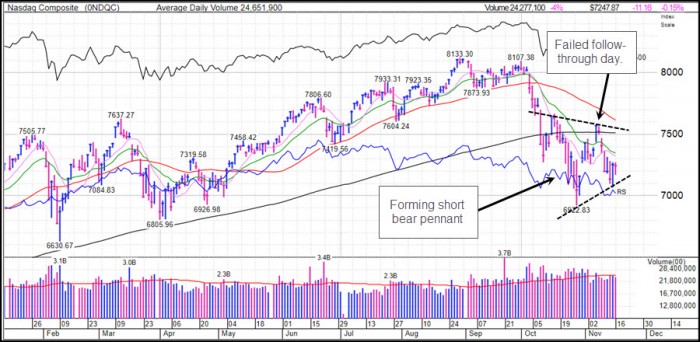 The
Market Direction Model (MDM)
remains on a buy signal. As stated in prior reports, when levels of volatility are elevated and the MDM is either on a buy or sell signal, smaller position sizes are warranted since the MDM will take greater risk in such cases. Also as mentioned in last week's review, the follow-through day itself is not sufficient to trigger a buy signal as stock market action has changed as a result of QE. While the ECB is planning on further reducing its flow of QE, the Bank of England may have to move in the opposite direction due to Brexit issues by increasing QE. It has been argued that this is a necessary trump card the U.K. must play due to the E.U.'s attempts to prevent Brexit.
In tomorrow's Premarket Pulse report, discussion is focused on Trump's economic record since he took office. While some metrics have clearly improved, the debt burden remains onerous and worsening. Bubbles abound. At some point, Trump's tax reductions and pro-business policies are unlikely to counter let alone reduce these bubbles. If the rest of the world remains economically weak, the U.S. economy could get pulled down. That said, should the flow of QE remain near record levels due to major central banks such as the Bank of England stepping up its QE program, this ageing bull market may still have at least a couple years left as assets continue to inflate well past their expiration dates.
Notable Action:
Assuming the market has some potential to "melt-up" into the Thanksgiving holiday, we like stocks pulling back into areas of support after prior shows of strength. One example would be
Dexcom (DXCM)
, which posted a pocket pivot the prior week before running into resistance along its prior base highs near 150. It has since pulled back into the confluence of its 10-dma, 20-dema, and 50-dma, flashing a pocket pivot at the moving averages on Friday. This puts the stock in a lower-risk entry position using the moving averages as tight selling guides.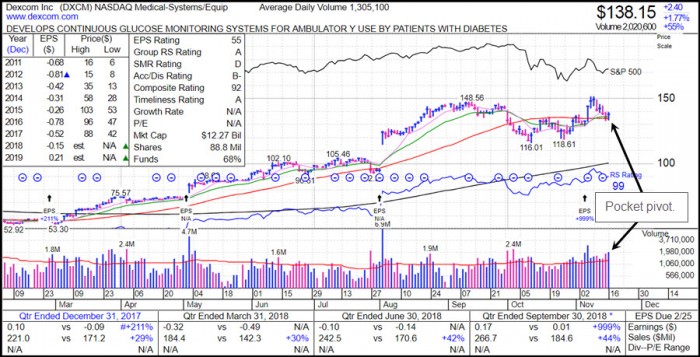 Exelixis (EXEL)
posted a bottom-fishing buyable gap-up two weeks ago but retraced most of that move as the market pulled in to test its late-October lows this past week. It has since recovered back up through its 50-dma, posting two pocket pivots along the 10-dma on Wednesday and Thursday of this past week. We would prefer to buy this on weakness into the 50-dma, if possible, and it demonstrates how an opportunistic approach is your best bet with respect to catching anything on the long side of this market and being able to see some positive follow-through on the upside.