Current Focus List
There are currently no names on the Focus List

The VoSI Focus List is a compilation and reference list of stocks for which Pocket Pivot or Buyable Gap-Up Reports have been issued and which have been deemed suitable for inclusion on the Focus List. Not all stocks for which a Pocket Pivot or Buyable Gap-Up report has been issued will necessarily be added to the list. It is not intended as a "buy list" or a list of immediately actionable recommendations. Stocks on the list may or may not be in proper buy positions, and investors should exercise discretion and proper judgement in determining when and where stocks on the Focus List can be purchased. The following notes are intended to assist in this process. Please note that members can enlarge the Focus List image by clicking on the body of the email and then holding the Control Key while pressing the "+" key until it is large enough to read.
General Observations:
Major market indexes posted a follow-through day on Wednesday, although there has been zero follow-through to the follow-through, so to speak. Instead, the
NASDAQ Composite Index
gapped back below its 200-dma on Friday, although on lighter volume.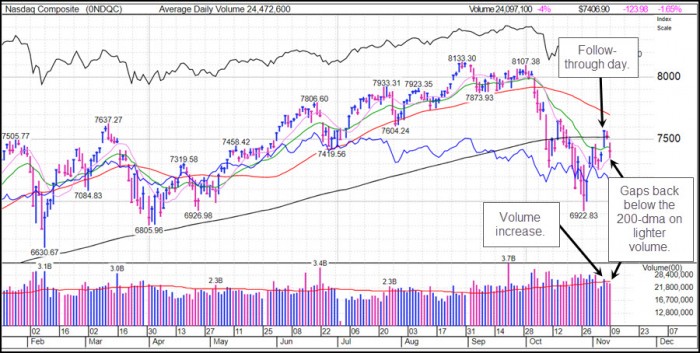 The
S&P 500
and
Dow Jones Industrial Indexes
both posted distribution days on Friday after gapping lower on a significant increase in volume. The S&P 500 was, however, able to hold intraday support at its 200-dma while the Dow found support at its 50-dma. All of the major indexes rebounded off their lows, but did not retrace more than half of their intraday losses.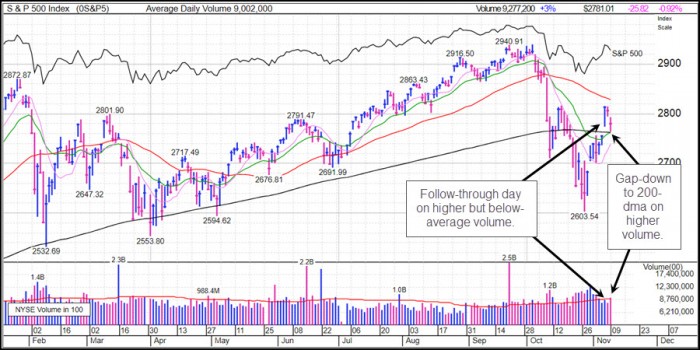 The
Market Direction Model (MDM)
went to a buy signal on Wednesday in conjunction with the market follow-through day. Note, the follow-through day itself is not sufficient to trigger a buy signal as these QE-driven markets have shown for a number of years. MDM went to a buy at the time it did for a few reasons. Odds looked as if the market would continue higher. The market rallied another 0.27% to the close. In addition, the action of various leading stocks tipped the MDM into a buy. Indeed, we sent out a number of reports on actionable names on Thursday. Of course, given the elevated levels of volatility, we have advised on buying on logical pull backs or where one's risk is typically less than 2-3% from their buy point.
The action in leading stocks following the follow-through day (FTD) has been uneven, which points to the general uselessness of FTDs as a "green light" for just piling into stocks on the long side. In fact, in many cases, it was better to act on signals that occurred before the FTD, while in others it was better to wait for pullbacks before acting on signals that occurred on the FTD itself. Thus, it all comes back to what individual stocks are doing, as there remain many busted former leaders that have continued to make lower lows. Examples would be stocks that were formerly on our Focus List before the October correction,
Square (SQ)
and
Fortinet (FTNT)
. Both stocks remain deep down in their patterns and firmly ensconced within downtrends from their late September/early October peaks.
In cases where it was better to buy ahead of the FTD,
Penumbra (PEN)
flashed a pocket pivot one day before the FTD, which we reported on. It then moved higher the next day when the FTD occurred, made a marginal higher high on Thursday, and then reversed back to the downside, retracing the entire move after the pocket pivot. It has now pulled back towards support near the 50-dma which may put it in a lower-risk entry position. For now, it has the look of a near-term double-top and should be handled with care.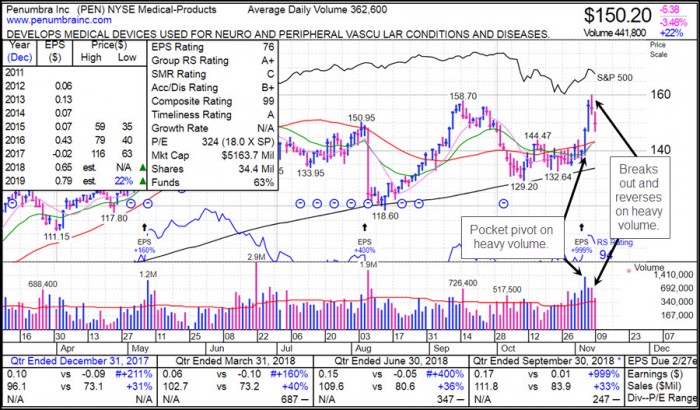 Dexcom (DXCM)
flashed a pocket pivot on the day of the FTD, and has continued marginally higher into new-high price ground since then as it stalls a bit along the highs on above-average volume. In this case, it would be better to try and catch a pullback that retraces 50% or more back towards the 50-dma.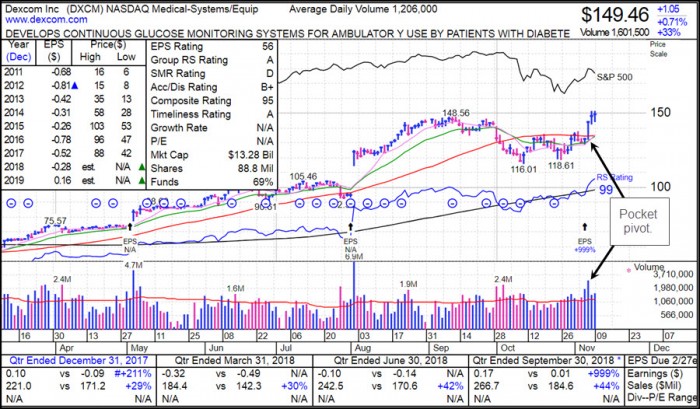 We reported on
Zoetis (ZTS)
four trading days ahead of the FTD, when it posted a buyable gap-up and a base breakout. It then reversed to fill the gap and test the confluence of the 10-dma, 20-dema, and 50-dma. This pullback came on heavy volume but the stock bounced off the 50-dma and closed in the upper part of its daily trading range, signifying supporting action at the 50-dma. Thus, buying in opportunistic fashion on the pullback to the 50-dma after the prior breakout was a lower-risk route that one could have taken.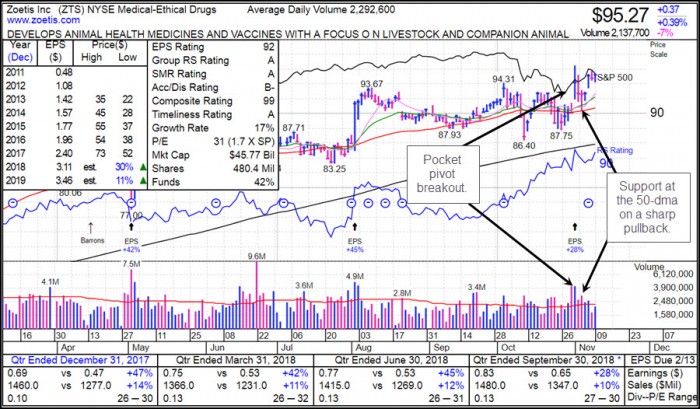 Pacira Pharmaceuticals (PCRX)
is another example of the same type of action. We issued a pocket pivot report on this as it started to break out four days ahead of the FTD. It then attempted to move into new high price ground the next day but reversed badly, moving back down to the confluence of the 10-dma, 20-dema, and 50-dma in an initial breakout failure. Since then it has bounced off the 20-dema, and is now retesting the 20-dema in a "Wyckoffian Retest" type of move where the retest comes as volume is drying up sharply. Thus, this would be in a lower-risk entry position, using the 50-dma as a maximum selling guide.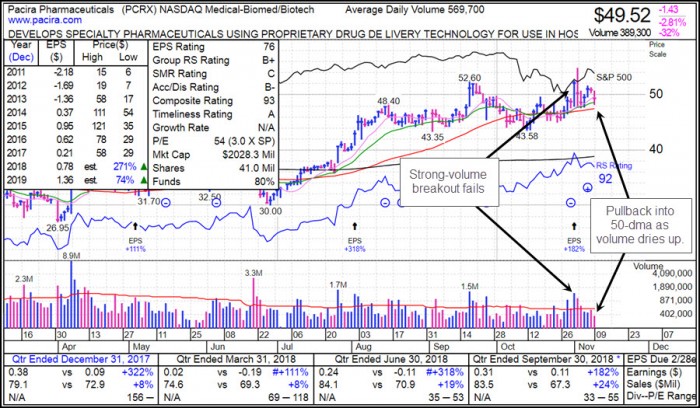 We find that voodoo or Ugly Duckling types of set-ups are also not working with any kind of decisive upside thrust.
Momo (MOMO)
had posted an undercut & rally move back up through the prior 34.80 low of mid-August two Thursdays ago and then spent the next five days holding tight along its 20-dema. Normally, that would be constructive action that one could act o using the 34.80 low or the 20-dema as tight selling guides. Another Chinese name, Pinduoduo (PDD), was showing the same type of technical action at the same time, and we issued a
VooDoo Report
on this names this past week. MOMO quickly blew the set-up when it gapped down hard on Friday on heavy selling volume, and PDD failed even faster when it busted its 20-dema on Thursday.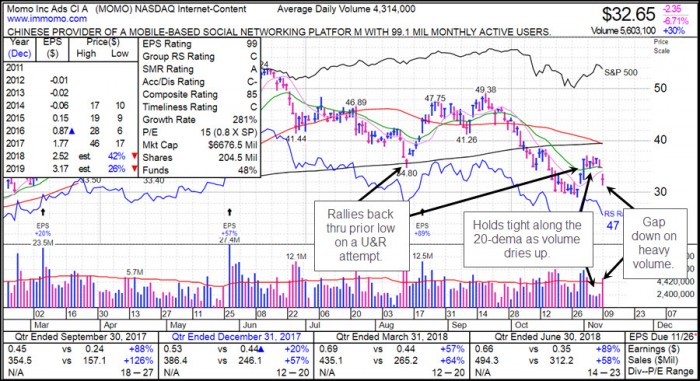 Thus, from an individual stock perspective, the current rally off the lows of two Mondays ago seems to lack the upside thrust of prior rebounds from the lows on previous corrections and pullbacks in 2018. Whether this subtle change of character indicates an imminent rally failure is a question that will likely be answered in the coming days. For this reason, we would advise that any buying should be done on constructive pullbacks and into areas where risk can be kept to a minimum, such as a key moving average or the top of a prior base or area of price congestion.