Current Focus List
There are currently no names on the Focus List

The VoSI Focus List is a compilation and reference list of stocks for which Pocket Pivot or Buyable Gap-Up Reports have been issued and which have been deemed suitable for inclusion on the Focus List. Not all stocks for which a Pocket Pivot or Buyable Gap-Up report has been issued will necessarily be added to the list. It is not intended as a "buy list" or a list of immediately actionable recommendations. Stocks on the list may or may not be in proper buy positions, and investors should exercise discretion and proper judgement in determining when and where stocks on the Focus List can be purchased. The following notes are intended to assist in this process. Please note that members can enlarge the Focus List image by clicking on the body of the email and then holding the Control Key while pressing the "+" key until it is large enough to read.
General Observations:
Following the follow-through day of two Fridays ago, the major market indexes have continued to march higher. Currently the NASDAQ Composite Index is consolidating normally just below its 50-dma. A move above the 50-dma would add further impetus to the rally, and a critical reference for downside support at the line. We also note that the NASDAQ has undercut and rallied above its February, October, November, and December 2018 lows as highlighted on the chart. Meanwhile, there have been few base breakouts among leading stocks showing strong upside thrust, but in most cases things are still developing.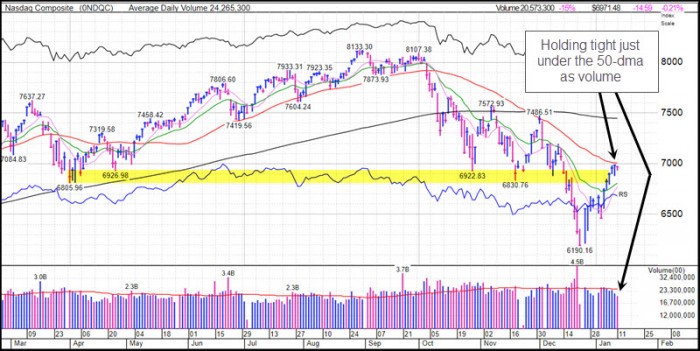 The
Market Direction Model (MDM)
remains on a cash signal. The weekly Coppock confirmed for the first time in a few months, underscoring the follow through. The number of stocks hitting new highs remain scant as the damage done was pronounced. Further, since 1990, the market has always retested prior lows within a couple of months. If history repeats, we should expect such a retest within 2-3 months at the most. Of course, the market finds itself in an unprecedented situation. QE has shown that history does not always repeat, as it knocked out a number of tried-and-true indicators since it started in earnest in 2009. Thus watching price/volume of leading stocks in real-time is the best way to position yourself for maximum profits rather than trying to guess at what will happen in a future that does not yet exist.
Dexcom (DXCM)
was reported on Monday as a buyable gap-up (BGU) and was actionable that day. It has since moved towards the top of its current base and is now extended.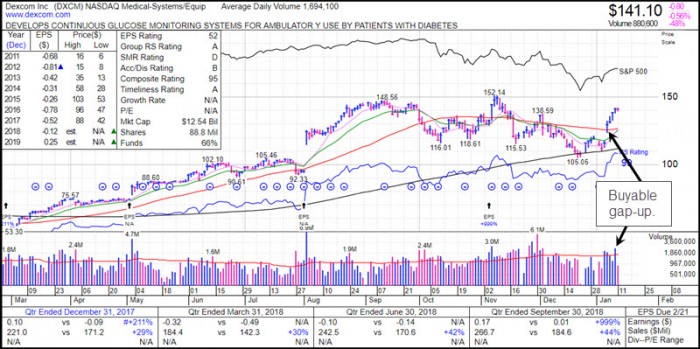 Roku (ROKU)
was reported on Monday as a buyable gap-up (BGU) and was actionable that day, using the 36.50 intraday low as a selling guide. The stock has since moved as high as 44.48 but has since pulled back in what appears to be a normal consolidation following the BGU. It now sits just below the 50-dma as volume declines sharply from the BGU levels. We would watch for a test of the 36.50 low, perhaps at 38 or better, as a lower-risk entry opportunity. IF the stock continues to hold along the 50-dma with volume drying up, then this would also provide a lower-risk entry along the 50-dma while using it as a tight selling guide.
Both
Atlassian (TEAM)
and
Wingstop (WING)
were reported as pocket pivot breakouts and are slightly extended. We would prefer to seek entry on pullbacks to the rising 10-dmas. Also note that TEAM is expected to report earnings this Thursday after the close, so we would prefer to wait and see how things develop following the earnings announcement.
Five9 (FIVN)
was also reported on as a buyable gap-up on Monday. The BGU was also a base breakout from a funky-looking cup-with-handle where the handle is a bit choppy and loose. Nevertheless, the BGU remains active using the 44.46 intraday low of Monday's price range as a selling guide. Pullbacks closer to that level or the rising 10-dma, now at 44.57, would offer lower-risk entries from here given that the stock is slightly less than 5% extended from the 44.46 BGU low.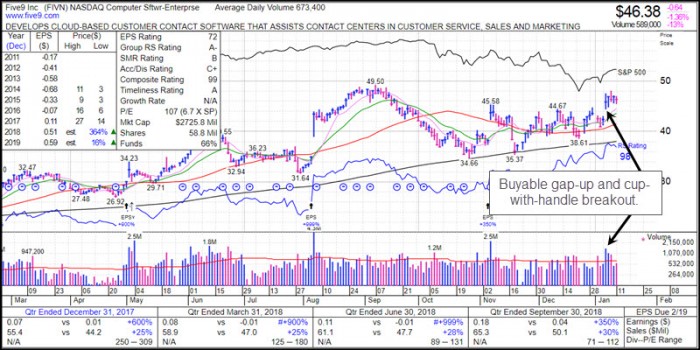 As the market rally develops, and as we progress through earnings season over the next few weeks, we anticipate identifying and reporting on any actionable set-ups we see in real-time going forward. Stay tuned.