Current Focus List

The VoSI Focus List is a compilation and reference list of stocks for which Pocket Pivot or Buyable Gap-Up Reports have been issued and which have been deemed suitable for inclusion on the Focus List. Not all stocks for which a Pocket Pivot or Buyable Gap-Up report has been issued will necessarily be added to the list. It is not intended as a "buy list" or a list of immediately actionable recommendations. Stocks on the list may or may not be in proper buy positions, and investors should exercise discretion and proper judgement in determining when and where stocks on the Focus List can be purchased. The following notes are intended to assist in this process. Please note that members can enlarge the Focus List image by clicking on the body of the email and then holding the Control Key while pressing the "+" key until it is large enough to read.
General Observations:
An eventful week ended with an outside reversal at the 50-dma in the
NASDAQ Composite Index
on Friday, but volume was light. Major averages had a follow through day on April 10, and are so far moving higher, but a number of leading stocks seem reluctant to recover as the action remains a bit sluggish. AAPL, CSCO, and NFLX are at or above their 50-dmas, but GOOGL and AMZN are not getting much of a bounce.
More news on China tariffs and the potential for a U.S.-led missile attack on Syria kept buyers on the sidelines. Friday night, the U.S., in concert with British and French allies, launched a missile attack on Syrian targets. Fallout from the attack was minimal to nil, which may trigger a positive market response on Monday now that the uncertainty surrounding this potential event has dissipated.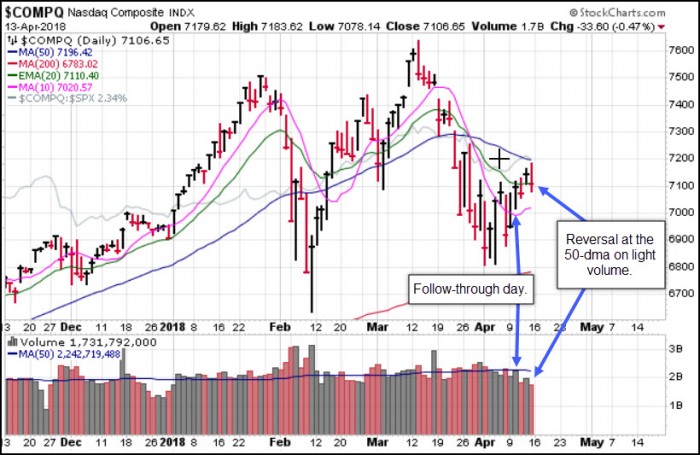 The
Market Direction Model (MDM)
remains on a buy signal.
Removed from the List this Week:
None.
Focus List Stocks Expected to Report Earnings this Week:
Netflix (NFLX)
on Monday, after the close.
Notable Action:
Focus List Names for the most part remain in nondescript positions in their chart patterns and therefore not terribly actionable, in our view, despite Tuesday's market follow-through. With earnings season moving into the forefront, investors may want to sit back and let things develop as we are not advocates of playing "earnings roulette" by taking fresh positions ahead of earnings.
Sloppy action ahead of earnings is evident in the chart of
Amazon.com (AMZN)
. The stock violated its 50-dma ten trading days ago on the chart, but as is typical in this QE market such violations often mark at least a short-term low, and the stock has since rallied back up into its 20-dema. It ran into resistance at the line on Friday, posting an outside reversal on increased, but below-average volume. Note also that the stock looks like it may be forming the right shoulder of a large head and shoulders formation extending back to late January/early February. AMZN is expected to report earnings on April 26th.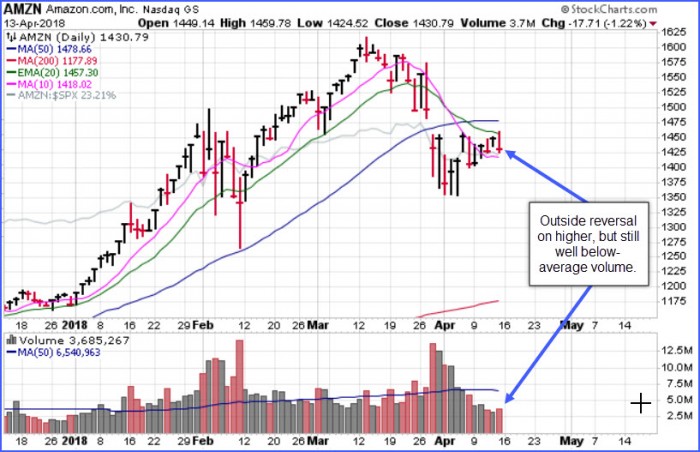 Square (SQ)
is also showing sloppy action as it continues to flirt with a possible late-stage breakout failure. So far, it has been able to hold above the early March cup-with-handle breakout point, but on Friday reversed back below its 50-dma on higher, but below-average volume. With the market following through on Tuesday, we might have expected SQ to show more thrust off the 50-dma and its prior breakout point. But like many other leaders, its action is sluggish and nondescript. SQ is expected to report earnings on May 2nd.