General Observations:
The
NASDAQ Composite
and
S&P 500 Index
rose above their 50-day moving averages this week, with the S&P doing so on Friday on heavy options-expiration volume. With earnings season coming into full view we expect that the fundamental situation for many stocks as a result of the current virus crisis will gain some clarity. In some cases this may lead to sharp sell-offs, in others it may lead to price stabilization. However, much uncertainty remains despite the Trump Administration's "Re-Opening America Again" press conference on Thursday, which gave little detail other than outlining several hurdles states must reach before re-opening their economies. So far, zero states have achieved anything close to a 14-day decline in new cases, which is one of the primary metrics that must be achieved for re-opening.
Thus a great deal of uncertainty remains, and the current rally could fail unless more progress on the viral front is seen. For now, the 50-dma serves as near-term support for both the NASDAQ and the S&P 500 and can be used as a convenient reference for a rally failure if the indexes break back below their respective 50-day lines.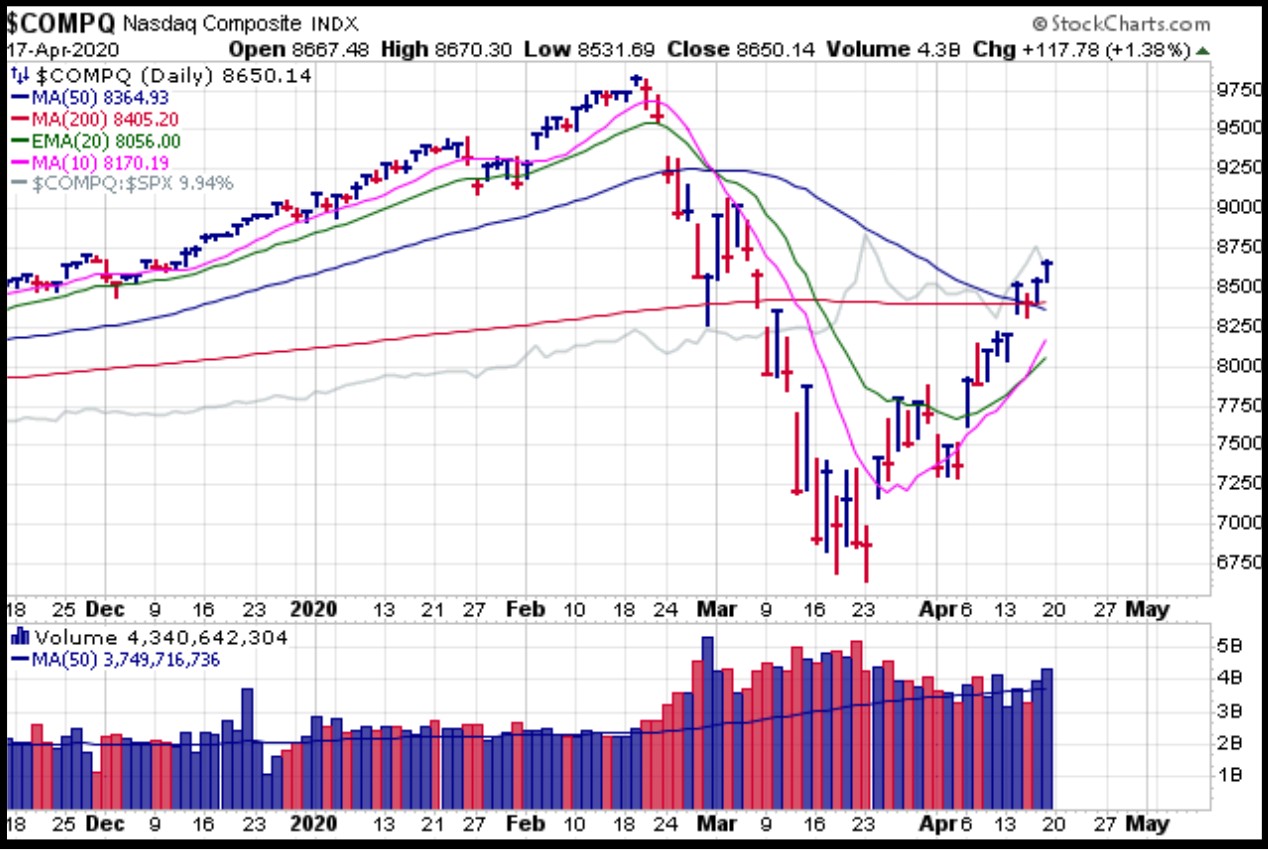 Meanwhile, massive QE on a scale that makes 2008-2009 seem like child's play has been driving stocks higher, with big-stocks like
Apple (AAPL)
,
Amazon.com (AMZN)
,
Microsoft (MSFT)
, and
Netflix (NFLX)
leading the way higher. Most of the S&P's performance is again being concentrated in five stocks that make up well over 20% of the index's current weighting: AAPL, AMZN, MSFT, FB, and GOOG. All of these companies will be reporting earnings in the next 2-3 weeks, and this may figure heavily into whether the current market rally is sustainable. Meanwhile, investors could simply focus on these six stocks as alternative-currency vehicles to ride any continuing QE-fueled rally as money would likely continue to flow into these names as a result of a massive inflationary QE rally. Note that AAPL and GOOG are sitting on top of their 50-dmas while FB may be revving up to clear its own 50-dma. Meanwhile, AMZN, MSFT, and NFLX remain extended.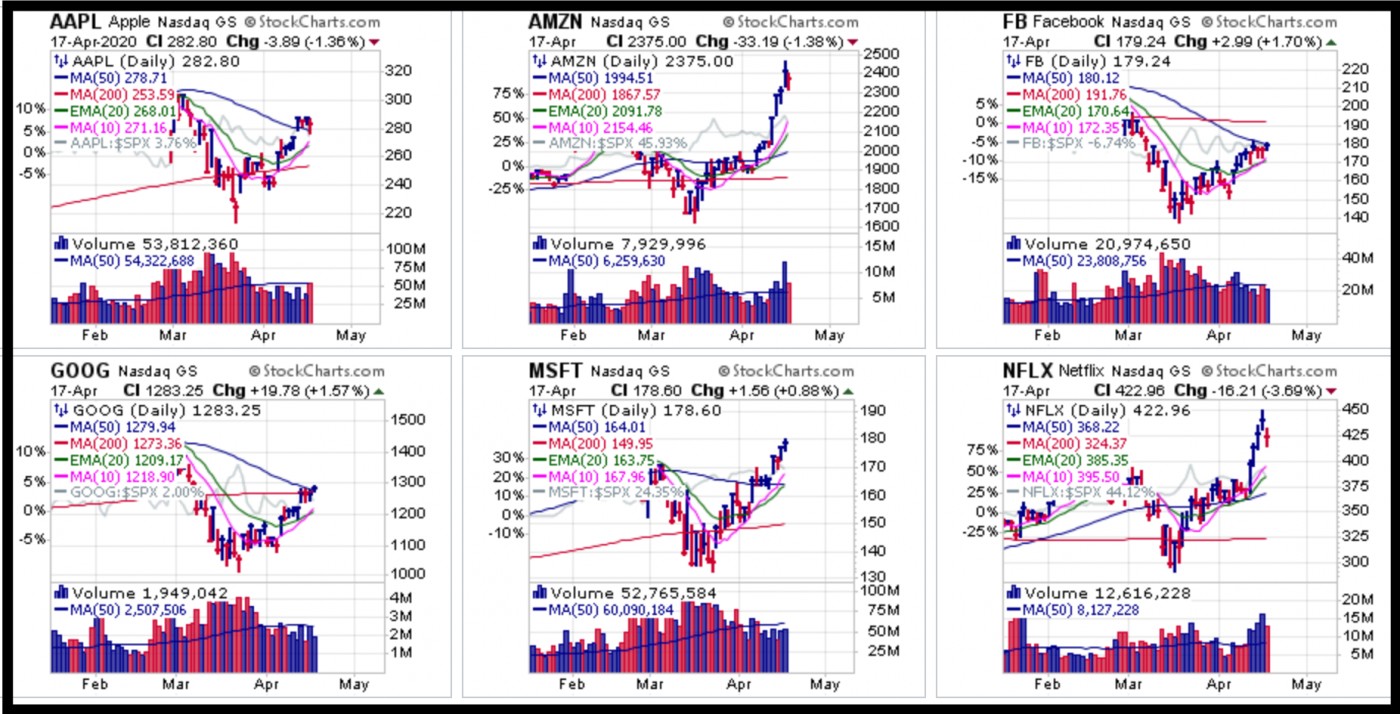 Gold broke out to an eight-year high this week but is now pulling back after a sharp move higher over the past two weeks.
The
Sprott Physical Gold Trust (PHYS)
has pulled into its 10-day moving average where it offers a secondary entry using the 10-day line as a selling guide. Given the volatility in precious metals, we would not be surprised if a deeper pullback to the 20-day exponential moving average were to occur, so those seeking to buy PHYS and the Sprott Physical Silver Trust (PSLV), which is also pulling into its 10-dma and 20-dema, should be prepared to remain flexible with respect to trying to pick off a pullback.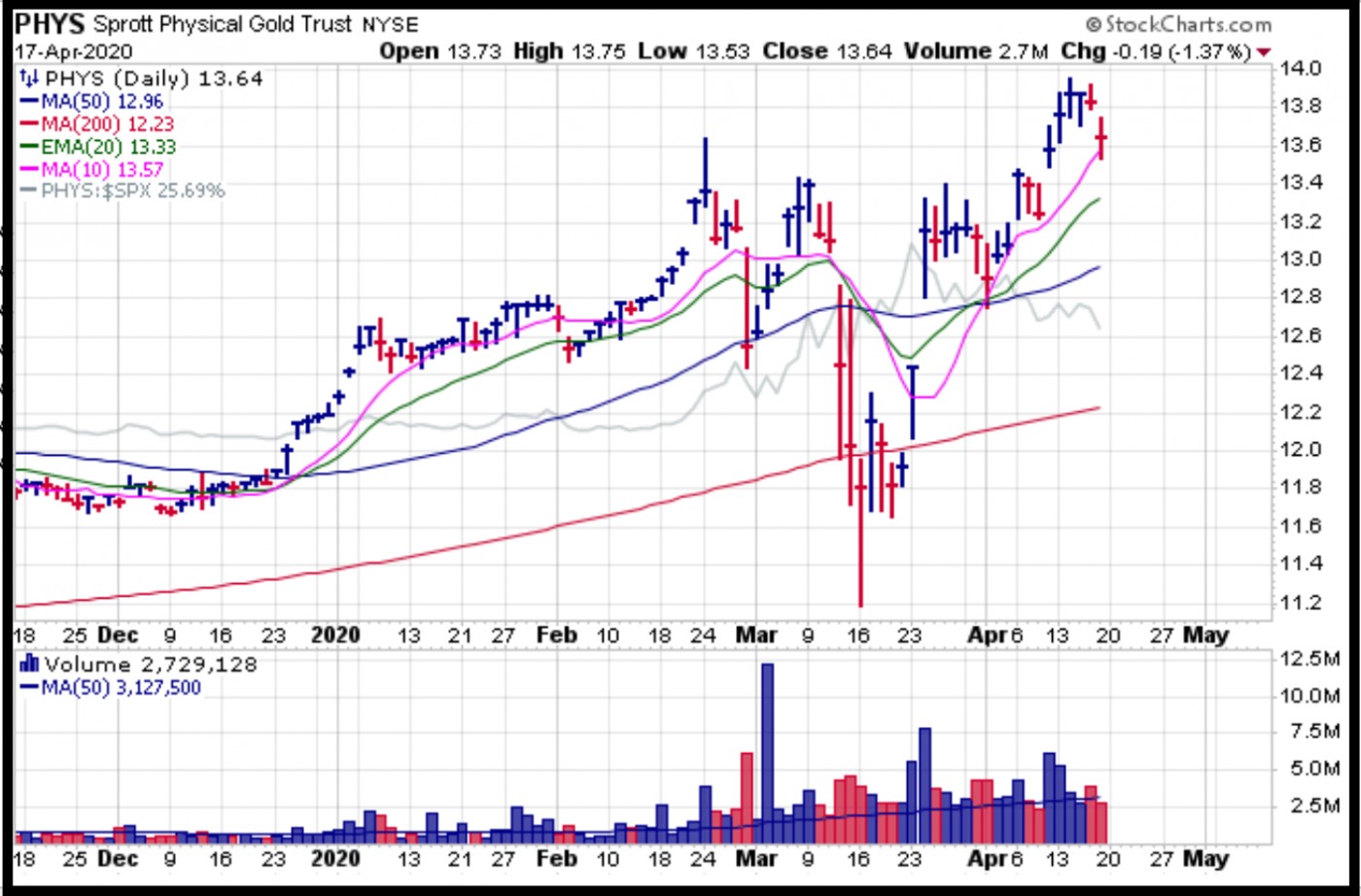 The
Market Direction Model (MDM)
remains on a
SELL
signal.
Goldman Sachs announced last week markets are up excessively. Second order consequences of the economic lockdown will be material. Nothing goes up in a straight line. That said, markets fell the fastest in history and are bouncing back in record time. With the major averages straight up from bottom and second order effects at the ready, odds favor a pullback. Nevertheless, the recent market action is a new and historical data point for the markets.