Current Report Watch List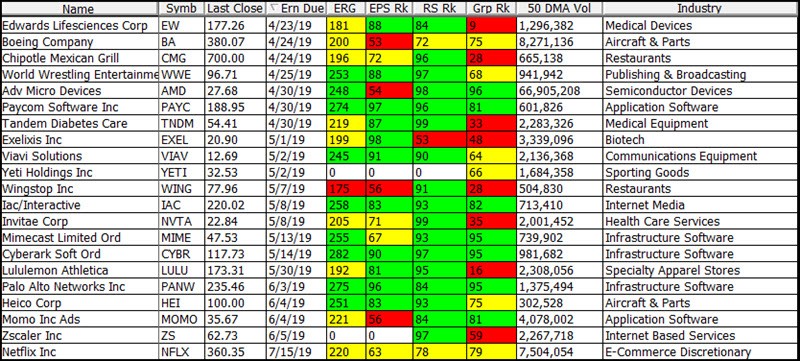 The VoSI Report Watch List is a compilation and reference list of stocks for which Pocket Pivot or Buyable Gap-Up Reports have been issued and which are still considered active. It is not intended as a "buy list" or a list of immediately actionable recommendations. Stocks on the List may or may not be in proper buy positions, and investors should exercise discretion and proper judgement in determining when and where stocks on the List can be purchased. The following notes are intended to assist in this process. Please note that members can enlarge the List image by clicking on the body of the email and then holding the Control Key while pressing the "+" key until it is large enough to read.
General Observations:
The general market uptrend remains intact, but there is a mixed tone underneath the surface. Big-cap names on the
NASDAQ 100
and
Dow Jones Industrials Indexes
have been leading the indexes higher, but a number of leading areas of the market have recently come under pressure. This includes certain cloud/software names and medical-related, including health cares, medical devices, drugs, and bio-techs.
As we move into the heart of earnings season, we see no reason to take any aggressive positions ahead of earnings, particularly into strength. Proper long set-ups that look attractive, much less those that are even able to produce much in the way of substantial upside, are far and few between at this time. That may change as earnings season progresses. For now, if looking to buy shares of a favored stock, maintain an opportunistic approach where one seeks to buy into pullbacks into logical support. In some cases, such pullbacks may coincide with undercut & rally (U&R) long set-ups which further assists in keeping risk to a minimum on new purchases.
The
Market Direction Model (MDM)
remains on a buy signal.
Removed from the List this Week:
A noticeable number of names on the Report Watch List are breaking down, in addition to those removed from the list over the past two weeks. These include:
Electronic Arts (EA)
has violated its 50-dma, failing on the pocket pivot of early February.
Five9 (FIVN)
has violated its 50-dma and has been living below the line for the past three weeks.
Roku (ROKU)
has violated its 50-dma.
Square (SQ)
has violated its 50-dma.
Atlassian (TEAM)
has gapped below its 50-dma on heavy selling volume.
Stocks Expected to Report Earnings this Week:
Edwards Lifesciences (EW)
on Tuesday after the close
Boeing (BA)
on Wednesday before the open,
Chipotle Mexican Grill (CMG)
on Wednesday after the close,
World Wrestling Entertainment (WWE)
on Thursday before the open.
Notable Action:
Edwards Lifesciences (EW)
is on the verge of violating its 50-dma as it slashed through the line this past week. The stock came off as part of a general breakdown in medical-related names. The company is expected to report earnings on Tuesday so this could change the technical picture for the stock.
Exelixis (EXEL)
has broken below its 50-dma and is currently testing its 200-dma as it was also caught in the sell-off of medical-related names this past week. On Thursday it undercut the prior 20.70 low in the pattern and closed at 20.90, rallying just above the 20.70 low. This triggers a U&R long set-up using the 20.70 price level or the 200-dma as tight selling guides. EXEL is expected to report earnings on May 1st.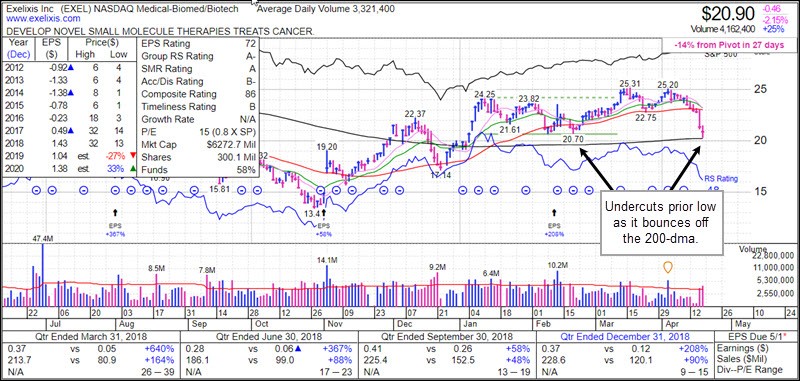 Tandem Diabetes (TNDM)
is on the verge of violating its 50-dma as it approaches the lows of its prior gap-up rising window (highlighted). The company is expected to report earnings on April 30th.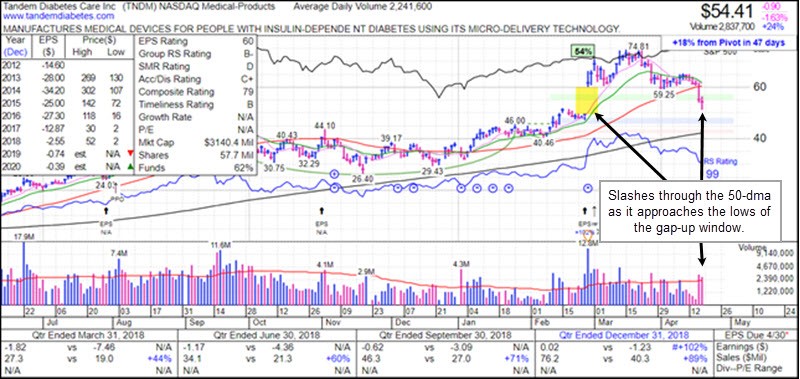 IAC/Interactivecorp (IAC)
posted a pocket pivot on Thursday, its second of the week following a pocket pivot on Monday. The stock has gone nowhere since breaking out in early February on a buyable gap-up move that we reported on at the time. It is illustrative of many so-called leading names in this market that are not making much upside progress over the past several weeks.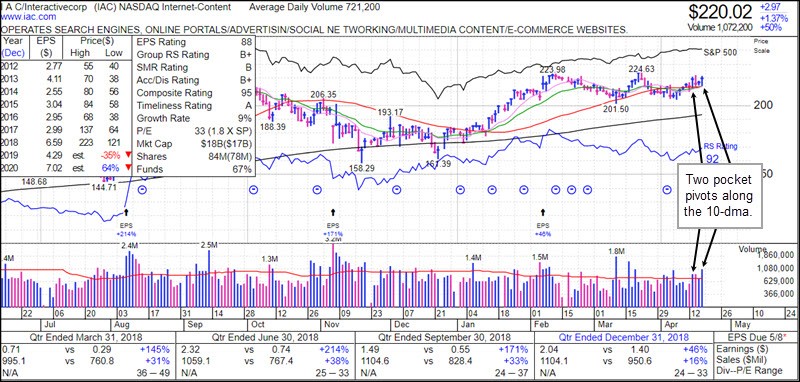 ZScaler (ZS)
has tested its 50-dma while also triggering an undercut & rally (U&R) long set-up by rallying back above the prior 61.39 low in the pattern. This would set-up a U&R long entry here using the 61.39 price level or the 50-dma as selling guides. This is the stock's first pullback to the 50-dma and 10-week moving averages since the buyable gap-up move in early March which we reported on at the time.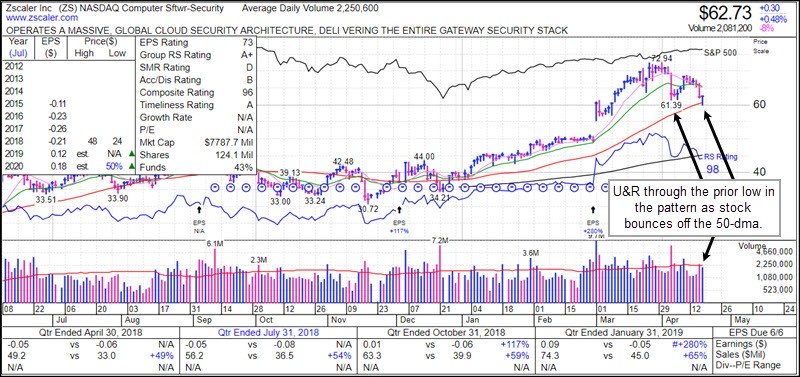 Invitae (NVTA)
has also tested its 50-dma successfully, bringing it into a secondary lower-risk entry position using the 50-dma as a tight selling guide. This is also its first pullback to the 50-dma since we first reported on the stock as a buyable gap-up in mid-February.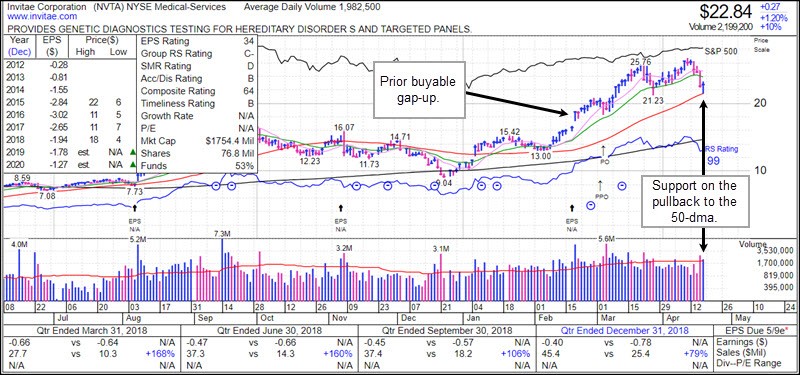 Momo (MOMO)
has pulled down to its 50-dma for the first time since clearing the line back in January. The stock held tight at the line on Thursday as volume dried up in the extreme. This puts the stock in a lower-risk entry position here using the 50-dma as a very tight selling guide.