Current Focus List

The VoSI Focus List is a compilation and reference list of stocks for which Pocket Pivot or Buyable Gap-Up Reports have been issued and which have been deemed suitable for inclusion on the Focus List. Not all stocks for which a Pocket Pivot or Buyable Gap-Up report has been issued will necessarily be added to the list. It is not intended as a "buy list" or a list of immediately actionable recommendations. Stocks on the list may or may not be in proper buy positions, and investors should exercise discretion and proper judgement in determining when and where stocks on the Focus List can be purchased. The following notes are intended to assist in this process. Please note that members can enlarge the Focus List image by clicking on the body of the email and then holding the Control Key while pressing the "+" key until it is large enough to read.
General Observations:
Major market indexes broke below their 50-dmas on Friday in a bearish development. The
NASDAQ Composite Index
, led by a massive price break in big-stock juggernaut
Apple (AAPL)
and a host of semiconductor and other tech names, fared the worst, down -1.27% but on lighter volume. Volume has remained light since the early April lows for them major market indexes, creating a "floater" effect that sees prices rise but with little buying conviction. While Friday's breach of the 50-dma was bearish, confirmation of this bearishness would need to come in the form of further downside on expanding volume. Otherwise, we may just remain in this big choppy, trendless range.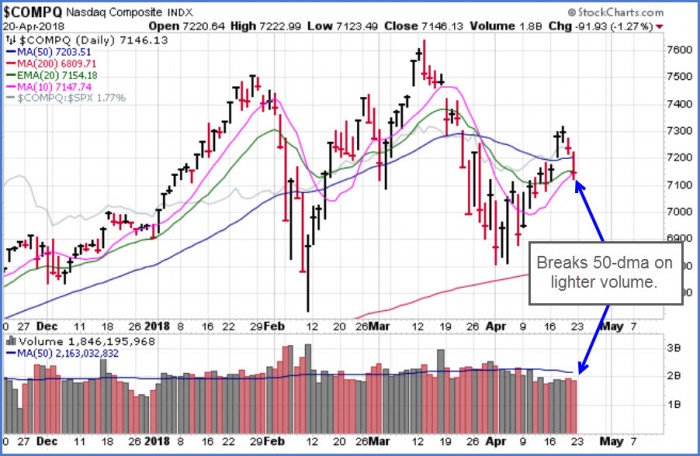 The
S&P 500
and
Dow Jones Industrials Indexes
both breached their 50-dmas in similar fashion, but on higher volume Friday, which was also an options expiration day. One cannot necessarily conclude that the higher volume was solely due to options expiration since the NASDAQ traded lighter volume. The next two weeks will represent the heart of earnings season, and this will likely have a strong effect on what the general market does from here. In the meantime, this has remained mostly a swing-trader's market as stocks generally move to and fro within wide-ranging patterns, not unlike the indexes themselves.
The
Market Direction Model (MDM)
remains on a buy signal.
On a side note, we observe that the
Bitcoin Investment Trust (GBTC)
posted a roundabout/bottom-fishing type of pocket pivot coming up through its 50-dma. Is bitcoin poised for at least a retest of its prior climactic highs? Technically, this can be considered buyable with the idea of using the 50-dma as a tight selling guide. Gil discussed GBTC when it was down near its 20-dema last week during his last special Video VooDoo Report, and it has moved higher from there. Keep in mind that Bitcoin, and thus GBTC, are volatile trading vehicles, hence carry higher risk.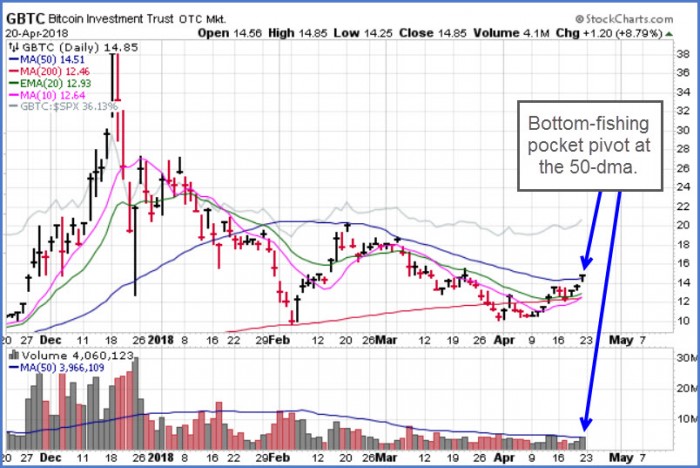 Removed from the List this Week:
None.
Focus List Stocks Expected to Report Earnings this Week:
Amazon.com (AMZN)
on Thursday, after the close.
Notable Action:
In this market we often observe that the "old rules" no longer apply. One such rule that seems to be more and more irrelevant is the "50-day moving-average violation." We can look at two examples of Focus List names that defy this sell signal,
Amazon.com (AMZN)
and
Square (SQ)
. Both stocks violated their 50-day moving earlier this month, but have since turned right around and regained their 50-dmas. This is what Gil has referred to as the "50-day Moving Average Violation Fakeout." It is also consistent with the "Ugly Duckling" Principle whereby it is the nature of this market that when things look their ugliest that is usually when they simply turn back to the upside.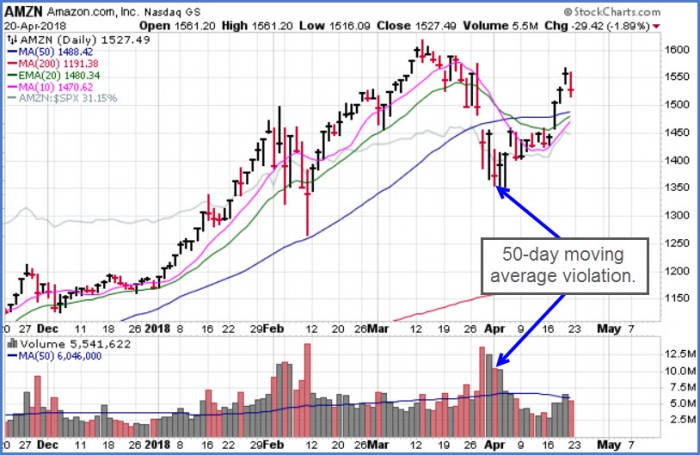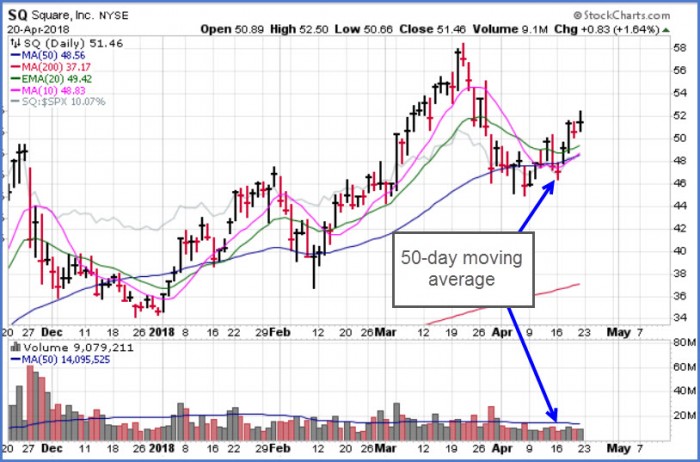 Despite the fact that both AMZN and SQ have violated their 50-dmas, we did not remove them from the Focus List, and that turned out to be the correct course of action as both have now regained their 50-dmas. With both stocks expected to report earnings in the coming days, we still do not see much to do with these names currently.
Lumentum Holdings (LITE)
is testing its 200-dma again, but on lighter volume. The company is expected to report earnings next week, so we would simply lay back and see if anything develops after earnings.
Nvidia (NVDA)
violated its 50-dma in late March, but has since rallied back up to its 50-dma. The stock is still stuck in a wide-ranging 11-week base, but also has the look of a possible late-stage failed-base (LSFB) short-sale set-up, similar to what AMAT looked like a few weeks back when we pointed it out in a prior Focus List Review report.
Baozun (BZUN)
has been one of the view Chinese names to hold up in this market as the trade war of words between China and the U.S. has raged on. During this time, it has held up in a short five-week base and above its prior early March buyable gap-up move. Note that while the stock has not broken down entirely by moving below its 50-dma or the intraday low of the prior buyable gap-up day's trading range, it has remained volatile as it has been buffeted about by the trade war news flow. Currently it is sitting right on top of its 20-dema with volume drying up to -49% below-average on Friday. Technically, this puts the stock in a lower-risk entry position using the 20-dema as a tight selling guide.