Current Focus List

The VoSI Focus List is a compilation and reference list of stocks for which Pocket Pivot or Buyable Gap-Up Reports have been issued and which have been deemed suitable for inclusion on the Focus List. Not all stocks for which a Pocket Pivot or Buyable Gap-Up report has been issued will necessarily be added to the list. It is not intended as a "buy list" or a list of immediately actionable recommendations. Stocks on the list may or may not be in proper buy positions, and investors should exercise discretion and proper judgement in determining when and where stocks on the Focus List can be purchased. The following notes are intended to assist in this process. Please note that members can enlarge the Focus List image by clicking on the body of the email and then holding the Control Key while pressing the "+" key until it is large enough to read.
General Observations:
The general market remains in a trendless, choppy state. On Friday, the NASDAQ Composite Index attempted to regain its 50-dma, but fell short before reversing to clear near its lows on the day. The initial upside strength early in the day fizzled as big-stock NASDAQ names like AMZN, INTC, and MSFT all reversed after gapping up at the open on the heels of strong earnings reports on Thursday after the close. This is not a market for investors, and this is the primary reason we have not seen fit to issue many reports, long or short. Most of the action is fleeting in one direction and then quickly shifts back the other way.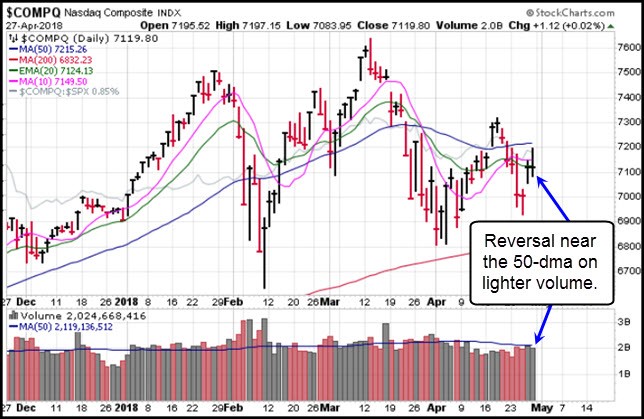 As a possible remedy, Gil is now producing a pilot program of short video VooDoo Reports featuring off-beat swing-trading ideas for active traders. Members who are able and willing to trade actively may want to look into adding that service if they wish to try and take advantage of the volatility inherent in this current market environment. Some of the more recent ideas discussed in the VooDoo Video Reports have included shorting CREE and IPHI after the stocks gapped up the next day following "strong" earnings reports. This was CREE over the past three days, which has worked well as a tactical short. Notice, however, that there is no orthodox "short-sale set-up" that might lead to a longer-term downtrend. In fact, CREE is undercutting the early April low and may be susceptible to another rally back up into the 50-dma. In any case, this is a more unorthodox short-sale play, and so Gil feels this is appropriate for the VooDoo Report as an "offbeat" idea.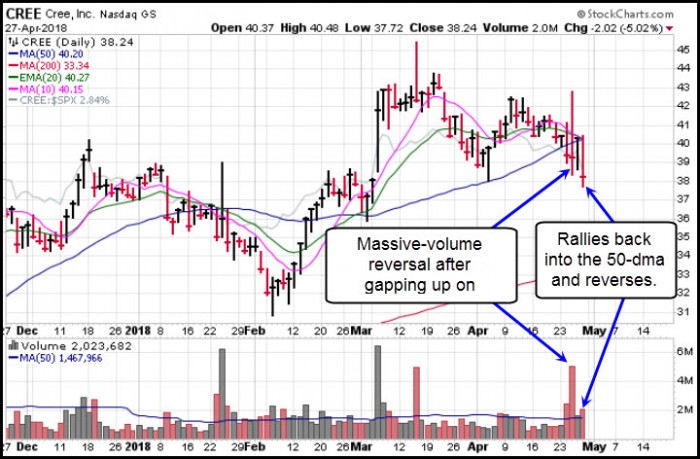 The
Market Direction Model (MDM)
is currently on a cash/neutral signal.
Removed from the List this Week:
Lumentum Holdings (LITE).
Focus List Stocks Expected to Report Earnings this Week:
Square (SQ)
, Wednesday after the close.
Notable Action:
Amazon.com (AMZN)
broke out on Friday at the open, but quickly reversed back below its breakout point to close near the lows of its intraday range. The buyable gap-up move, however, remains in force, although this is questionable given the fact that big money sold into the move. Technically, this could still be viewed as a buyable gap-up move, but the stock would need to hold at or near to the 1567.39 intraday low.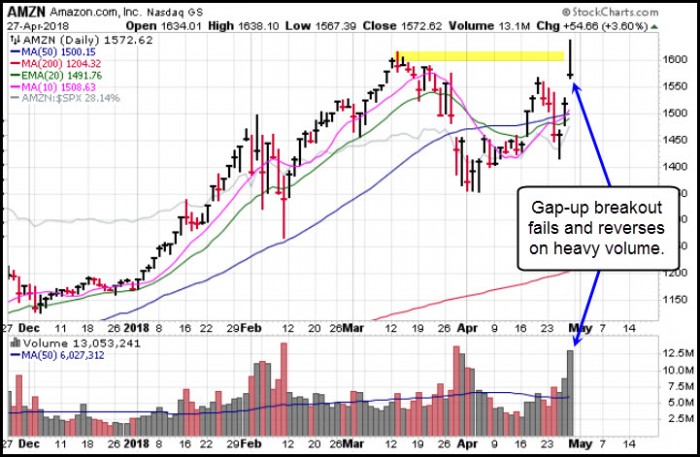 Nvidia (NVDA)
is expected to report earnings on May 10th, and the stock has remained in a wide price range for the past three months. However, the pattern has taken on the look of a large head and shoulders formation, and on Friday the stock stalled out at the confluence of the 10-dma and 20-dema on weak volume. This is looking more like a short than a long, but recall that AMZN was also looking like an H&S top back in mid-April, and it has since moved back up to new highs, at least on an intraday basis. In any case, the H&S formation had zero predictive value with respect to AMZN's future price direction. We might expect that a more decisive move in NVDA, either lower or higher, that takes the stock out of this volatile range, will occur after the company reports earnings on May 10th.