The S&P 500 posted new closing lows for 2022 as the bear market continues. The index had its worst month since March of 2020 at the start of the pandemic while the NASDAQ Composite posted its worst month since the height of the Great Financial Crisis in October 2008.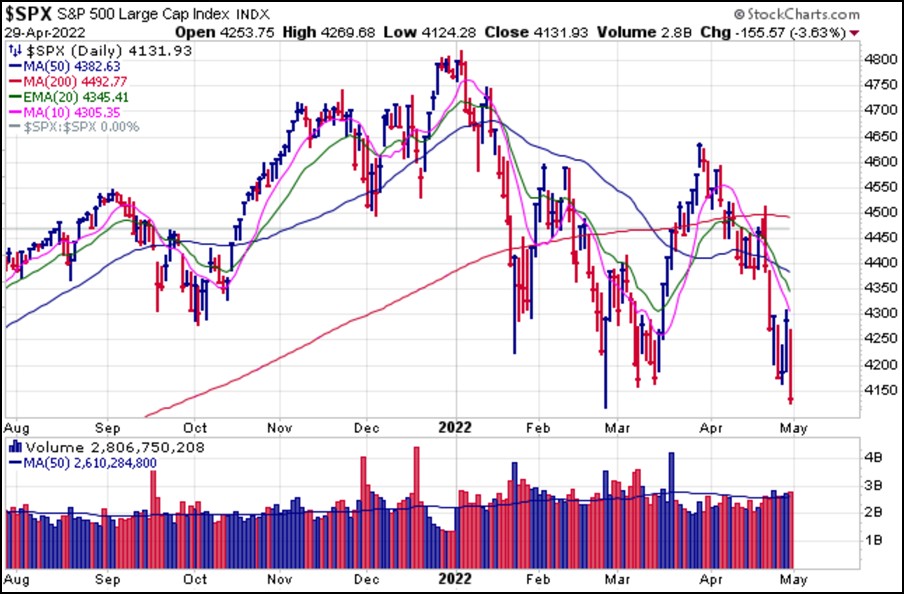 We reported on Visa (V) as a short-sale set-up on Wednesday as it rallied into moving average resistance at the 200-day moving average. The stock picked up a tailwind of sorts on Thursday amid the oversold general market reaction rally and a gap-up in cousin-stock MasterCard (MA) after it reported earnings on Thursday. MA also worked out as a double-top short-sale entry on Friday, and it is like that the two stocks will correlate strongly from here. V closed Friday below its 50-day moving average, triggering a secondary short-sale entry where the 50-dma serves as a covering guide. In this case, we would expect the stock to move directly lower in conjunction with further general market downside this week. Otherwise, any further rallies into the 200-day line would constitute potential short-sale entries as close to the line as possible.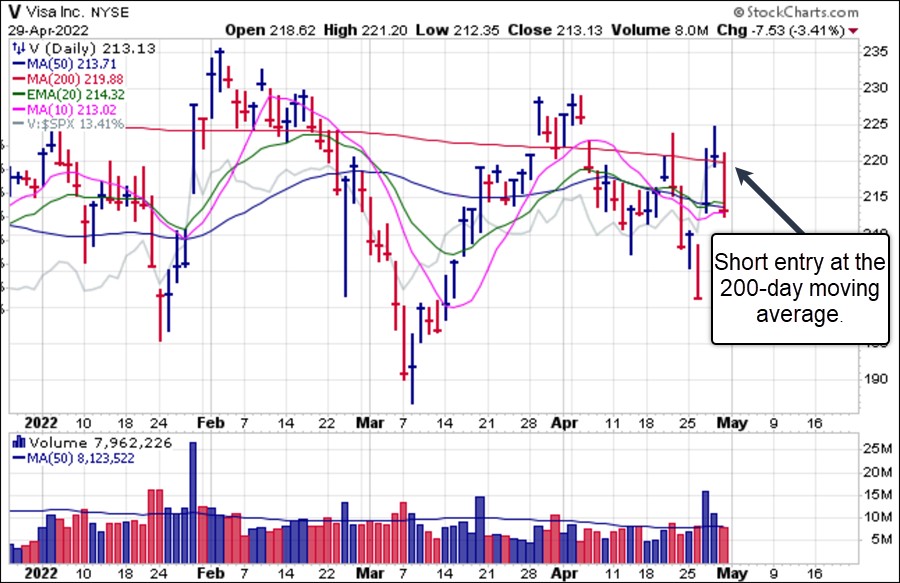 Higher interest rates continue to take their toll on higher-PE and PE-expansion names including big-stock NASDAQ names. These names were notable in recent years for their dominant weightings in the
S&P 500
and
NASDAQ 100 Indexes
, but that has all changed in 2022 as they decline. In the process, their excessive index weightings fall off and the indexes are essentially "de-FANGed." We can see that
Apple (AAPL)
played out as a short at its 50-day moving average on Friday after reporting earnings Thursday afternoon and has now triggered a second short-sale entry at the 200-day line.
Amazon.com (AMZN)
is in free-fall after earnings on Thursday while
Alphabet (GOOG)
steadily trends lower. On Friday,
Microsoft (MSFT)
played out as a short-sale entry at its 20-dema and broke lower from there. All four of these big-stock NASDAQ marquee names reported earnings this past week, none of which has inspired any price recovery.
Nvidia (NVDA)
continues to trend lower as it runs into shortable resistance along its 10-day line, while
Tesla (TSLA)
triggered short-sale entries at it 50-day and 200-day moving average on Friday.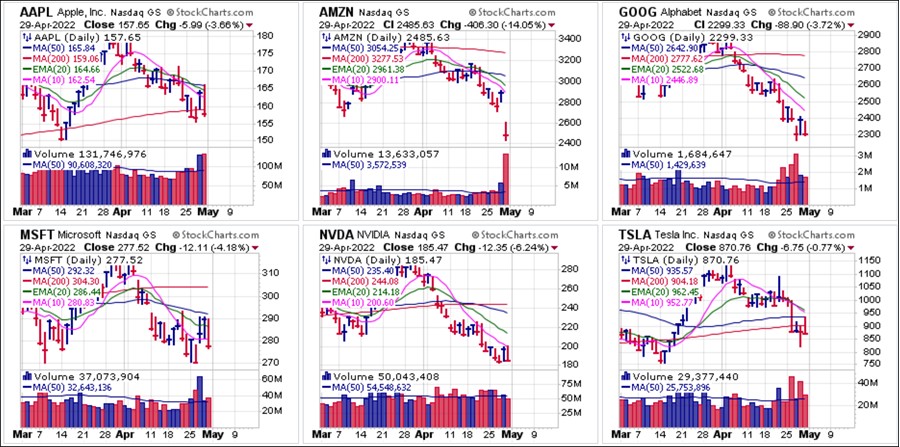 With all of these big-stock NASDAQ 100 names continuing to trend lower, a simple way to play it has been with the 3x-leveraged
ProShares UltraPro Short QQQ ETF (SQQQ)
. The
Market Direction Model (MDM)
remains on a
SELL
signal as we look for lower lows in the general market.