Current Report Watch List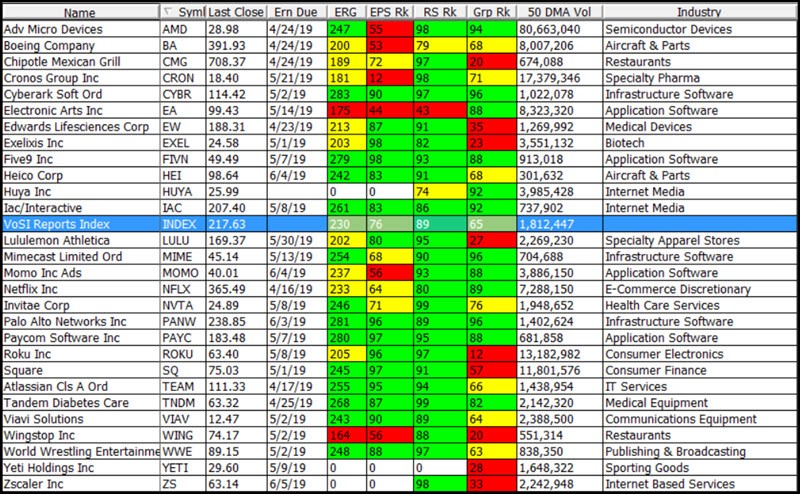 The VoSI Focus List is a compilation and reference list of stocks for which Pocket Pivot or Buyable Gap-Up Reports have been issued and which have been deemed suitable for inclusion on the Focus List. Not all stocks for which a Pocket Pivot or Buyable Gap-Up report has been issued will necessarily be added to the list. It is not intended as a "buy list" or a list of immediately actionable recommendations. Stocks on the list may or may not be in proper buy positions, and investors should exercise discretion and proper judgement in determining when and where stocks on the Focus List can be purchased. The following notes are intended to assist in this process. Please note that members can enlarge the Focus List image by clicking on the body of the email and then holding the Control Key while pressing the "+" key until it is large enough to read.
General Observations:
The market continues to melt higher. In the absence of any significant, negative news and the presence of a dovish Fed, money just keeps moving into stocks. We note that the major market indexes posted higher highs since their Christmas Eve lows on very light volume Friday, which may indicate that the current rally is losing momentum. A 3-5% correction given the extent of the market rally since late December would not be outside the realm of normal possibilities.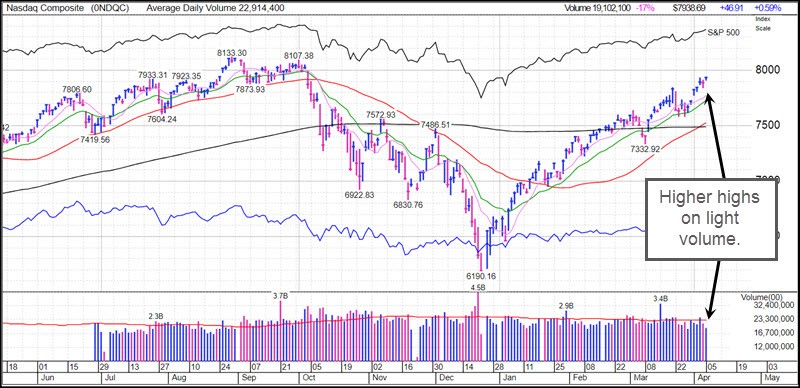 The
Market Direction Model (MDM)
remains on a buy signal.
Focus List Stocks Expected to Report Earnings this Week:
None.
Notable Action:
Heico Corp. (HEI)
was reported on as a buyable gap-up on Tuesday. It remains within buying range of that BGU as it flirts with the $100 Century Mark.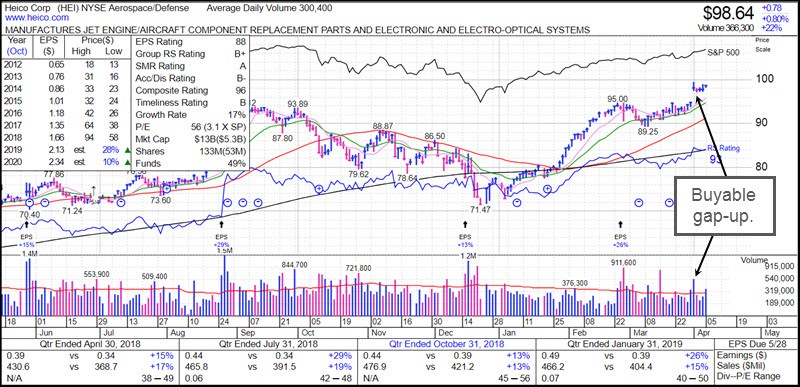 World Wrestling Entertainment (WWE)
posted several pocket pivots along its 50-dma which we reported on at the time. The stock has since rallied off the 50-dma, such that only pullbacks to the line would offer lower-risk entries from here.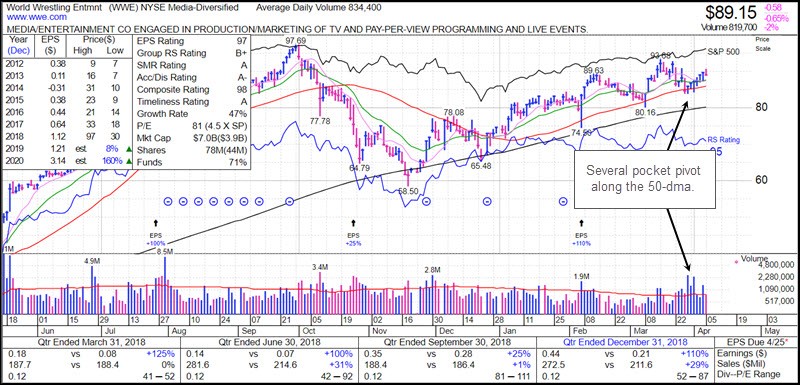 ZScaler (ZS)
broke below its 20-dema on Thursday as selling volume ballooned. The stock has had a nice move since we first reported on it as a buyable gap-up over a month ago. Depending on one's risk-tolerance, the breach of the 20-dema can be considered as a selling guide, with the idea of selling into any rallies back up into the 20-dema if one has not done so already. As with other stocks that have broken down recently, such as DXCM, for example, one must still be prepared to exit long positions in names that are breaking support depending on where one's trailing stop lies. This remains true regardless of whether the general market keeps pushing to higher highs.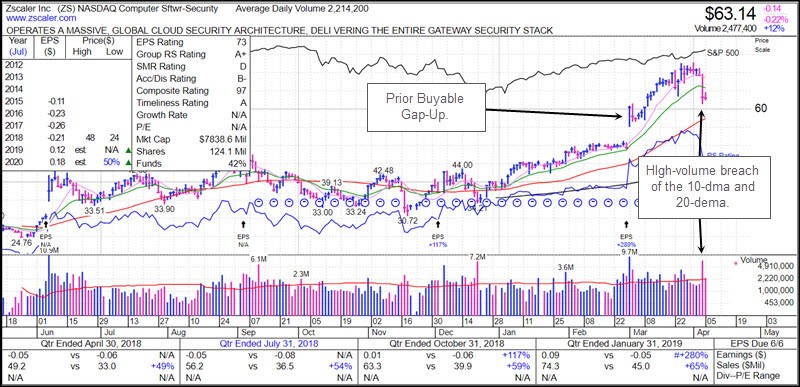 Roku (ROKU)
has breached its 20-dema on heavy selling volume for the second time. The stock has more than double for us since we first reported on it back in early January when it posted a bottom-fishing buyable gap-up (BFBGU). Unless one wishes to give the stock more room down to the 50-dma given the extent of the move from early January, a breach of the 20-dema can be considered a tighter selling guide.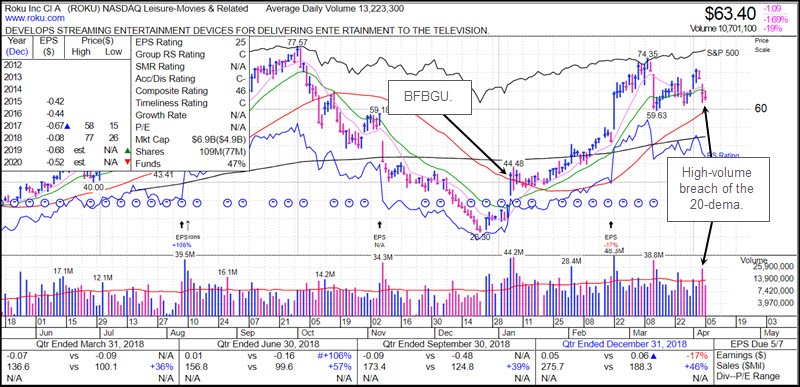 As the indexes move to higher highs, we continue to see breakdowns in various leading names. Of those we've reported on recently,
Five9 (FIVN)
,
Interactive Corp. (IAC)
, and
Mimecast (MIME)
have recently breached their 50-dmas. The chart of MIME, below, shows its breach of the 50-dma on Friday. What makes this even uglier is the fact that just three days earlier the stock had posted a strong-volume pocket pivot and trendline breakout. Such is the nature of this market, and the fact that we are starting to see leading stocks come unglued with more frequency may be a cautionary sign for this market. Know where your out points are, and be prepared to sell when trailing stops and absolute stops are broken.