Current Focus List

The VoSI Focus List is a compilation and reference list of stocks for which Pocket Pivot or Buyable Gap-Up Reports have been issued and which have been deemed suitable for inclusion on the Focus List. Not all stocks for which a Pocket Pivot or Buyable Gap-Up report has been issued will necessarily be added to the list. It is not intended as a "buy list" or a list of immediately actionable recommendations. Stocks on the list may or may not be in proper buy positions, and investors should exercise discretion and proper judgement in determining when and where stocks on the Focus List can be purchased. The following notes are intended to assist in this process. Please note that members can enlarge the Focus List image by clicking on the body of the email and then holding the Control Key while pressing the "+" key until it is large enough to read.
General Observations:
The major market indexes remain in a downtrend, and there is no reason to consider entering the market on the long side at the present time. The extreme volatility and news-sensitivity of the current market environment makes it a difficult one to trade long or short. The current trade "war of words" between the U.S. and China remains a significant wild card for the market, and depending on how this plays out on any given day the market can swing sharply in either direction. Thus, cash remains the safest alternative until things settle down.
The
NASDAQ Composite Index
rolled over on Friday on higher volume as it retests its recent lows. Note the stalling action on Thursday prior to Thursday's decline. Technically, the index is in a four-day rally attempt off the lows of five trading days ago, but it appears that a test of the red 200-dma moving average is more likely. The
S&P 500 Index
, meanwhile, is sitting right at its 200-dma, such that a break down to the 200-dma by the NASDAQ Composite could coincide with the S&P 500 breaching its own 200-dma, which could have bearish consequences.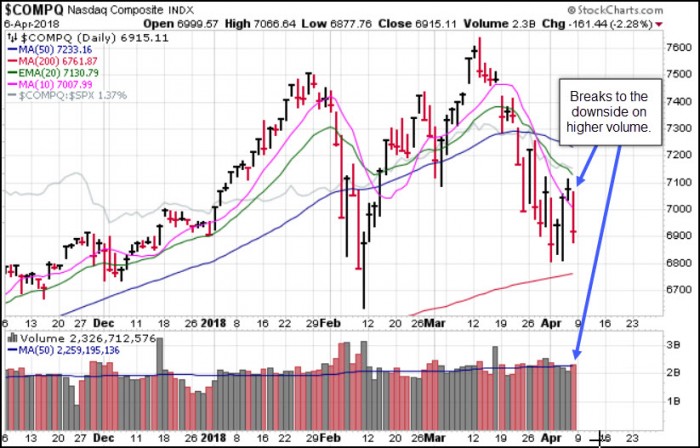 The
Market Direction Model (MDM)
remains on a sell signal.
Removed from the List this Week:
None.
Focus List Stocks Expected to Report Earnings this Week:
None.
Notable Action:
Focus List names continue to correct, with some on the verge of being removed from the list, such as NVDA and SQ. With the market in a downtrend, there is no reason consider any of these to be buyable currently.