Current Focus List

The VoSI Focus List is a compilation and reference list of stocks for which Pocket Pivot or Buyable Gap-Up Reports have been issued and which have been deemed suitable for inclusion on the Focus List. Not all stocks for which a Pocket Pivot or Buyable Gap-Up report has been issued will necessarily be added to the list. It is not intended as a "buy list" or a list of immediately actionable recommendations. Stocks on the list may or may not be in proper buy positions, and investors should exercise discretion and proper judgement in determining when and where stocks on the Focus List can be purchased. The following notes are intended to assist in this process. Please note that members can enlarge the Focus List image by clicking on the body of the email and then holding the Control Key while pressing the "+" key until it is large enough to read.
General Observations:
Major market indexes continue their melt-up on light volume as the
S&P 500 Index
scored another all-time high on Friday on lighter volume. The
NASDAQ Composite
is approaching its prior highs as it continues to push higher on weak volume.
Meanwhile, big-money opportunities in individual stocks have not been evident, which is why we continue to keep our Focus List "clean" as we continue to look for the next big-money opportunity in what has not been what we would consider a target-rich environment. Over the past week, money has piled into big-stock NASDAQ tech/growth names, which drive the indexes higher by virtue of their massive combined weightings of in the S&P 500 and NASDAQ 100 Indexes.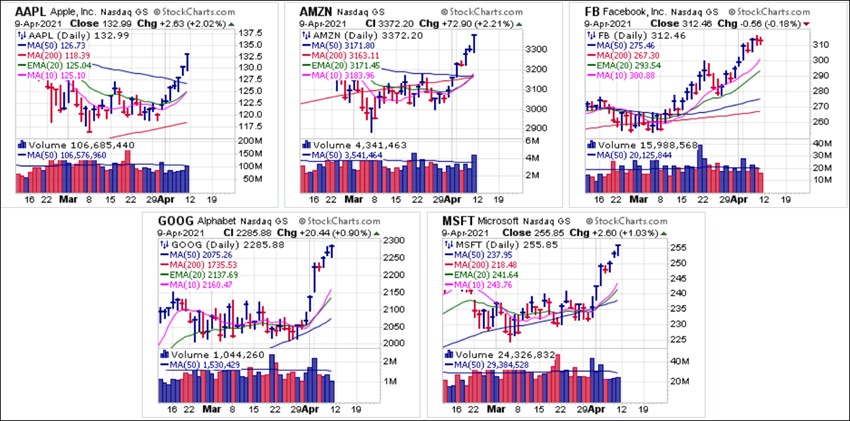 The
Market Direction Model (MDM)
remains on a
BUY
signal.
Notable Action:
Bitcoin
is attempting to post a trendline breakout from a cup-with-handle base this weekend as the crypto-currency remains vibrant.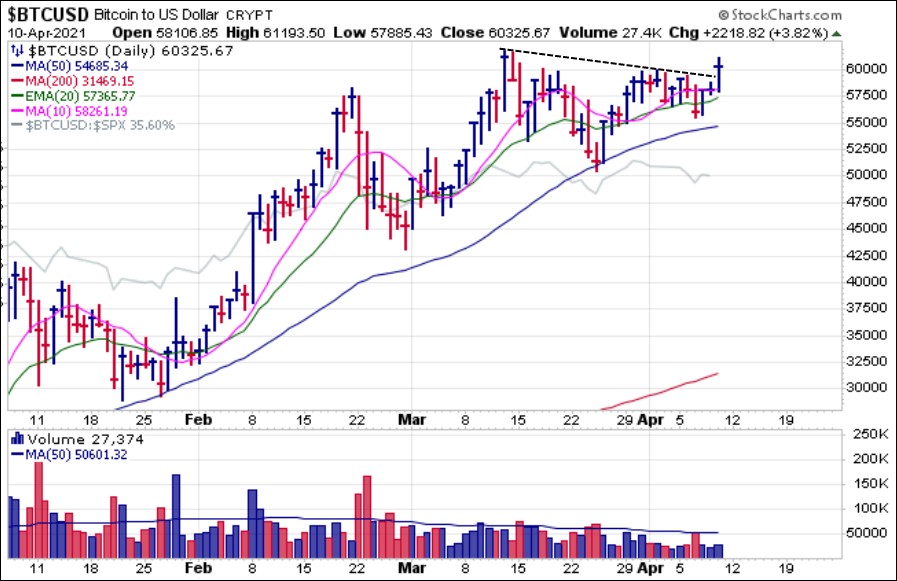 A breakout in Bitcoin would make the
Grayscale Bitcoin Trust (GBTC)
buyable here along its 10-day and 20-day moving averages, with the idea of using the 50-day moving average as a maximum downside selling guide for shares purchased at current levels.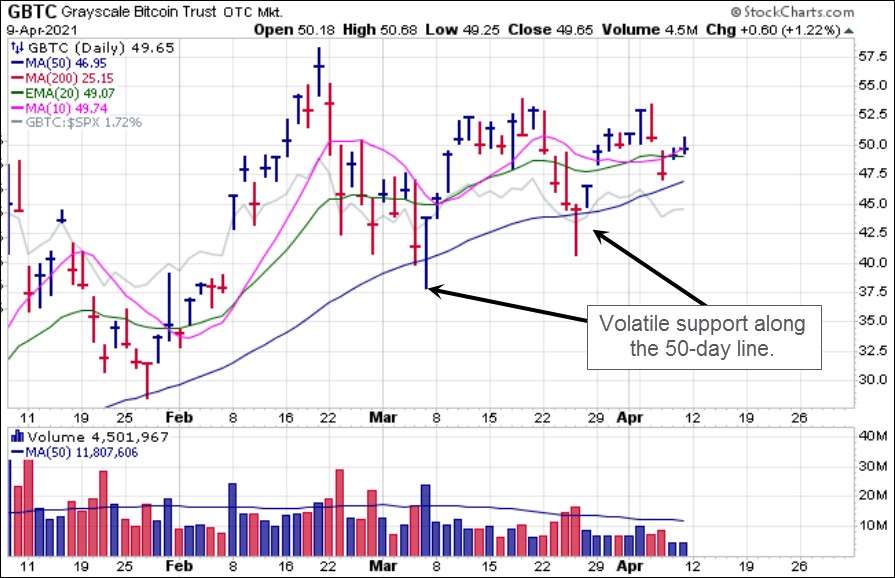 Precious metals continue to make progress after posting U&R moves off their recent lows over a week ago. The
Sprott Physical Gold Trust (PHYS)
has trended higher following an undercut & rally (U&R) move through the prior 13.26 low of early March. It is now finding support at the 20-day exponential moving average, which offers a second entry/add point using the 20-dema as a selling guide.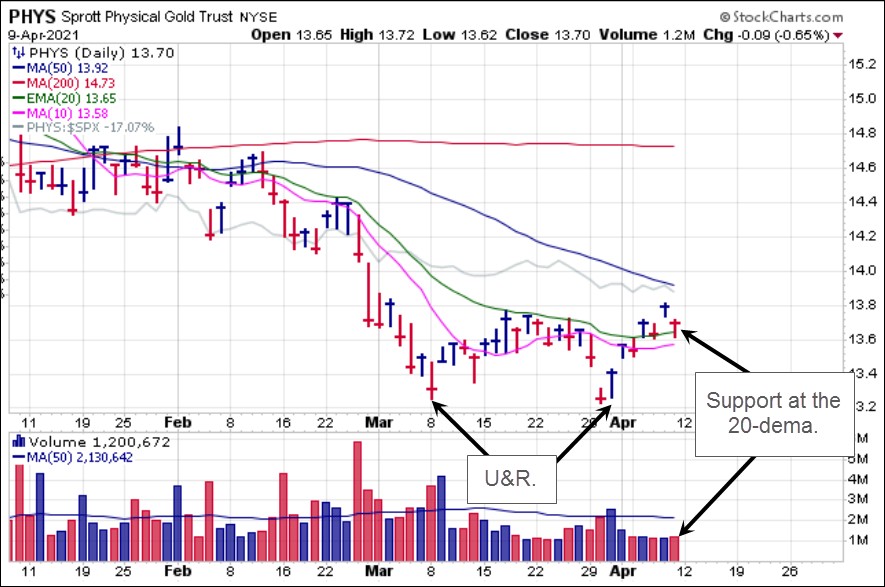 The
Sprott Physical Silver Trust (PSLV)
has also continued to move higher following the prior week's undercut & rally (U&R) through the prior 8.84 low of early March. It pulled into its 10-day line on Friday which offers a second entry/add point using the 10-day line as a selling guide. Higher inflation as measured by the Producer Price Index, which came in at 1.0% vs. expectations of 0.5% for the month of March will likely be a positive for precious metals and alternative-currencies in general. While elevated nominal interest rates have been a headwind for precious metals as of late, increased and accelerating inflation results in lower, even more negative
real interest rates
that are positive for the metals. We look for the inflation trend to persist, which should serve as more of a tailwind for gold, silver, and crypto-currencies going forward.