Current Focus List

The VoSI Focus List is a compilation and reference list of stocks for which Pocket Pivot or Buyable Gap-Up Reports have been issued and which have been deemed suitable for inclusion on the Focus List. Not all stocks for which a Pocket Pivot or Buyable Gap-Up report has been issued will necessarily be added to the list. It is not intended as a "buy list" or a list of immediately actionable recommendations. Stocks on the list may or may not be in proper buy positions, and investors should exercise discretion and proper judgement in determining when and where stocks on the Focus List can be purchased. The following notes are intended to assist in this process. Please note that members can enlarge the Focus List image by clicking on the body of the email and then holding the Control Key while pressing the "+" key until it is large enough to read.
General Observations:
Major indexes gapped to the downside on Friday on heavy volume on fears that a run on the Turkish Lira will lead to some sort of financial contagion into broader global financial markets. In addition, comments from the Russian Prime Minister that the imposition of additional economic sanctions against Russia was tantamount to a declaration of economic war also weighed on the market. The
NASDAQ Composite Index
daily chart illustrates the choppy environment seen throughout the summer of 2018, and the current action only adds to the general news-oriented volatility. The action looks a bit like a double-top but it remains to be seen how this plays out in the coming days.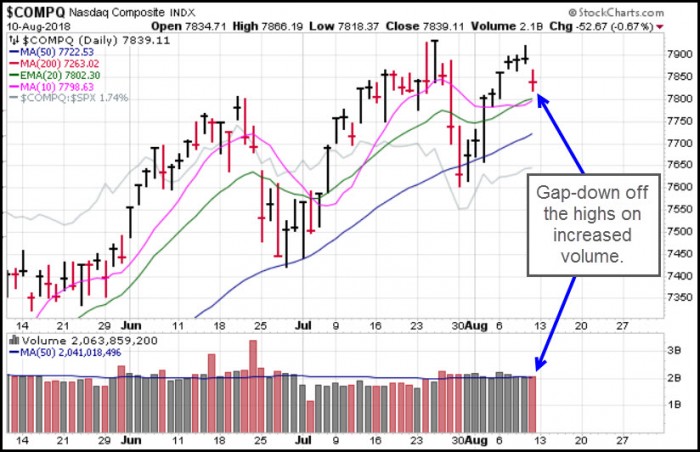 The
Market Direction Model (MDM)
remains on a buy signal.
Removed from the List this Week:
None.
Focus List Stocks Expected to Report Earnings this Week:
None.
Notable Action:
Amazon.com (AMZN)
has continued to post all-time highs. It remains extended, and pullbacks closer to the 10-dma would serve as references for possible lower-risk entry opportunities.
Baozun (BZUN)
continues to live below its 50-dma. Earnings are expected later this month at which point we will have a chance to see whether the stock can rally off its current lows as it pulls back towards its prior May breakout point.
Fortinet (FTNT)
posted another all-time high this past week after posting a buyable gap-up move two Thursdays ago.
Netflix (NFLX)
has rallied back up through the 344 prior low to post a U&R long set-up. On Friday the stock pulled into its 10-dma as volume dried up in the extreme, closing 0.5% above the prior 344 low, This keeps the U&R long set-up active, using the 10-dma or the 344 price level as tight selling guides.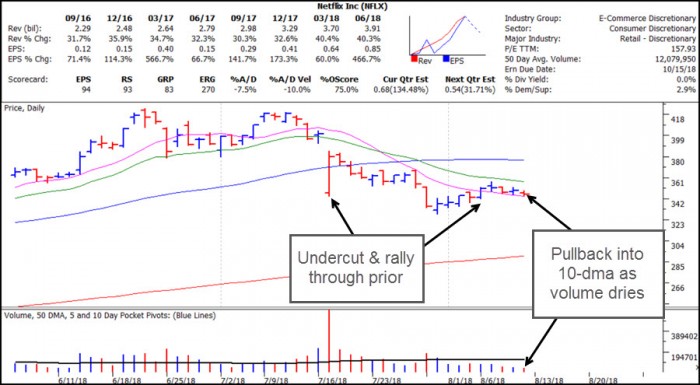 Square (SQ)
has moved tight sideways since posting a pocket pivot after reporting earnings two Thursdays ago. The stock stalled and closed mid-range on Friday as buying volume picked up sharply. For now, the stock remains in a lower-risk entry position using the 10-dma/20-dema confluence as a tight selling guide.