Current Focus List

Current VoSI Focus List ticker list: APPN, ANET, BABA, BZUN, NFLX, TTWO.

The VoSI Focus List is a compilation and reference list of stocks for which Pocket Pivot or Buyable Gap-Up Reports have been issued. It is not intended as a "buy list" or a list of immediately actionable recommendations. Stocks on the list may or may not be in proper buy positions, and investors should exercise discretion and proper judgement in determining when and where stocks on the Focus List can be purchased. The following notes are intended to assist in this process. Please note that members can enlarge the Focus List image by clicking on the body of the email and then holding the Control Key while pressing the "+" key until it is large enough to read.
General Observations:
Heavy selling hit the market on Tuesday and Wednesday as President Trump stepped up the rhetoric against the belligerent and bellicose leader of North Korea, which is threatening to fire missiles at the U.S. protectorate of Guam. The selling took the NASDAQ Composite and S&P 500 index right through their 50-day moving averages Thursday on heavy selling volume. This was followed on Friday by weak-volume rallies on the part of both indexes back up to the 50-dma, which served as near-term resistance. If they cannot soon regain their 50-dmas, further downside may be in store.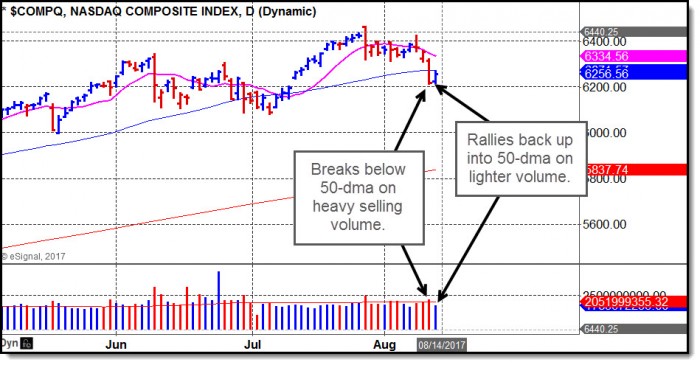 Investors should exercise extreme caution, although we noted in last week's Focus List Review that the small number of names left on the Focus List was likely a clue as to the current state of the market. That assessment came to fruition on Tuesday when the market began a three-day sell-off before bouncing on Friday.
The Market Direction Model (MDM) and the VIX Volatility Model (VVM) are both currently on cash signals.
Removed from the List this Week:
Nutanix (NTNX),
ServiceNow (NOW)
, and
Veeva Systems (VEEV)
.
Focus List Stocks Expected to Report Earnings this Week:
Alibaba (BABA)
and
Baozun (BZUN)
Thursday before the open.
Notable Action:
Appian (APPN)
failed on its Monday breakout, dropping back into its base on below-average volume. On Friday the stock was able to close just above the 20-dema as volume dried up sharpy. This could present a lower-risk entry spot with the idea of using Friday's intraday low as a very tight stop, although its success on the upside will no doubt be a function of where the general market goes this coming week.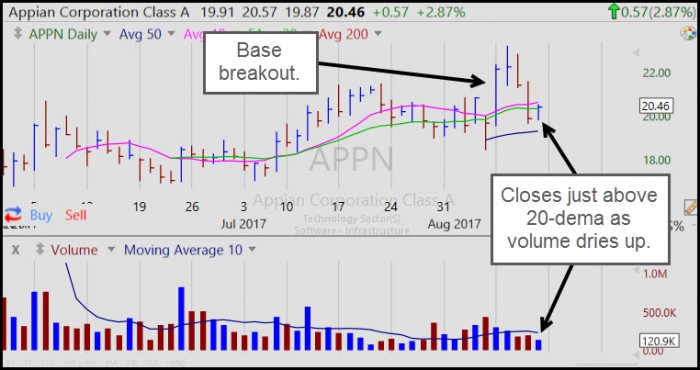 Arista Networks (ANET)
was unable to recover back up through the prior 166.50 of last Friday's buyable gap-up move after earnings, closing this past Friday at 165.69. It is, however, still holding above the top of the prior base from which it broke out last week as well as the confluence of the 10-dma and 20-dema. If the stock breaks below its 20-dema then the current breakout could be considered a late-stage failed-base short-sale set-up.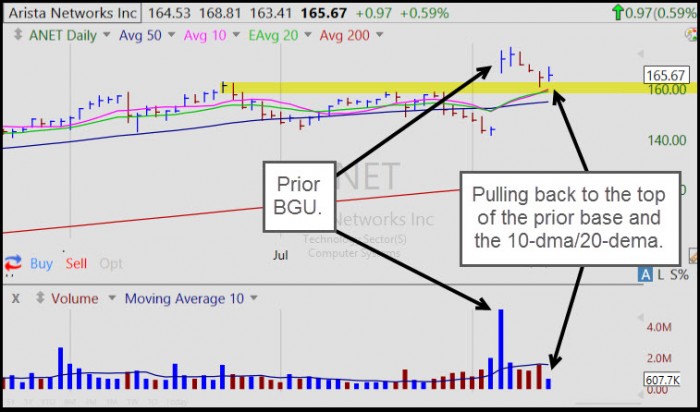 Netflix (NFLX)
is attempting to find support near its 50-dma, although volume on Friday was rather weak. The stock has already violated the 174.24 intraday low of its mid-July buyable gap-up after earnings. True to form, NFLX never rallied much beyond last month's BGU, which is typical of its action following both of the last two gap-ups it has had after reporting earnings in 2017.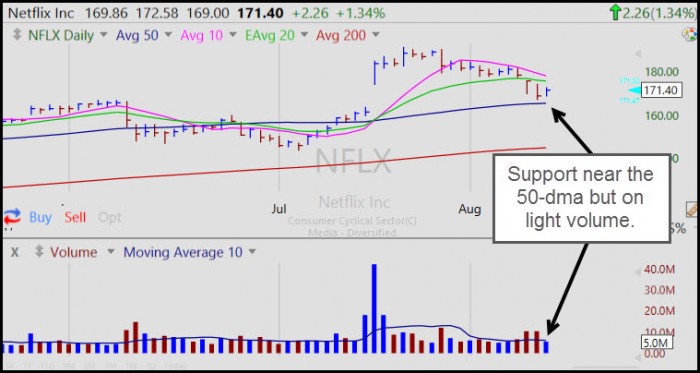 Take-Two Interactive (TTWO)
is still holding up above its 10-dma and last week's buyable gap-up (BGU) and base breakout that followed a strong earnings report. Pullbacks to the 10-dma that are constructive and occur on low volume could present lower-risk entries from here.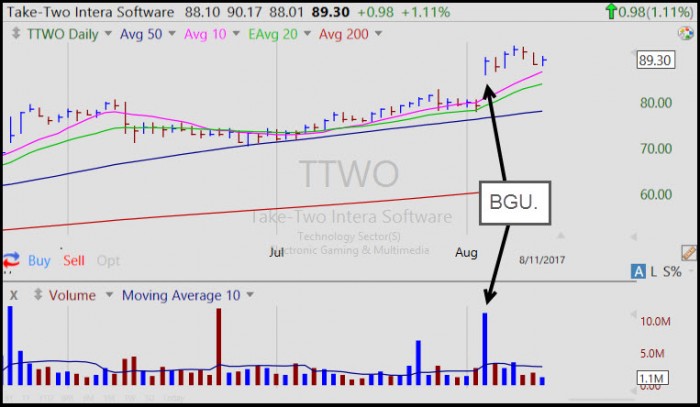 Current VoSI Focus List ticker list: APPN, ANET, BABA, BZUN, NFLX, TTWO.