Current Focus List

The VoSI Focus List is a compilation and reference list of stocks for which Pocket Pivot or Buyable Gap-Up Reports have been issued and which have been deemed suitable for inclusion on the Focus List. Not all stocks for which a Pocket Pivot or Buyable Gap-Up report has been issued will necessarily be added to the list. It is not intended as a "buy list" or a list of immediately actionable recommendations. Stocks on the list may or may not be in proper buy positions, and investors should exercise discretion and proper judgement in determining when and where stocks on the Focus List can be purchased. The following notes are intended to assist in this process. Please note that members can enlarge the Focus List image by clicking on the body of the email and then holding the Control Key while pressing the "+" key until it is large enough to read.
General Observations:
News that the U.S. and China had agreed to creating a roadmap towards reaching a trade agreement by November sent the indexes higher on Friday. The S&P 500 Index broke out to a higher high as it gets closer to its January all-time highs. The NASDAQ Composite Index successfully retested its 50-dma on lighter volume, which was bullish. With the ratcheting up of trade rhetoric between the U.S. and China effectively halted, at least until November, the market has been free of short-term uncertainty and alarm caused by the increasingly heated trade rhetoric. This could set up a move to all-time highs by the major market indexes.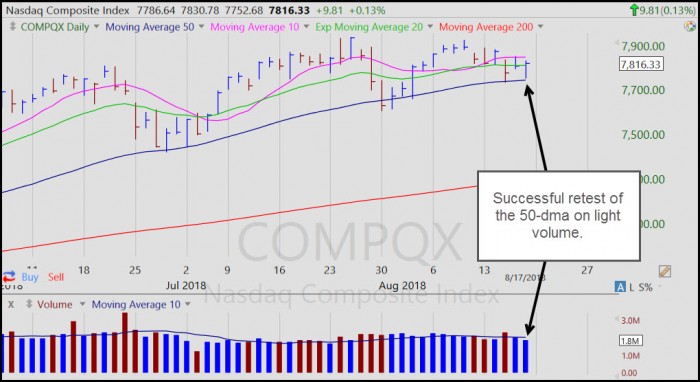 The
Market Direction Model (MDM)
remains on a buy signal.
Removed from the List this Week:
None.
Focus List Stocks Expected to Report Earnings this Week:
None.
Notable Action:
Amazon.com (AMZN)
found support at its 20-dema on Friday, closing near the peak of its daily trading range.
Baozun (BZUN)
has been beaten to a pulp as Chinese markets have experienced the same. The stock found support at its 200-dma on heavy volume this past Wednesday. At this point we would watch for a) a possible low-volume retest of the 200-dma on a pullback from here, or b) a move back up through the 51.50 prior low in the pattern, which would trigger a U&R long entry at that point, using the 51.50 price level as a tight stop.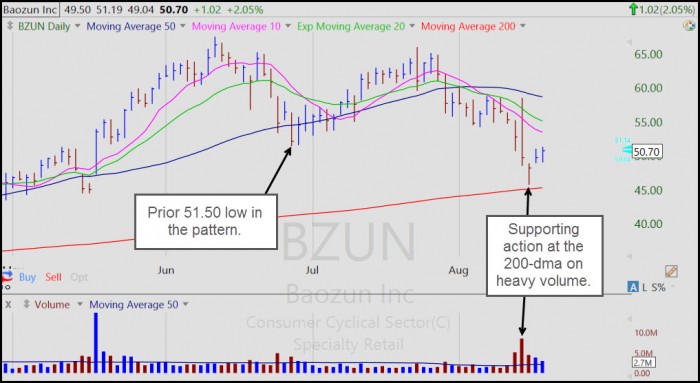 Fortinet (FTNT)
continues to track higher along its 10-dma. It is currently extend on the upside.
Netflix (NFLX)
continues to make lower lows, and is now dipping into a prior base structure from earlier in the year. Watch for any move back above the prior low of 322.43 from May of this year as a possible U&R long entry. The stock is quite oversold near-term and may be set for some kind of reaction rally, particularly if we see the general market continue higher.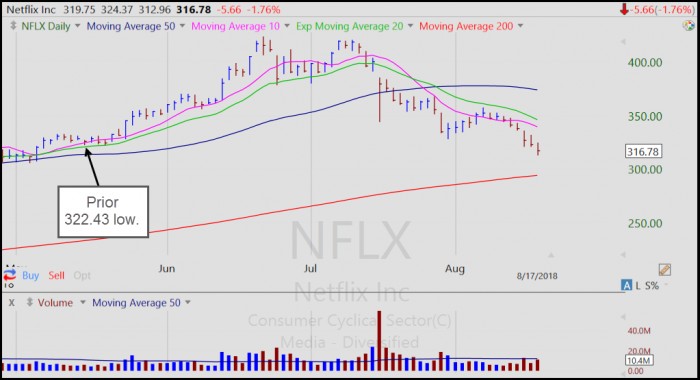 Square (SQ)
is hanging tight along its 50-dma as volume dries up. This puts the stock in a lower-risk entry position using the 50-dma as a tight selling guide.