Current Focus List

The VoSI Focus List is a compilation and reference list of stocks for which Pocket Pivot or Buyable Gap-Up Reports have been issued. It is not intended as a "buy list" or a list of immediately actionable recommendations. Stocks on the list may or may not be in proper buy positions, and investors should exercise discretion and proper judgement in determining when and where stocks on the Focus List can be purchased. The following notes are intended to assist in this process. Please note that members can enlarge the Focus List image by clicking on the body of the email and then holding the Control Key while pressing the "+" key until it is large enough to read.
General Observations:
The market again came under heavy selling pressure as a result of alleged negative news. The prior week's sell-off was attributed to the heated exchange of rhetoric between North Korea and President Trump, while this week's sell-off was attributed to alleged signs that the Trump Administration is deteriorating and that the President is increasingly "isolated." This strikes us as hyperbole, and the question is whether news is causing these sell-offs or whether they are part of what is in actuality a deteriorating market environment that may be subject to further downside.
Short-term, however, the NASDAQ Composite (below) and the S&P 500 Indexes both undercut prior lows from last week and rallied back above those lows on an intraday basis Friday. This occurred at the same time that the Dow Jones Industrial Averages bounced off of its 50-day moving average as the NASDAQ and S&P remain below their own 50-dmas. Only the NASDAQ was able to close above the prior week's low. In this position it is possible that we could see a further move to the upside that comes closer to the 50-dma as the NASDAQ potentially maintains its undercut & rally move. The situation does, however, remain in flux.
Note that the Focus List decreased to a mere six stocks two weekends ago, which was perhaps an advance clue that the selling pressure would persist. Risk remains high in this market, and we continue to advise caution. If one chooses to enter new long positions, one should do so only when one can determine a very nearby and tight selling guide that keeps risk to a minimum in case the trade fails to work.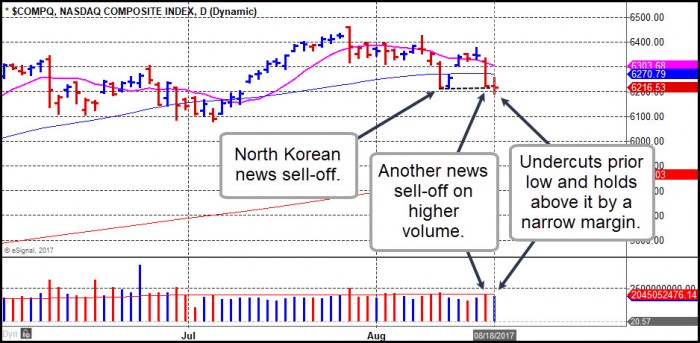 The Market Direction Model (MDM) ended the week on a buy signal. The VIX Volatility Model (VVM) ended the week on a sell signal. Both signals come with tight stops based on the current market environment.
Removed from the List this Week:
None.
Focus List Stocks Expected to Report Earnings this Week:
Baozun (BZUN)
on Monday before the open.
Notable Action:
Appian (APPN)
ended Friday right at its 20-dema with volume drying up to - 80% below average. This puts it in a lower-risk entry position using the 20-dema or Friday's low as a tight selling guide, as recommended in this current, uncertain market environment.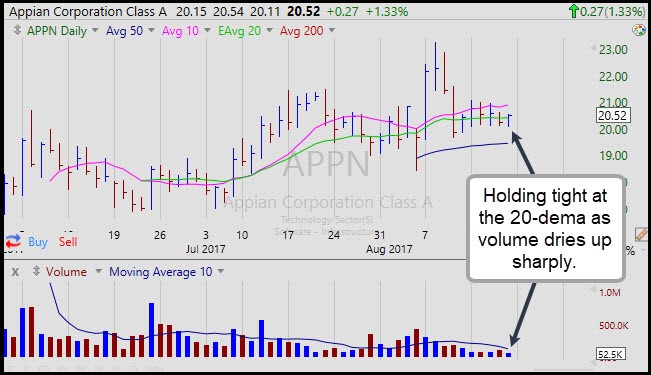 Alibaba (BABA)
gapped up on Thursday after beating handily on earnings that day before the open. It then set a low of 163.51 on Thursday, tested that low on Friday, and continued higher from there. We would use pullbacks closer to the 163.51 level as lower-risk entries given the current market risk.
Netflix (NFLX)
is stalling at its 50-day moving average, and could be on the verge of breaking below the 50-dma. Frankly, we would have sold this on the violation of the mid-July BGU low of 174.24 several days ago.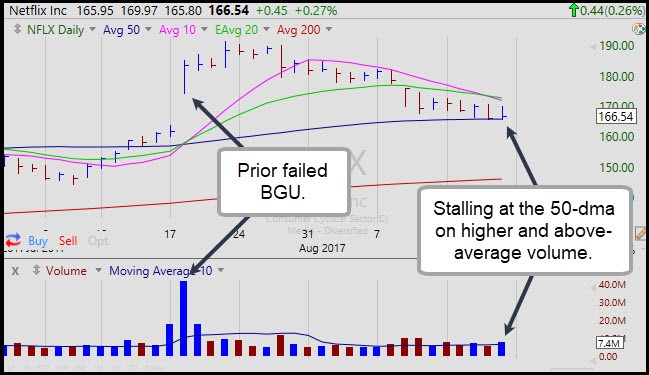 Short-sale Notes:
Tesla (TSLA)
traded below its 50-dma on Friday as selling volume increased. This confirms the stock as a short-sale target, although we had already recommended it as a short in the mid-360 price level as it found resistance. In this position the stock can be shorted again using the 50-dma as a guide for a tight upside stop.