Major market indexes sold off four out of five days this past week as the NASDAQ Composite has now corrected 8% off the July 19th peak. That puts the index in intermediate correction territory as it undercuts the late July low. For now the market is in at least an intermediate correction as it declines 11 out of 14 days in a row.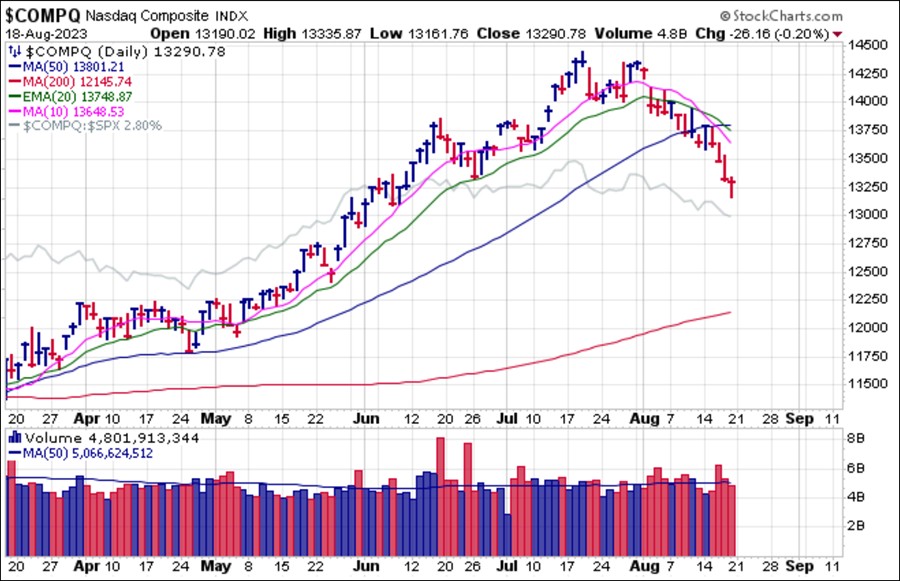 AI meme stocks have been slammed, but AI meme leader
Nvidia (NVDA)
is doing its best to hold up despite triggering a potential late-stage base-failure last week after breaking below the 20-dema. A positive article from
Barron's
magazine last weekend led to a sharp move back above the 50-day moving average but NVDA ended the week just below its 50-dma. The company will report earnings Wednesday after teh close which will of course figure heavily into where the stock goes from here. It may also trigger sympathy moves in a variety of other AI meme stocks so its effect could be broad, making Thursday an interesting trading day with respect to this area of the market.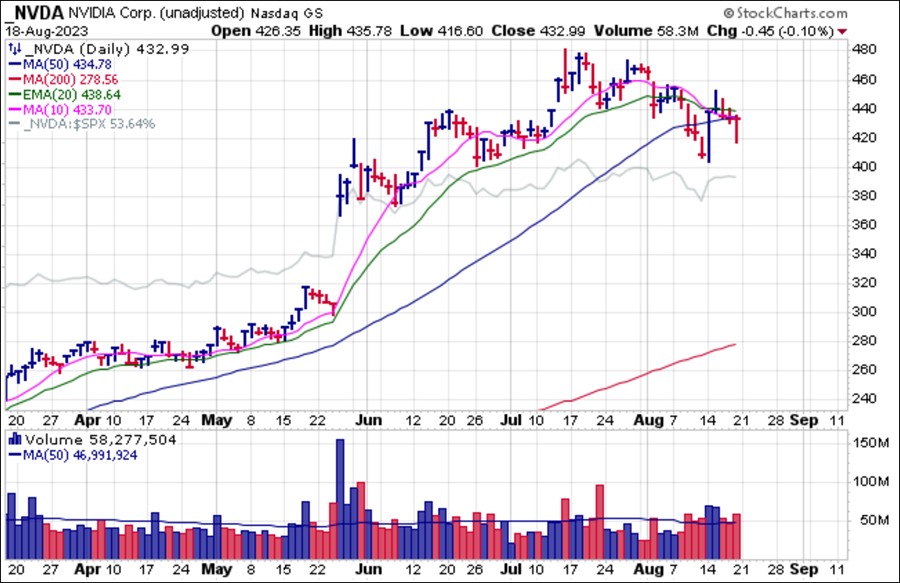 Other AI meme stocks that we have discussed in previous Focus List Review reports,
MongoDB (MDB)
and
The Trade Desk (TTD)
, have split wide open over the past two weeks after failing on recent breakout attempts.

Alphabet (GOOGL)
broke below its 20-dema on Friday to trigger a short-sale entry at the line. It has also dropped below the 129.04 left-side peak and new-high breakout point in its prior base as it also triggers a short-sale entry at the 20-dema.
Meta Platforms (META)
triggered a short-sale entry at the 20-dema last week and then on Wednesday triggered another short-sale entry at the 50-dma. It has since broken down to lower lows, and rallies back up into the 50-day moving average would bring the stock back into short-sale range so can be watched for.
Microsoft (MSFT)
continues to trend lower after triggering a late-stage failed-base (LSFB) short-sale set-up four weeks ago. It is now tracking along and just below the declining 10-day moving average as the action remains distinctly bearish.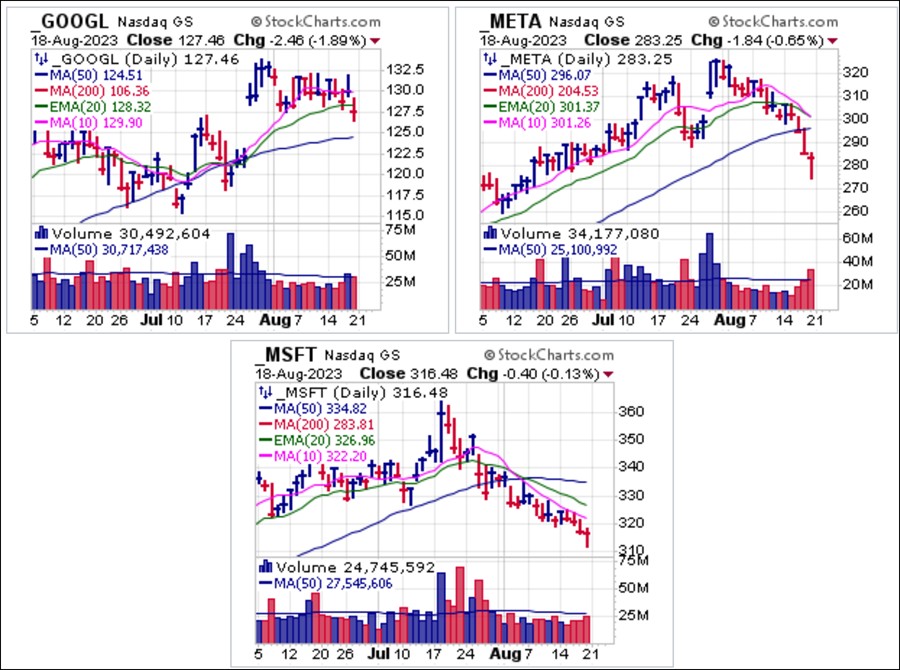 The
10-Year Treasury Yield ($TNX)
hit a 15-year closing high this past week, sending the dollar higher and severely impacting precious metals and Bitcoin. The
Van Eck Merk Gold Trust (OUNZ)
, and the
Aberdeen Physical Silver Trust (SIVR)
are both trading below 200-day moving average support.

Bitcoin ($BTCUSD)
split wide open on Wednesday as it plunged through the 200-day moving average on heavy selling voluime. It ended the week well below the 200-dma and looks set to move lower from here.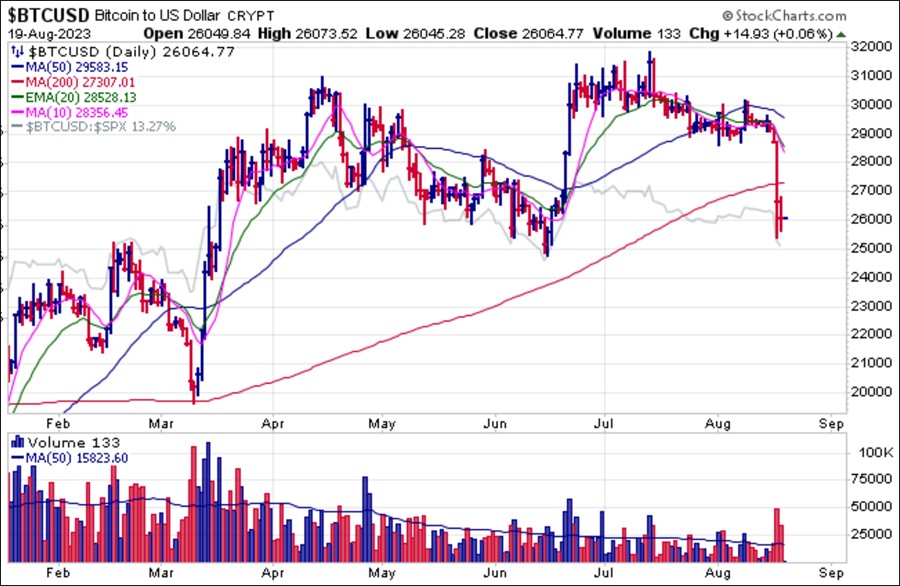 A couple news items slammed Bitcoin:
China's Evergrande filed for bankruptcy in Manhattan. As most heavily indebted property developer, many fear that the recent real estate problems could spread into other parts of China's fragile economy.
Rumors spread that SpaceX sold off all its Bitcoin (~$393M worth). While unconfirmed, the rumors added fuel to the sell-off.
Over $1B in liquidations made it greater than when FTX collapsed.
*Chart courtesy of Milk Road.
The Market Direction Model (MDM) remains on a CASH signal. While going short can be profitable, staying on the sidelines also works to one's benefit as cash is king during sharp selloffs. Shorts pile in which makes them susceptible to short squeezes. Shorting on such bounces can be prudent. Further, the current downtrend may reverse as a dead cat bounce in the days after Aug 23 as NVDA reports after the Aug 23 close. The model will look to short into such opportunities.