Current Focus List

The VoSI Focus List is a compilation and reference list of stocks for which Pocket Pivot or Buyable Gap-Up Reports have been issued and which have been deemed suitable for inclusion on the Focus List. Not all stocks for which a Pocket Pivot or Buyable Gap-Up report has been issued will necessarily be added to the list. It is not intended as a "buy list" or a list of immediately actionable recommendations. Stocks on the list may or may not be in proper buy positions, and investors should exercise discretion and proper judgement in determining when and where stocks on the Focus List can be purchased. The following notes are intended to assist in this process. Please note that members can enlarge the Focus List image by clicking on the body of the email and then holding the Control Key while pressing the "+" key until it is large enough to read.
General Observations:
The
NASDAQ Composite
and
S&P 500 Indexes
both achieved all-time highs this past week, but on lighter volume. The NASDAQ's breakout to new highs is its fourth of the summer, and each prior breakout has been met with selling, sending the index back to the downside. Most leading stocks have been chopping around, but some are starting to break out and achieve news highs. This may indicate that this latest index breakout has some legs to it, but there are still many news-based crosswinds to content with, such as the trade issues and further rate hikes, so it may remain somewhat volatile. We find that focusing on individual stock set-ups without fixating on the day to day index volatility helps add clarity to the situation.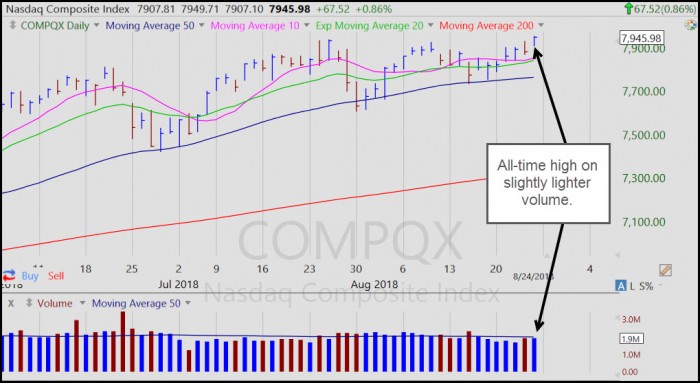 The
Market Direction Model (MDM)
remains on a buy signal.
Removed from the List this Week:
None.
Focus List Stocks Expected to Report Earnings this Week:
None.
Notable Action:
Amazon.com (AMZN)
remains a strong leader in this market but did not join the market on Friday with new highs of its own. It continues to chop around its 10-dma after finding support along its 20-dema the prior week. Pullbacks to either moving average, depending on general market context, would provide lower-risk entries from current price levels.
Baozun (BZUN)
rallied up into its 50-dma on Thursday in sympathy to an initial post-earnings gap-up in Alibaba (BABA), but reversed at the line on above-average volume. The stock is trying to form a double-bottom pattern after finding support at its 200-dma less than two weeks ago. Volume on Friday declined to below-average as the stock slowed its descent from the 50-dma. If the stock can hold the 10-dma and the prior late June low at 51.50, it could remain viable as a long play.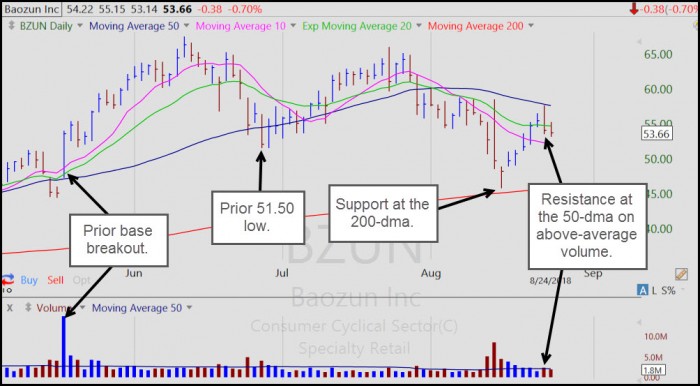 Fortinet (FTNT)
posted another all-time high on Friday. The stock has been slowly riding higher along its rising 10-dma and remains in an extended position.
Netflix (NFLX)
was discussed in last weekend's Focus List Review as one to watch for possible U&R long set-ups coming up through the prior May low down at 322.43. The stock quickly pushed back up through that low on Monday, triggering a U&R long entry at that point. It then pushed up through the 328 low of July 31st, triggering a second U&R long set-up. On Wednesday, NFLX then rallied above the prior 344 low of July 17th, when it gapped down after earnings, and also cleared its 20-dema in the process. Note that Tuesday's move was a pocket pivot coming up through the 10-dma, but was coming out of a v-shaped position. On Friday, NFLX regained the 344 low and the 20-dema on strong volume, posting another pocket pivot, but this time at the 20-dema. If one did not take action on the first U&R long entry signal at 322.43, we would watch for any pullback towards the 20-dema as a potentially lower-risk entry opportunity on constructive weakness.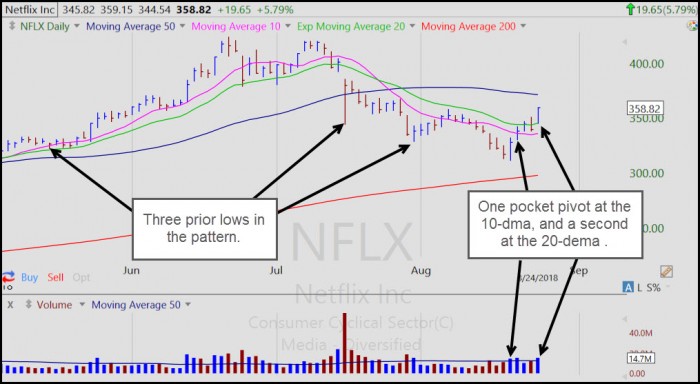 Square (SQ)
posted another all-time high on Friday. The stock was last buyable along the 10-dma per our comments in last weekend's Focus List Review.