Major market indexes reversed in extremely ugly and bearish fashion on Thursday after an initial gap-up move in sympathy to strong earnings from big-stock AI meme darling Nvidia (NVDA) faded badly. This led to massive outsider reversals in all the major indexes on higher volume. On Friday, the market rallied following Fed Chair Jerome Powell's speech at the Fed's annual Economic Policy Symposium in Jackson Hole, Wyoming, but the action shows up as a normal reaction move following Thursday's bearish reversal at the 50-day moving averages in the major market indexes.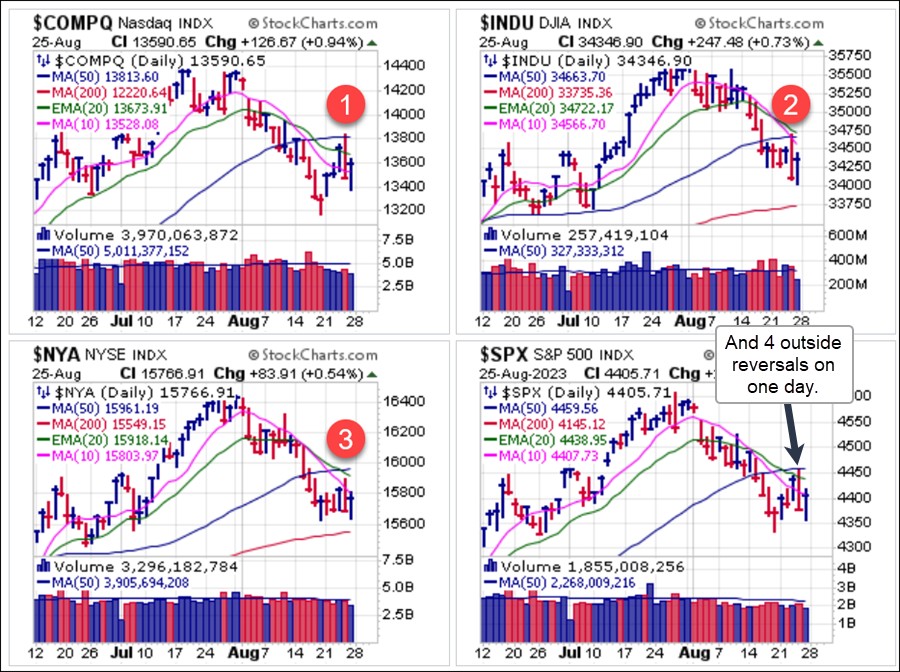 The outside reversals in the major market indexes were a function of a massive gap-up and reversal that was seen in AI meme stocks across the board on Thursday after
Nvidia (NVDA)
reported better than expected earnings after the bell on Wednesday. On Thursday morning NVDA gapped above the $500 price level but then reversed to trigger a Century Mark short-sale entry based on Jesse Livermore's Century Mark Rule for the short side. It then descended below the left-side double-top peak and new-high breakout point in the prior base to trigger a double-top short-sale (DTSS) entry at 480.88 which is then used as a covering guide. NVDA is now sitting just above 20-dema support so that any break below the line would trigger a fresh short-sale entry at that point. Meanwhile, rallies up to 480.88 double-top resistance may present potentially opportunistic short-sale entries from here so can be watched for.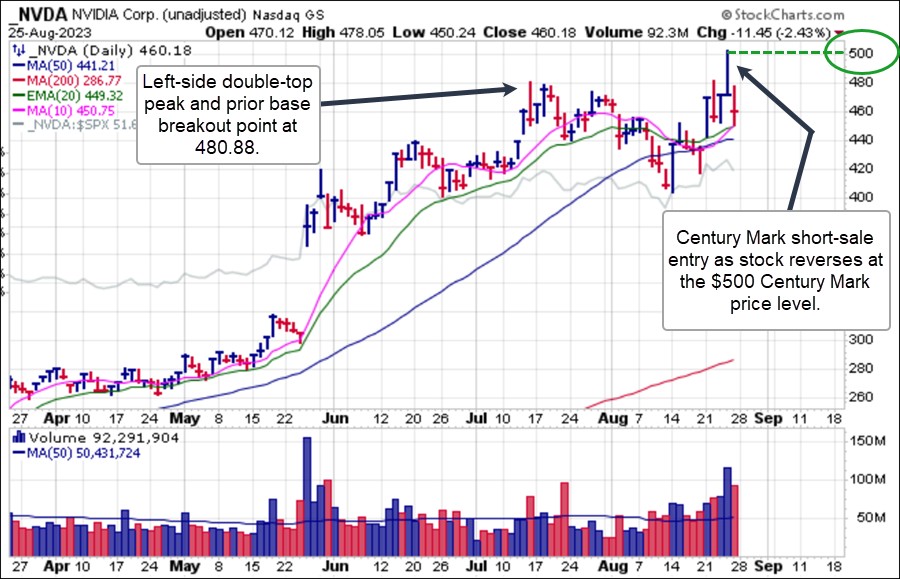 Most AI meme-related stocks are in oversold positions, but after rallying into its 50-day moving average on Friday following a massive outside reversal on Thursday
CrowdStrike (CRWD)
is in a potential short-sale entry position using the 50-dma as a covering guide.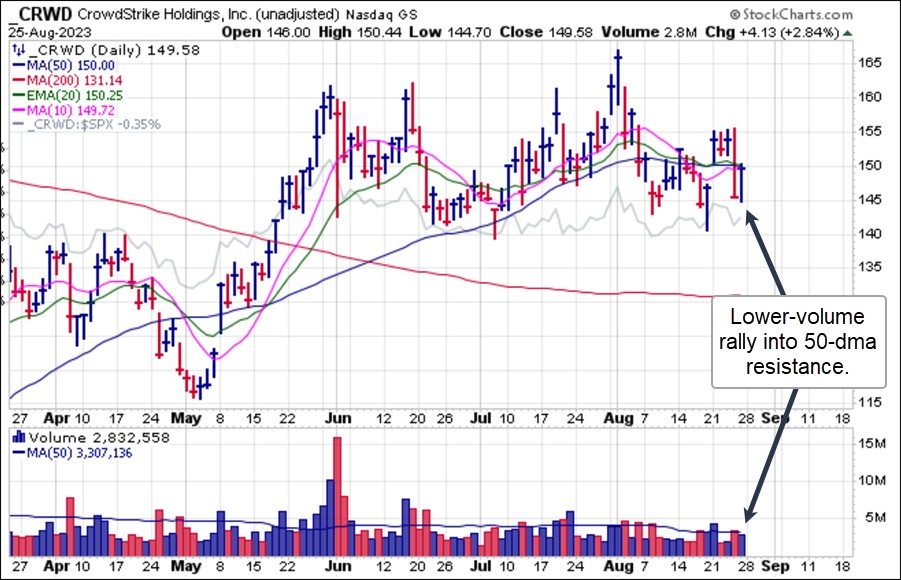 Gold posted a U&R along the $1900 level earlier in the week, corresponding to a decisive U&R in the
VanEck Merk Gold Trust (OUNZ)
on Wednesday along its prior June 29th low at 18.33. OUNZ ended the week at 18.53, keeping it within buying range of the U&R while using the 18.33 price level as a selling guide.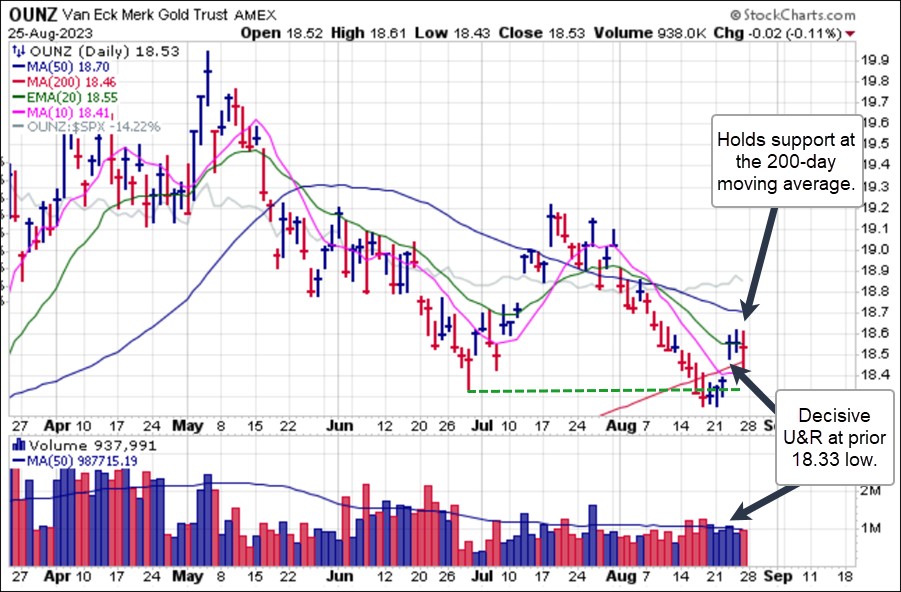 Silver ETFs posted bottom-fishing buyable gap-ups (BFBGU) on Wednesday as the daily chart of the
Aberdeeen Physical Silver Trust (SIVR)
shows below. Interestingly, despite a rise in the dollar on Friday strong buying volume came into OUNZ as well as the
iShares Silver Trust (SLV)
after an initial sell-off early in the day. That keeps the BGUs in both active using the Wednesday intraday low at 23.04 in SIVR and 22.03 in SLV as selling guides.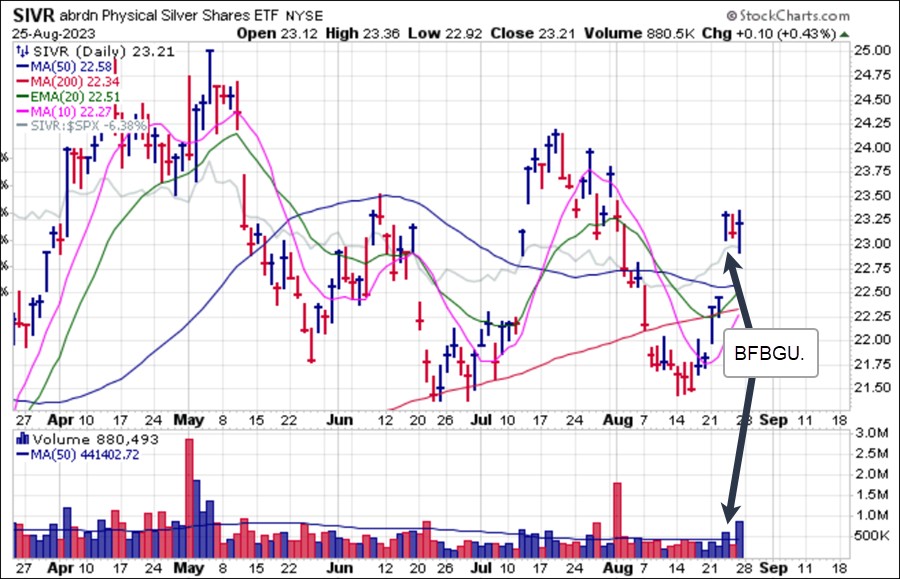 The
Market Direction Model (MDM)
switched to a SELL signal on Thursday, August 24, 2023.