Current Focus List

The VoSI Focus List is a compilation and reference list of stocks for which Pocket Pivot or Buyable Gap-Up Reports have been issued and which have been deemed suitable for inclusion on the Focus List. Not all stocks for which a Pocket Pivot or Buyable Gap-Up report has been issued will necessarily be added to the list. It is not intended as a "buy list" or a list of immediately actionable recommendations. Stocks on the list may or may not be in proper buy positions, and investors should exercise discretion and proper judgement in determining when and where stocks on the Focus List can be purchased. The following notes are intended to assist in this process. Please note that members can enlarge the Focus List image by clicking on the body of the email and then holding the Control Key while pressing the "+" key until it is large enough to read.
General Observations:
The NASDAQ Composite Index decisively cleared the 11,000 level on Thursday before succumbing to a distribution day off the peak on Friday. Cloud leaders were hit broadly on Friday on heavy selling volume. Whether this has any negative implications for the general market is uncertain presently. The cloud area has been a broad, strong area of market leadership since late March based on the post-Covid-19 theme of more emphasis on and a general mass movement towards the cloud for both businesses and individuals.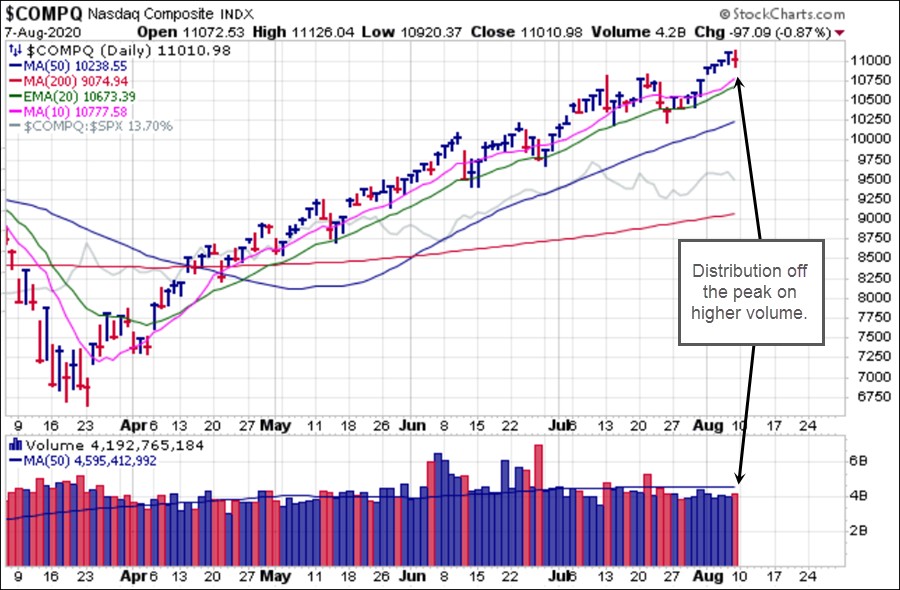 The group chart of nine leading cloud names below shows the extent of the selling over the past few days, with some outright carnage seen in certain names like
Alteryx (AYX), Fastly (FSLY)
and
DataDog (DDOG)
. In several cases below we can see that near-term selling guides based on the Seven-Week Rule have been triggered.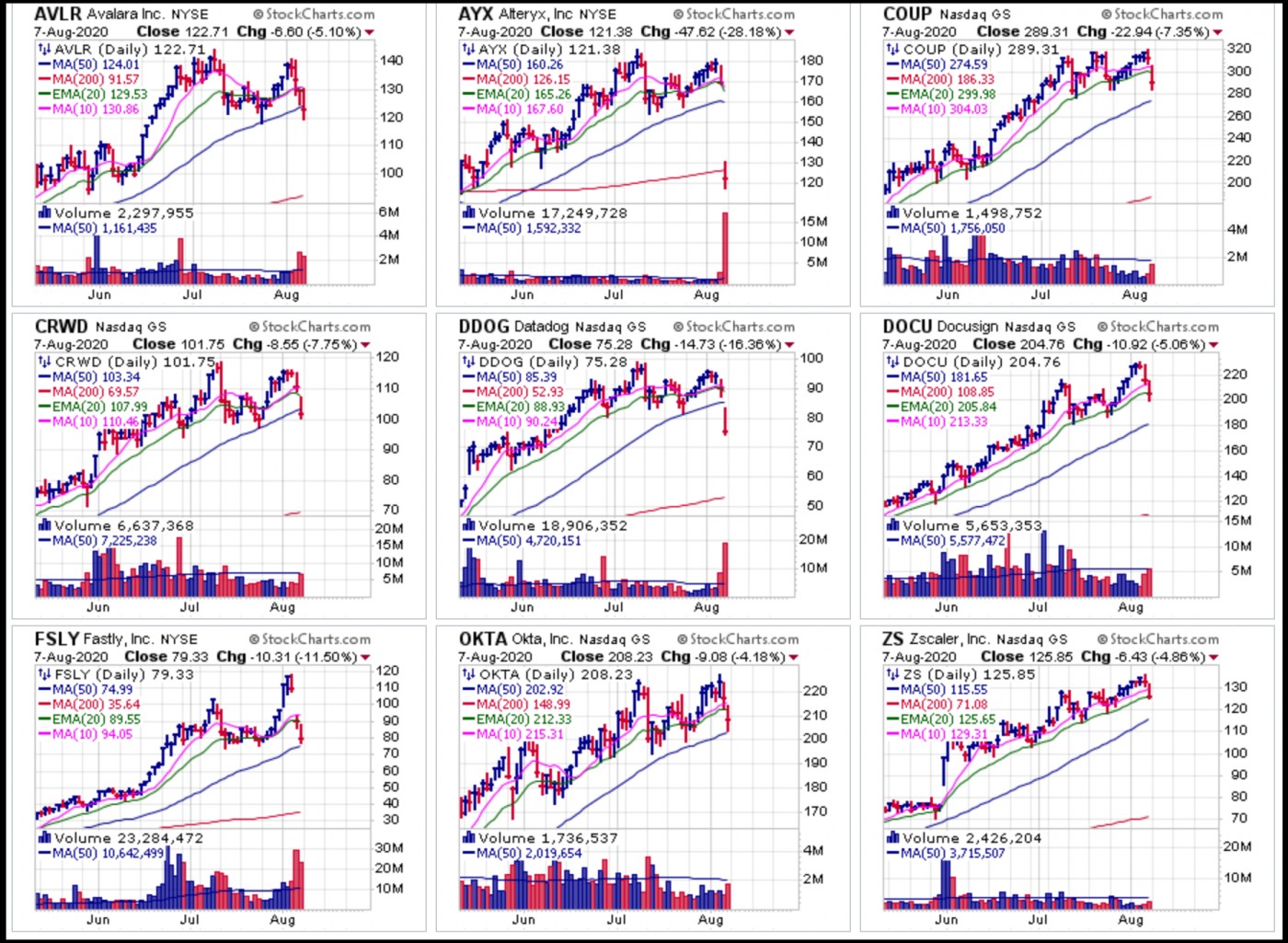 The Market Direction Model (MDM) remains on a
BUY
signal.
Removed from the List this Week:
Everquote (EVER)
.
Focus List Stocks Expected to Report Earnings this Week:
None.
Notable Action:
Amazon. (AMZN)
is pulling into its 10-dma on light volume so can be watched for a possible lower-risk entry at its 10-dma or 20-dema depending on how the pullback progresses.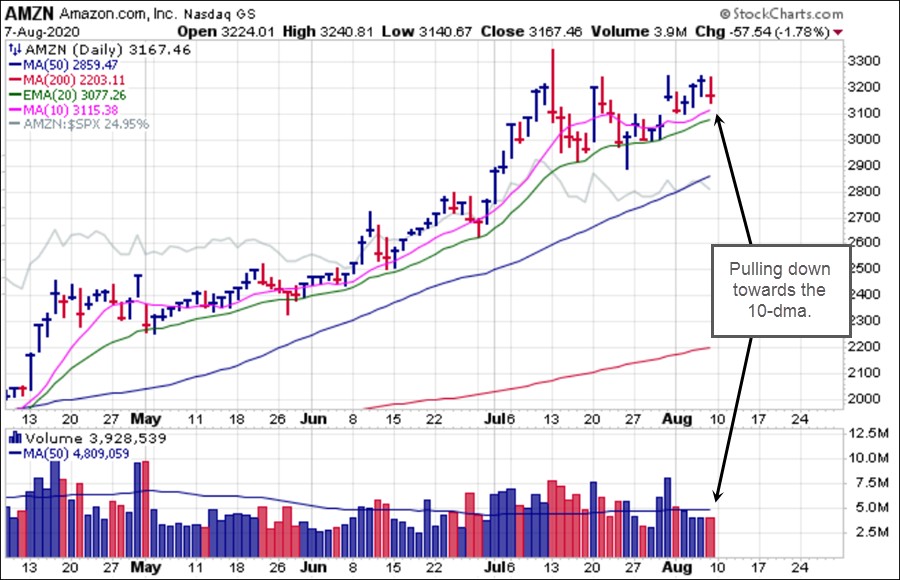 Facebook (FB)
was buyable along the lows of the 249.00 BGU intraday low earlier this past week. A small drift below 249 on Thursday and Friday was less than 2% lower, hence allowable porosity. From there FB launched higher on Thursday and Friday but reversed to give up most of its Friday move by the close. This remains extended for now.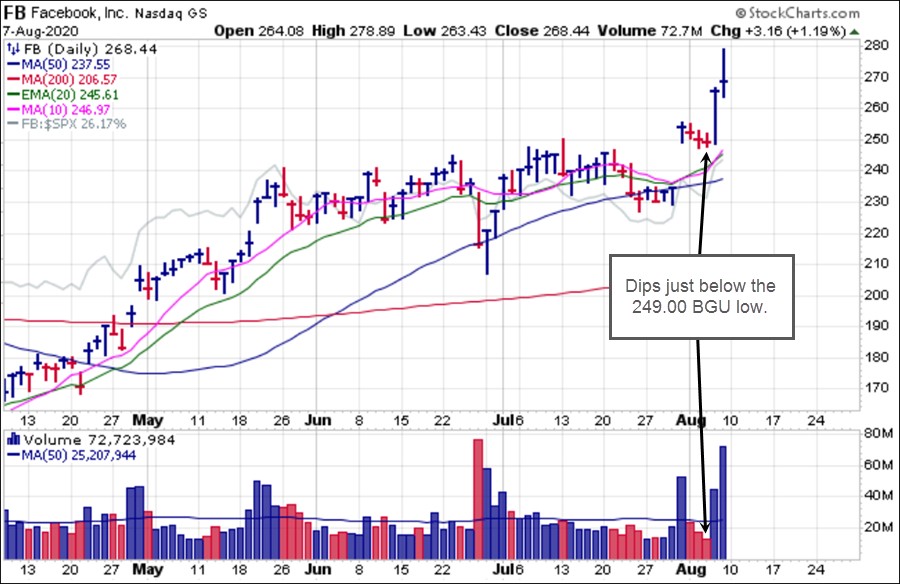 Netflix (NFLX)
is holding support at its 20-dema as selling volume picked up on Friday. The stock posted at least a near-term peak four weeks ago after clearing the $500 Century Mark and streaking higher. That move eventually reversed and NFLX is back below the $500 level as it hangs along its 20-day exponential moving average. This either serves as a lower-risk entry on the long side here using the 20-day line as a tight selling guide. However, a breach of the 20-day line could also trigger a short-sale entry. This remains a fluid situation with any potential resolution likely keying off of the general market action going forward, e.g., a deeper market pullback could trigger downside in the stock and vice versa in the event of a continued market rally.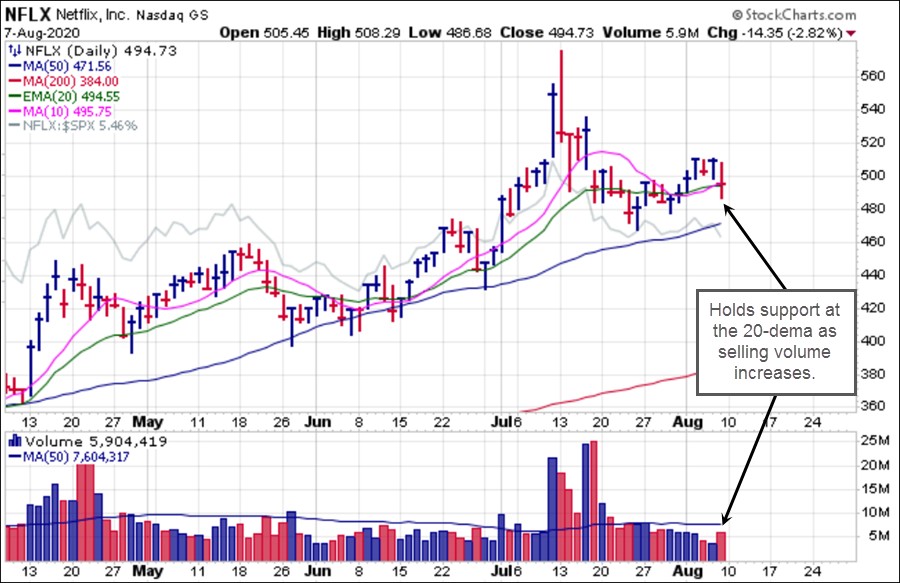 Tesla (TSLA)
is holding support at its 20-dema as selling volume increased on Friday. This is a critical juncture for the stock, which posted at least a neater-term top four weeks ago near the $1800 price level. It has since settled back into its 20-day exponential moving average which serves as near-term support. A breach of the 20-day line could trigger this as a short-sale target at that point and can be watched for. As with NFLX, this would most likely occur within the context of a deeper general market correction.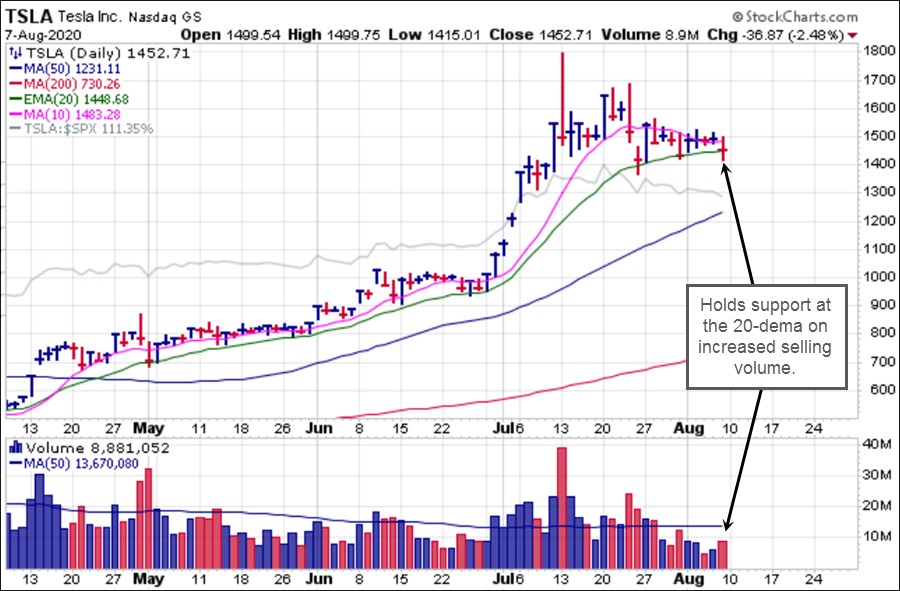 The
Sprott Physical Gold Trust (PHYS)
was hit with some high-volume selling off the peak on Friday but this looks like a normal reaction pullback following a torrid three-week run to the upside. Pullbacks to the 10-day line would offer your first references for potentially lower-risk add points from here, with the 20-day exponential moving average serving as a deeper reference.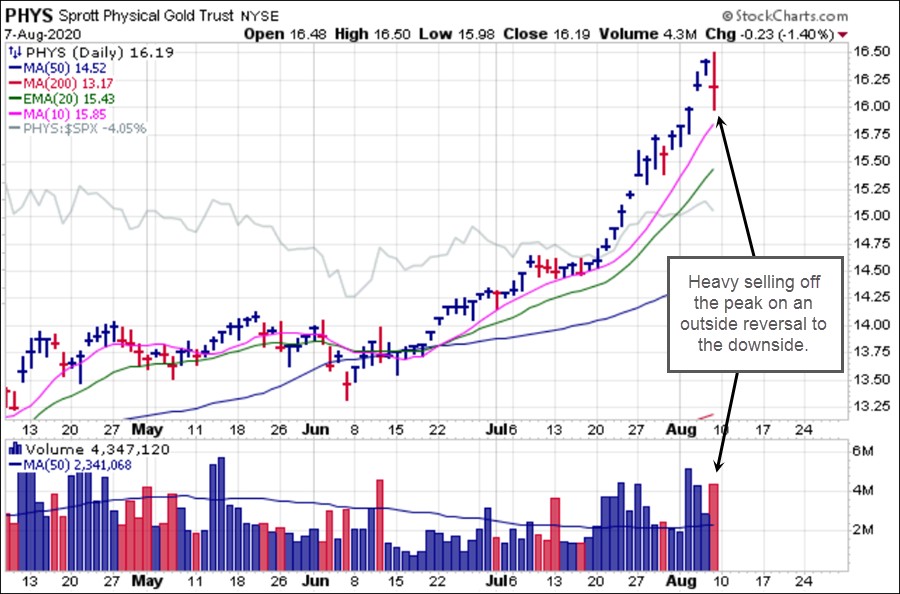 The Sprott Physical Silver Trust (PSLV)
has been outperforming its yellow metal cousin and has nearly doubled since we first reported on its pocket pivot at the 50-day moving average in early May. We would only consider pullbacks to the 10-day line as potential add points on pullbacks. In late 2010, when silver had its first up leg in an overall move to $50 in Q2 2011, it followed the 20-day exponential moving average all the way up. Therefore, more opportunistic traders might prefer to wait for the possibility of a pullback too the 20-dema as it catches up to price.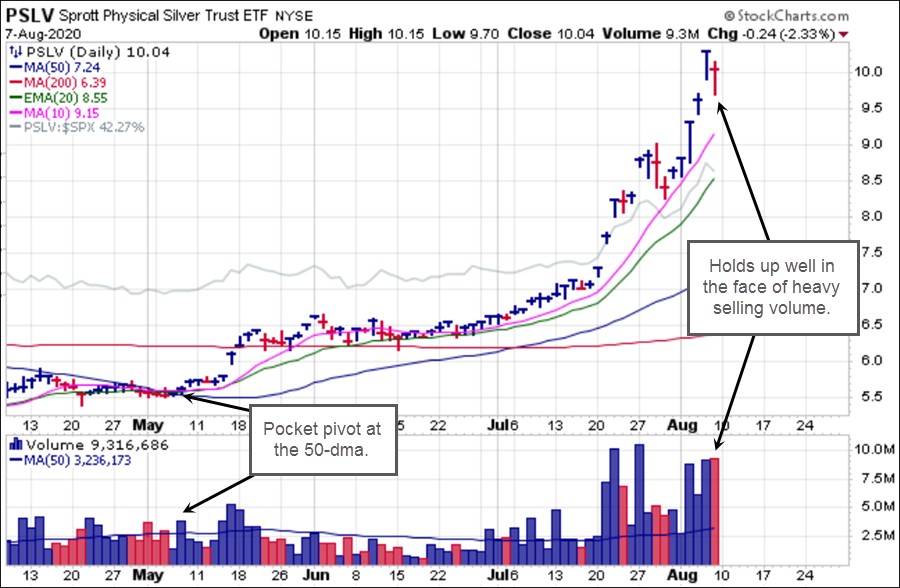 The
Grayscale Bitcoin Trust (GBTC)
has pulled into its 10-day moving average and the top of its prior consolidation or base after a sharp move from the prior undercut & rally (U&R) long entry along the 9.18 price level three weeks ago which we highlighted in our Focus List Review right at that price level three weeks ago. Bitcoin tends to be a volatile beast, hence the corresponding action in the GBTC. Friday's pullback held support at the 10-day line so this would offer a potential add point here using the 10-day line or the top of the prior base as selling guides.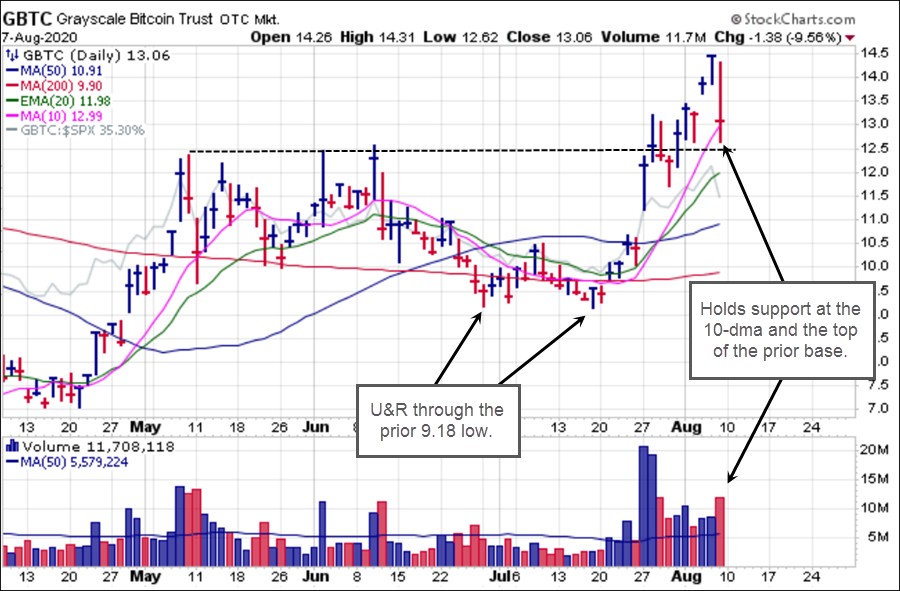 Currently we see little that we find compellingly attractive on the long side, but that is understandable given the extent of the market rally off the March lows. At this juncture it is prudent to review your selling strategies as a correction, even a normal short-term to intermediate-term correction could bring stocks down. We have already seen several leading cloud names trigger near-term selling guides based on the Seven-Week Rule this past week. As always, plan your trades and trade your plan.