Current Focus List
The VoSI Focus List is a compilation and reference list of stocks for which Pocket Pivot or Buyable Gap-Up Reports have been issued and which have been deemed suitable for inclusion on the Focus List. Not all stocks for which a Pocket Pivot or Buyable Gap-Up report has been issued will necessarily be added to the list. It is not intended as a "buy list" or a list of immediately actionable recommendations. Stocks on the list may or may not be in proper buy positions, and investors should exercise discretion and proper judgment in determining when and where stocks on the Focus List can be purchased. The following notes are intended to assist in this process. Please note that members can enlarge the Focus List image by clicking on the body of the email and then holding the Control Key while pressing the "+" key until it is large enough to read.
General Observations:
After running up nine out of eleven days in a row the
NASDAQ Composite Index
, along with the other major market indexes, sold off from peak levels on Wednesday as volume expanded. Over the next two days the indexes gapped down at the open but found support off the intraday lows. For now, the action is inconclusive and the market uptrend remains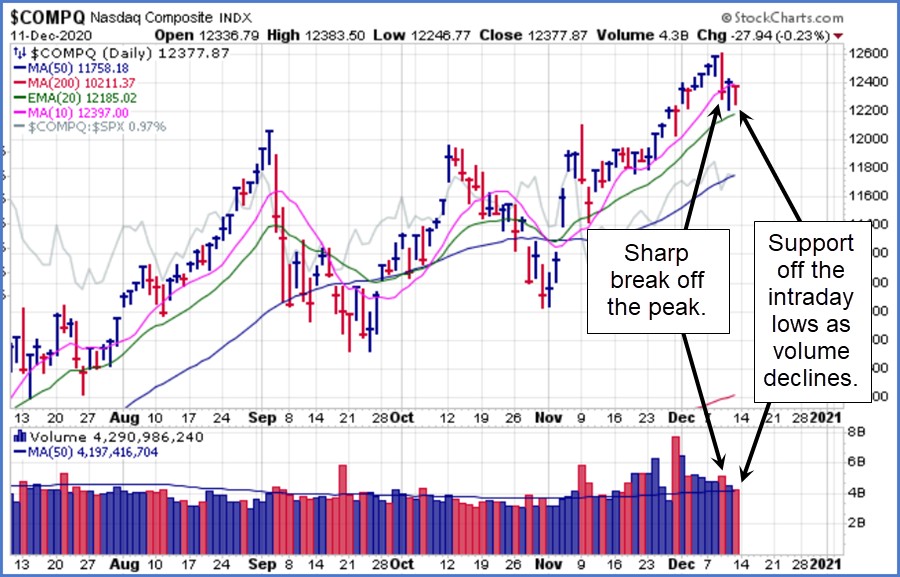 The
Market Direction Model (MDM)
remains on a
BUY
signal.
Removed from the List this Week:
Nio (NIO)
after triggering its selling guide per the Seven-Week Rule.
Focus List Stocks Expected to Report Earnings this Week:
None.
Notable Action:
Microstrategy (MSTR)
went into a climactic move two weeks ago an has now dropped below the $300 Century Mark. It has now violated the 10-day moving average as well, which would trigger a sell signal based on the Seven-Week Rule. It is now attempting to hold at the 20-dema but at best may need more time to base and set up again if there is more upside left in this name.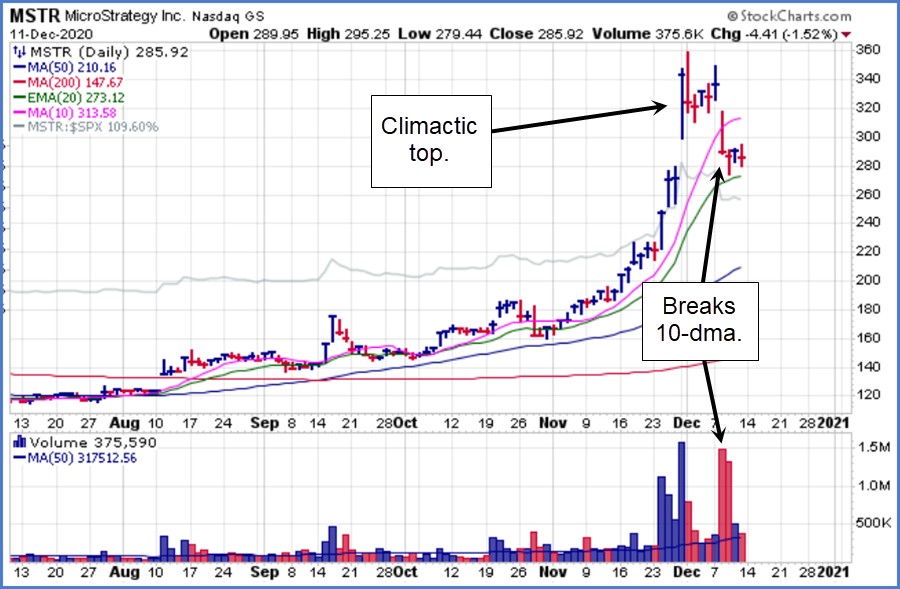 As the sun sets on the rest of the electric-vehicle space where we saw a crescendo of climactic moves 2-3 weeks ago in many EV-related names,
Tesla (TSLA)
is still holding above the 10-day moving average and the $600 Century Mark as it flops around after finding deeper support near its 20-day exponential moving average on Thursday. In this position we would use the 20-dema as a maximum selling guide.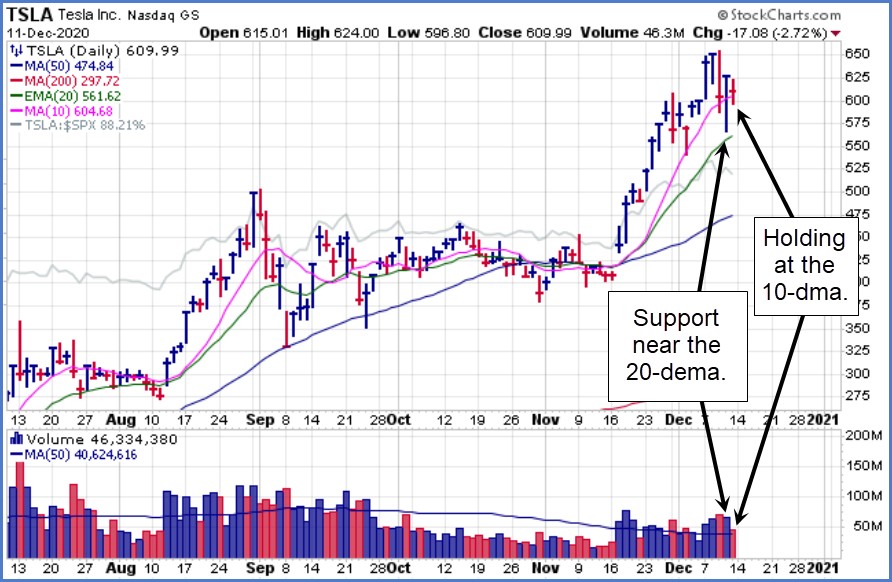 Bitcoin and the
Grayscale Bitcoin Trust (GBTC)
have continued to correct after the climax top we were looking for three weeks ago. Generally, after such a climactic move it will take some time for a stock or ETF to digest and set up again, so we would not necessarily be too eager to jump back in until we see something more concrete in terms of a fresh long entry signal.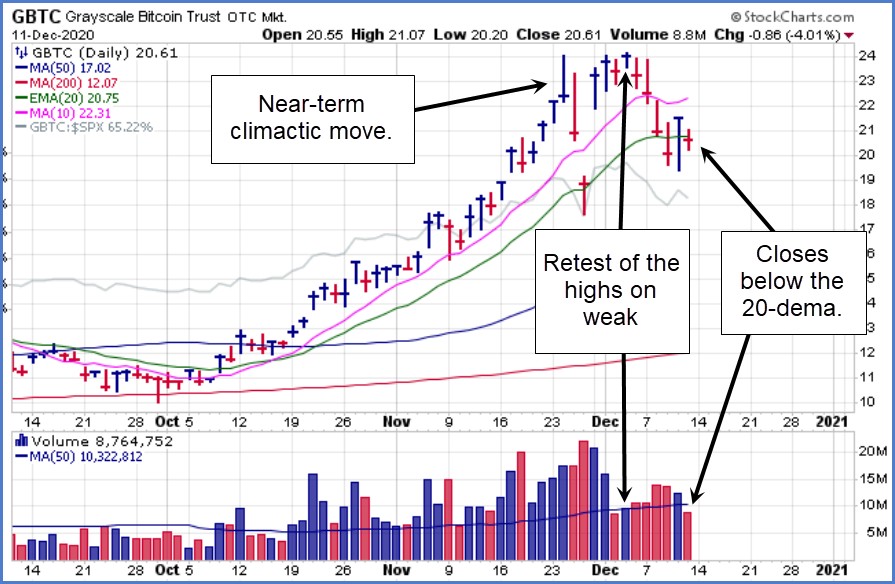 Twitter (TWTR)
was initially reported on as a pocket pivot in late December. The stock posted another pocket pivot on Thursday on news that the FTC and 48 state attorneys general had filed a lawsuit that, among other things, calls for
Facebook's (FB)
divestiture of its WhatsApp and Instagram services. TWTR is now testing its prior late October highs and remains well extended on the upside at this point.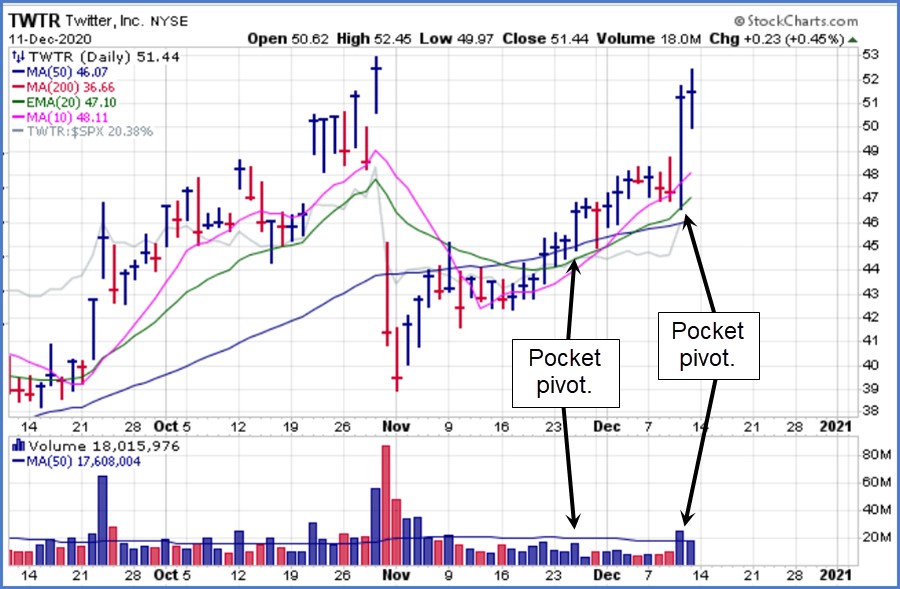 Among other names we've reported on recently,
Fastly (FSLY)
posted another pocket pivot on Tuesday as rumors of
Cisco Systems (CSCO)
looking to buy the company began to circulate. This is likely why the stock posted a pocket pivot the week before as we reported on at that time. In this position, pullbacks to the 50-day line are where lower-risk entries might be found, confirmation of any buyout rumors notwithstanding.
NetApp (NTAP)
continues to trudge higher following its buyable gap-up move the week before as we reported on at the time.
Nvidia (NVDA)
, meanwhile, has now violated its 50-day moving average, while
Shopify (SHOP)
found support at its 50-day line on Thursday, where it posted a pocket pivot two weeks ago as we reported on at the time.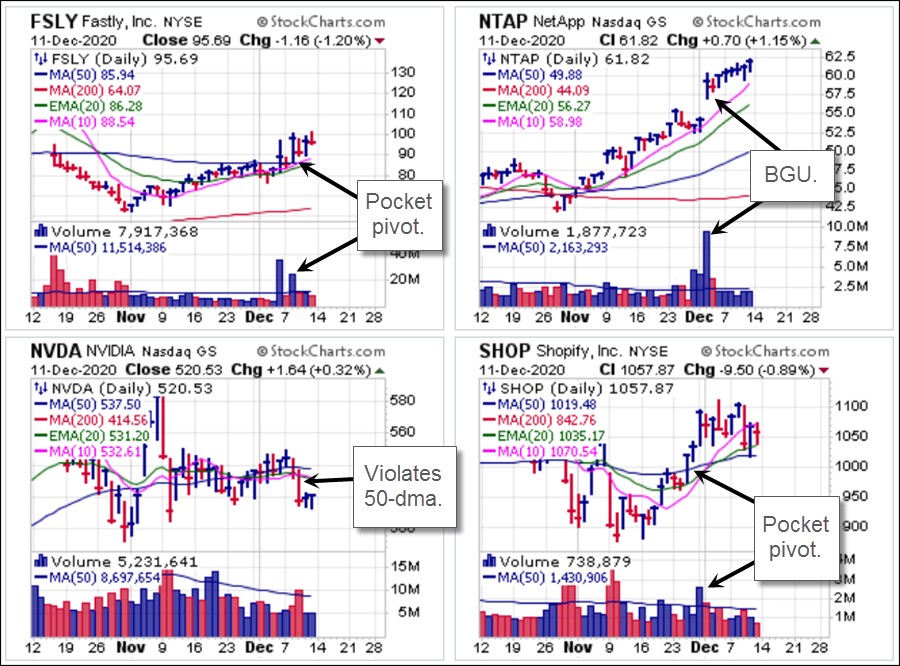 As the EV-Mania dissolves, lithium names like
Lithium Americas (LAC)
and
Piedmont Lithium (PLL)
, for which we issued Pocket Pivot Reports several weeks ago, are breaking down, negating those prior pocket pivots, and showing no real actionable long-entry points at this time.

Two Chinese names that we reported on recently,
Baozun (BZUN)
and
DAQO Energy (DQ)
are going nowhere fast. BZUN has now violated its 50-day moving average while DQ continues to find support along its 50-day line with little to show for it. We do not consider these to be actionable at this time.

With the FDA giving Emergency Use Authorization to
Pfizer's (PFE)
and
BioNTech's (BNTX)
vaccine late Friday, its unclear how the market will react when it opens Monday morning. It is possible that this news, which was widely expected, is already priced into the market. The other potentiality is that it is viewed as a negative for work-from-home, stay-at-home, shop-from-home stocks which then sell off including a number of tech, e-commerce, and entertainment names. We won't know for sure until trading resumes on Monday so remain flexible and ready to react as necessary.