Current Focus List

The VoSI Focus List is a compilation and reference list of stocks for which Pocket Pivot or Buyable Gap-Up Reports have been issued and which have been deemed suitable for inclusion on the Focus List. Not all stocks for which a Pocket Pivot or Buyable Gap-Up report has been issued will necessarily be added to the list. It is not intended as a "buy list" or a list of immediately actionable recommendations. Stocks on the list may or may not be in proper buy positions, and investors should exercise discretion and proper judgement in determining when and where stocks on the Focus List can be purchased. The following notes are intended to assist in this process. Please note that members can enlarge the Focus List image by clicking on the body of the email and then holding the Control Key while pressing the "+" key until it is large enough to read.
General Observations:
The market uptrend remains intact after a wild year-end quadruple-witching options expiration on Friday that saw the indexes rally off the intraday lows in the last 1/2-hour of the day to close nearly unchanged. Volume was, of course, quite heavy due to options expiration.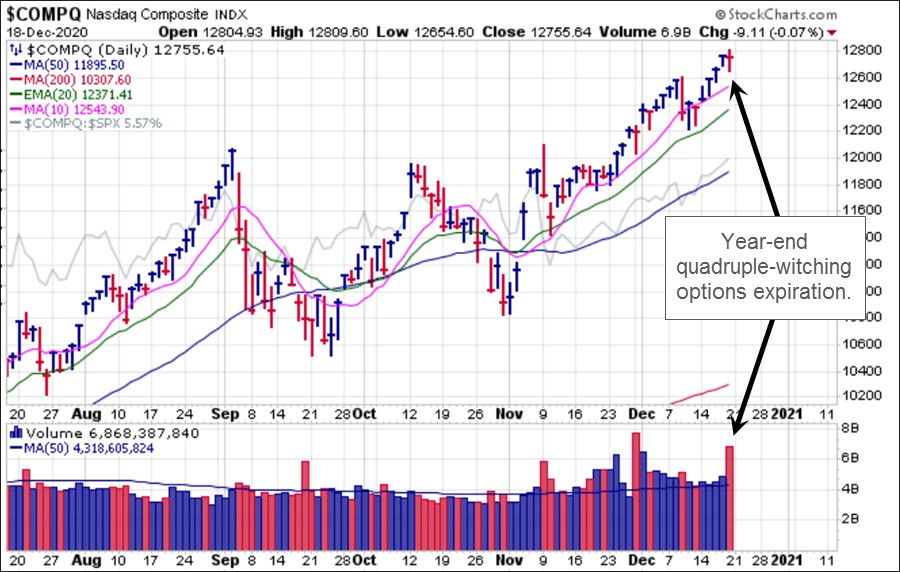 The
Market Direction Model (MDM)
remains on a
BUY
signal.
Focus List Stocks Expected to Report Earnings this Week:
None.
Notable Action:
We reported on
Apple (AAPL)
as a pocket pivot through the 10-day moving average on Tuesday. The stock veered back to the downside on Friday on heavy volume, and we would look for a pullback to the 10-day line as a possible lower-risk entry using it or the 20-dema as a selling guide. We have added it to the Focus List based on its status as a big-stock name and the fact that it is making a legitimate attempt to round out the right side of a potential new base. This current pullback will give us a chance to assess how sustainable this latest pocket pivot entry signal is.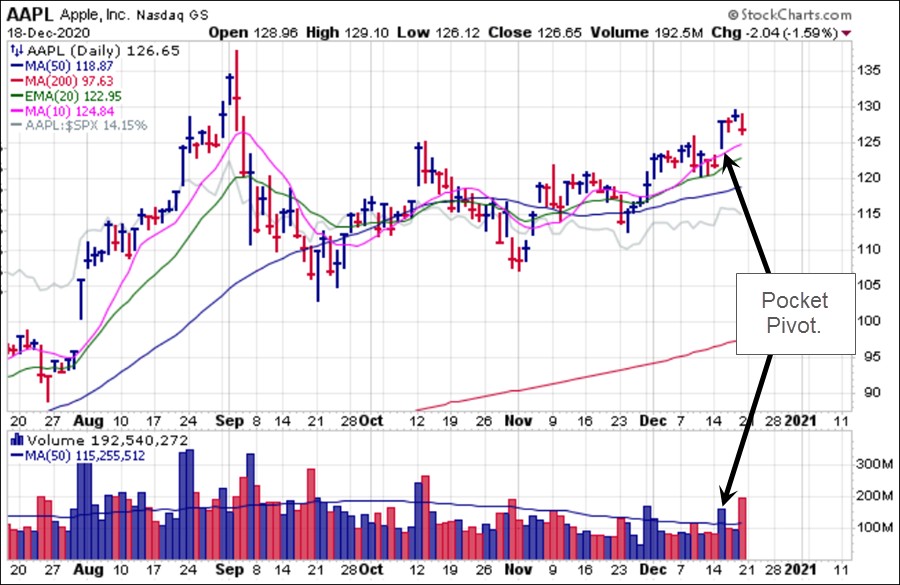 Tesla (TSLA)
will join the S&P 500 Index on Monday, and index-sensitive investors piled into the stock on Friday, sending it up close to the $700 Century Mark. It is obviously quite extended after Friday's big continuation pocket pivot move.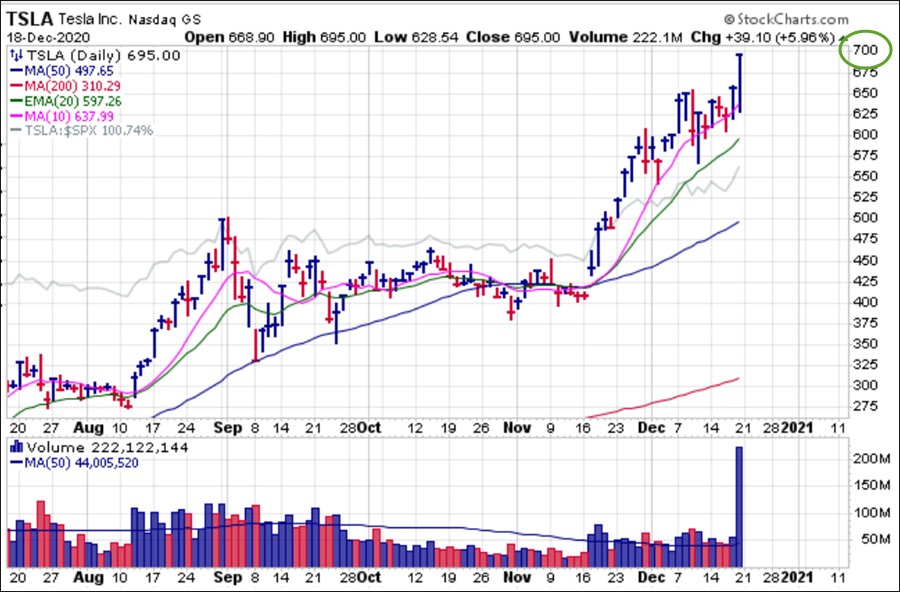 Microstrategy (MSTR)
posted a near-term climactic top that coincided with a near-term peak in Bitcoin at the time. The company has been a cousin-play to Bitcoin given that it now owns more than $1 billion worth of the stuff. However, it has not matched Bitcoin's move to new highs as it works off its prior parabolic move and attempts to base, finding support along the 20-dema for now. For now, buyable support has been found along the 20-dema, and that remains the case for now until further evidence proves otherwise.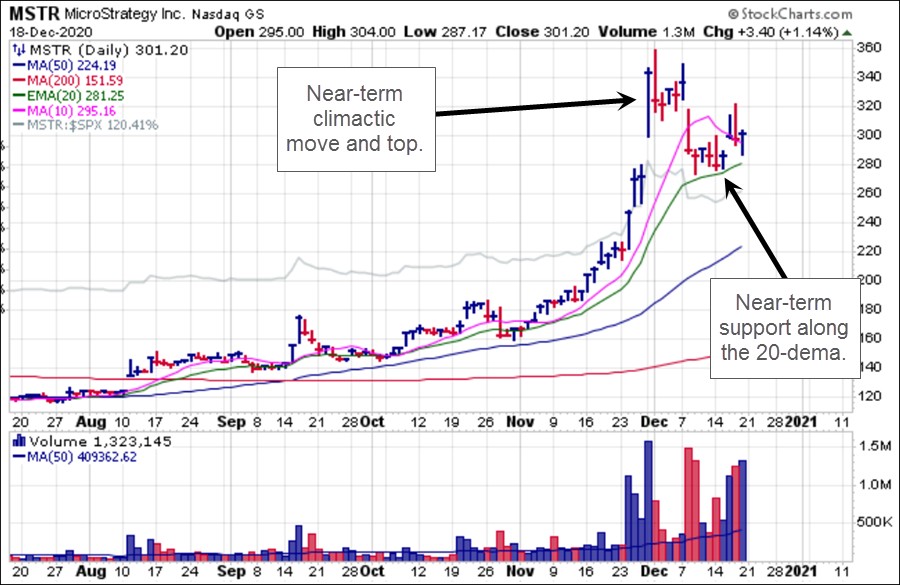 Bitcoin has pushed to all-time highs, approaching $24,000 on Thursday before backing down slightly. While we were surprised by the move on Wednesday, objectively it was an actionable buyable gap-up (BGU) as we reported at that time, using the 24.60 intraday low as a selling guide. It is now looking even more near-term climactic than it did in late November as the daily chart of the
Grayscale Bitcoin Trust (GBTC)
sits just shy of the $30 price level.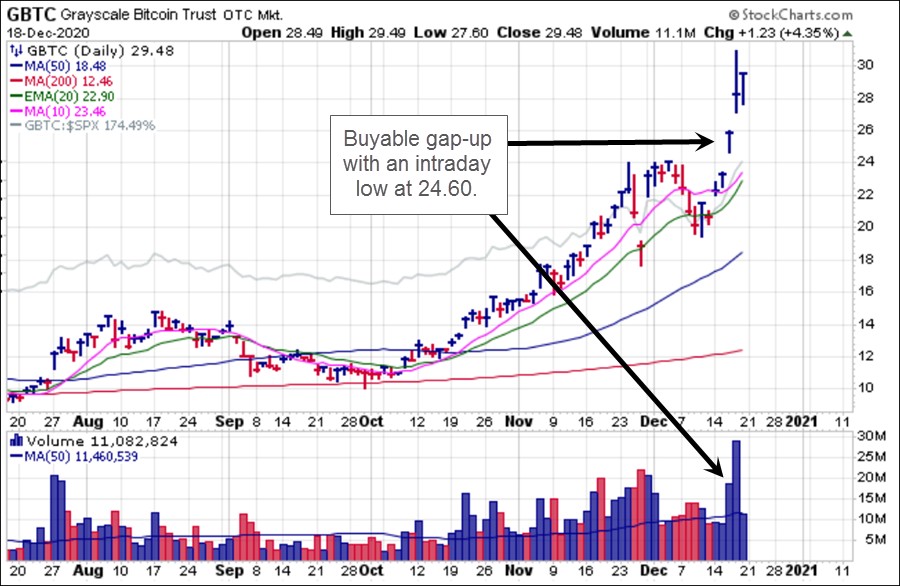 The
Sprott Physical Silver Trust (PSLV)
continues to build on its original U&R long entry along the prior 7.75 low as we reported at that time three weeks ago. It is now attempting to clear the highs of a three-month price range and is extended from any lower-risk entry point at this time.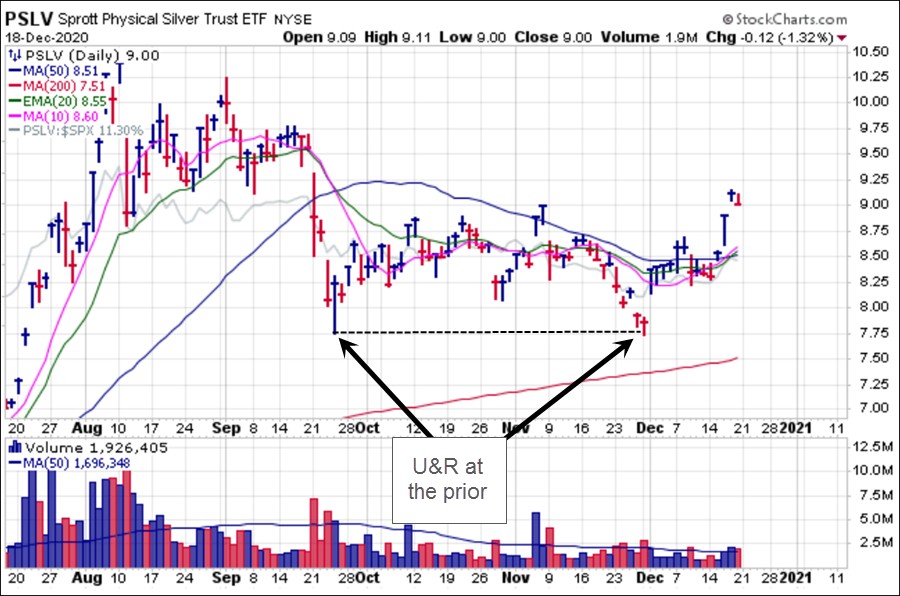 The
VanEck Merk Gold Trust (OUNZ)
is another gold ETF/ETN that is directly convertible to physical metal. We show it here as another alternative chart to use when tracking the technical action in gold itself. What is interesting here is the shakeout through the 200-day moving average three weeks ago that constituted a moving average undercut & rally (MAU&R) type of long entry after OUNZ after the third wave down in the pattern. It is now back above the 50-day line which may offer a secondary entry using the 50-day line as a selling guide. As always, we recommend that one thoroughly read the prospectus of any gold ETF/ETN to understand the precise terms and conditions under which the ETF/ETN in question is convertible into physical metal.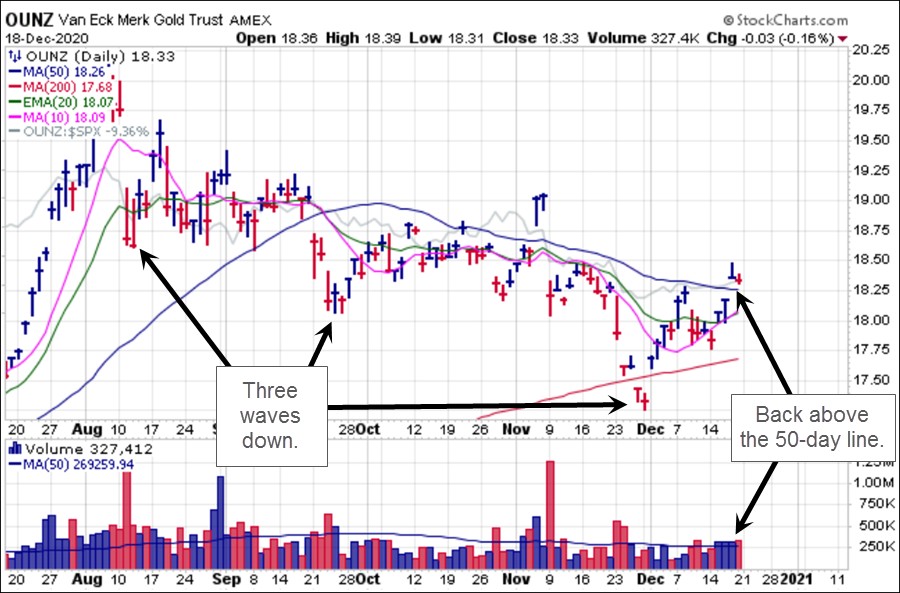 Below is a list of stocks that we have reported on as Pocket Pivots and Buyable Gap-Ups over recent weeks. Mini-charts of relevant names are shown further below

Among these,
DQ
,
SHOP
, and
TWTR
have broken out to all-time highs well after we identified early pocket pivot entries, while
BZUN
and
LAC
have been stop-outs on the downside.
NTAP
continues to build on its buyable gap-up of December 2nd awhile FSLY has continued to move higher since posting a pocket pivot at its 50-dma on December 4th - both stocks are now roughly 10% higher since we reported on them. NVDA continues to go nowhere as it marks time by moving tight sideways for the past five weeks. However, it violated its 50-dma two weeks ago and is questionable here although a move back above the 50-day line could trigger a new entry using the line as a selling guide.