Current Focus List

The VoSI Focus List is a compilation and reference list of stocks for which Pocket Pivot or Buyable Gap-Up Reports have been issued and which have been deemed suitable for inclusion on the Focus List. Not all stocks for which a Pocket Pivot or Buyable Gap-Up report has been issued will necessarily be added to the list. It is not intended as a "buy list" or a list of immediately actionable recommendations. Stocks on the list may or may not be in proper buy positions, and investors should exercise discretion and proper judgement in determining when and where stocks on the Focus List can be purchased. The following notes are intended to assist in this process. Please note that members can enlarge the Focus List image by clicking on the body of the email and then holding the Control Key while pressing the "+" key until it is large enough to read.
General Observations:
Major market averages appeared to consolidate normally, albeit uneventfully, over the past week ahead of the long Christmas holiday weekend. Volume declined throughout the week as the NASDAQ Composite and S&P 500 Indexes both filled their prior Monday gap-ups and held well above their 10-dmas. The market may be set to make a run to higher highs as we move into the final trading week of 2017.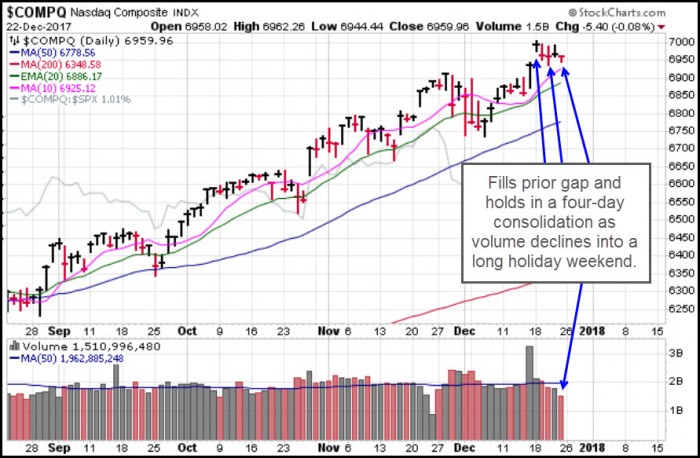 Aside from the smooth-trending action in a strong technical and fundamental leader like
Caterpillar (CAT)
, leading stocks are mostly moving back and forth within their chart patterns. Some, after breaking down sharply in late November and early December, are attempting to rebuild new bases. Whether these are successful or not remains to be seen, but in some cases these can provide swing-trading opportunities.
A case in point would be
Weibo (WB)
, which we discussed last weekend as in position for a move back above its 50-dma, which is precisely what we saw on Monday. That move above the 50-dma has held, and the stock is now holding along its 20-dema s volume dried up sharply on Friday ahead of the long holiday weekend. Note how the steep sell-off into early December found support along an area of price congestion in the lower-base portion of the stock's double-bottom base.
There was one retest of that low the prior week, which prompted our bullish discussion of the stock last week, and then a test of the 50-dma on Wednesday. Now
WB
is sitting right along the mid-point of its prior double-bottom base formation, which would strike us as logical near-term support. This may be actionable as a long right here, using the 20-dema or 50-dma as selling guides, depending on one's risk preference.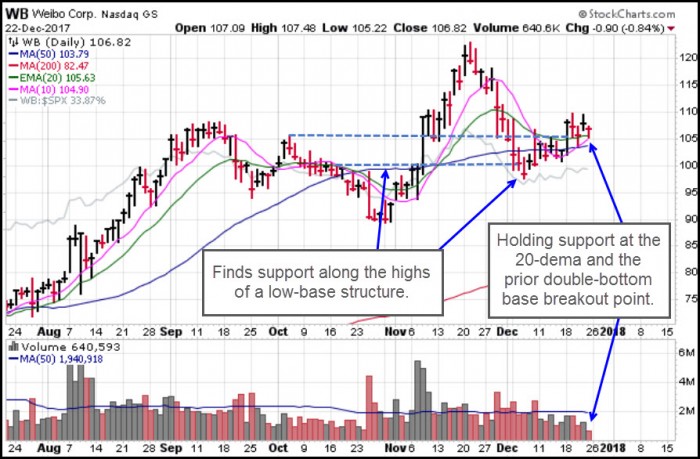 The
Market Direction Model (MDM)
remains on a cash signal.
Removed from the List this Week:
None.
Focus List Stocks Expected to Report Earnings this Week:
None.
Notable Action:
Caterpillar (CAT)
continues to make new, all-time highs as it gets further extended from its original breakout point and lower-risk entry at the 10-dma early in December.
Facebook (FB)
dipped below its 50-dma, but a subtle potential long set-up emerged on Friday after the stock undercut the prior 176.60 low in its pattern and rallied back above it. This sets up an undercut & rally long set-up using the 176.60 low as a tight selling guide. Note that the current action is all occurring in a position just above the prior late October base breakout. This looks like a possible long situation to play for a year-end rally, as prescribed above.