Current Focus List

The VoSI Focus List is a compilation and reference list of stocks for which Pocket Pivot or Buyable Gap-Up Reports have been issued and which have been deemed suitable for inclusion on the Focus List. Not all stocks for which a Pocket Pivot or Buyable Gap-Up report has been issued will necessarily be added to the list. It is not intended as a "buy list" or a list of immediately actionable recommendations. Stocks on the list may or may not be in proper buy positions, and investors should exercise discretion and proper judgement in determining when and where stocks on the Focus List can be purchased. The following notes are intended to assist in this process. Please note that members can enlarge the Focus List image by clicking on the body of the email and then holding the Control Key while pressing the "+" key until it is large enough to read.
General Observations:
The NASDAQ Composite posted new highs again this past week but also flashed a very heavy volume churning day along the highs on Wednesday. At the same time it has continued to move higher within an ascending wedge type of formation which is considered bearish. This may indicate that a pullback is at hand, and with no stimulus bill coming to fruition last week and the potential for tax selling as we begin the new trading week, a pullback would not surprise us. This in and of itself is no cause for alarm as investors should simply abide by their selling guides when it comes to handling individual stock positions.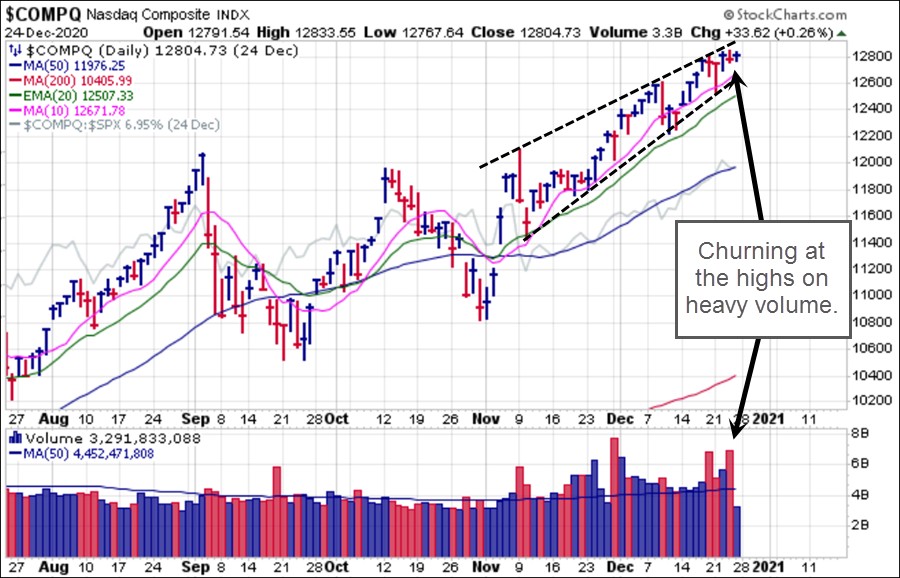 Sentiment indicators across the board indicate a high level of euphoria. Margin interest is now at fresh all-time highs while Put/Call ratios remain near all-time lows. Meanwhile, an indicator we used to use at the William O'Neil + Co. Institutional Advisory Group, the Percentage of Stocks Above 150-Day Moving Average, is also reaching extreme levels. Over time, whenever this percentage has exceeded 65% it has been a cautionary signal.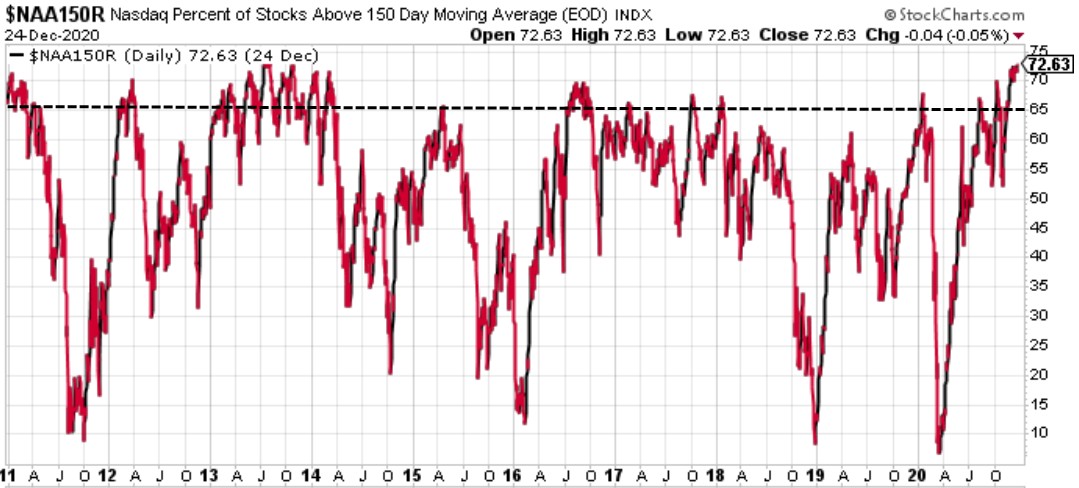 The
Market Direction Model (MDM)
remains on a
BUY
signal. The question is whether Trump will sign the $2.3 trillion stimulus bill by the end of the year when a number of pandemic assistance programs expire. He wants direct payments to those who earn under $75,000 to receive $2,000 instead of $600 among other adjustments. Odds favor some agreement being reached at the eleventh hour, otherwise expect markets to have a negative short-term reaction.
Notable Action:
Leading names on the Focus List remain in extended positions.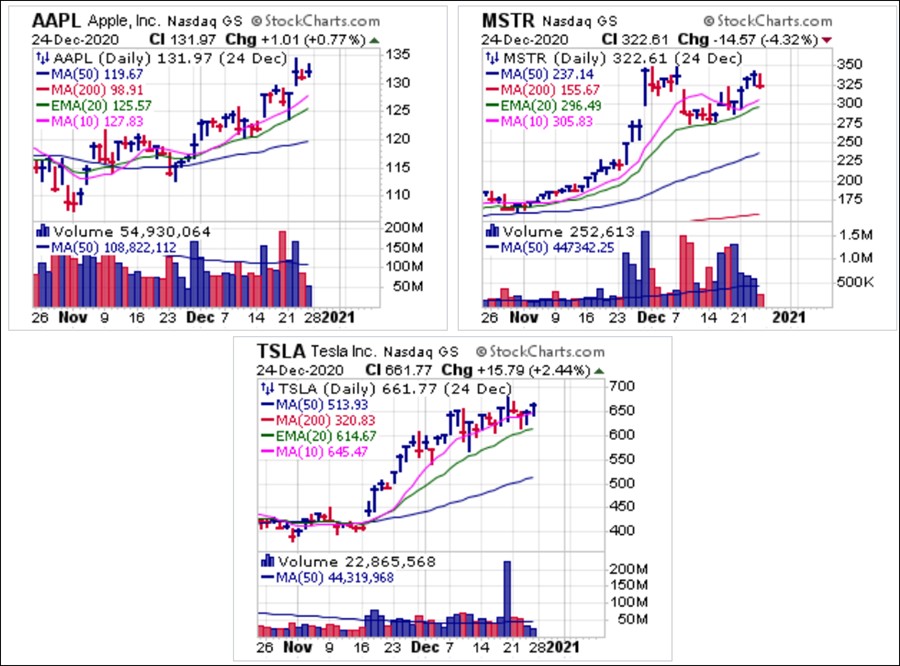 Alternative currencies are again back in the spotlight. A buyable pullback to the 10-day line occurred on Thursday in the
Grayscale Bitcoin Trust (GBTC)
but buyers had to step in at that point as Bitcoin is trading above $26,000 at the time of this writing on Saturday. If the current move in Bitcoin holds up through the weekend then we can expect a gap-up open for the GBTC on Monday. We last reported on GBTC when it posted a buyable gap-up on December 16th. Precious metals continue to perk up as the alternative-currency theme comes into focus again. The
Sprott Physical Gold Trust (PHYS)
is holding tight along its 50-day moving average and closed above the line on Thursday. We view this as a buyable position for the PHYS using the 50-dma as a very tight selling guide of the 10-dma/20-dema confluence just below as a wider selling guide.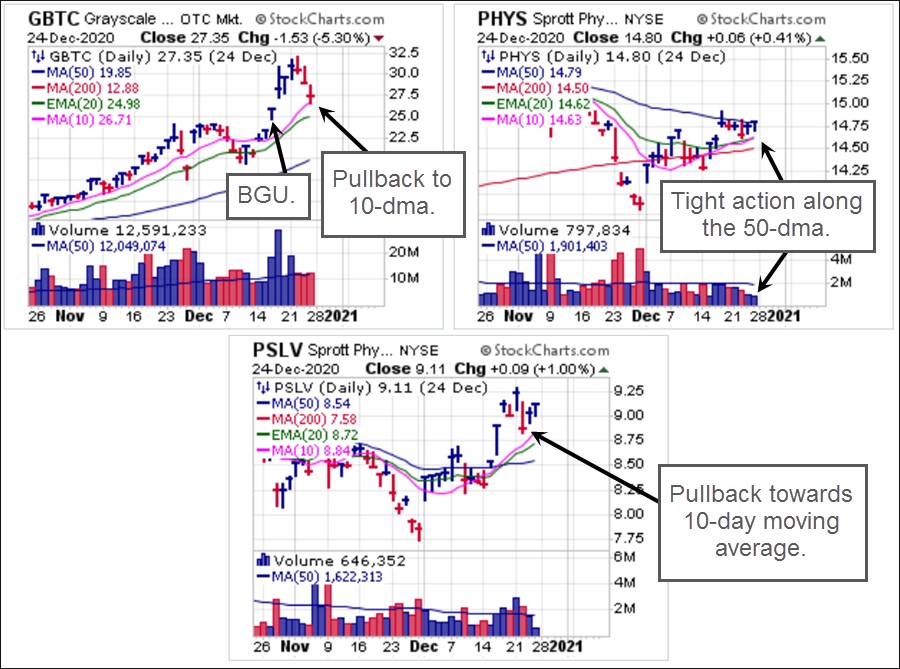 Below is a list of names for which Pocket Pivot, Buyable Gap-Up or Short-Sale Set-Up Reports have been issued in recent weeks.

Lululemon Athletica (LULU)
was reported on as a short-sale set-up as it rallied up into its 20-dema on Wednesday of this past week. It quickly headed lower from there not long after we issued our report, and is now looking to test its 50-day moving average. This can be treated as an initial downside profit target with the idea of waiting to see how this acts on any bounce off the 50-day line. If it bursts below the line, then that would trigger a potential fresh short-sale entry if it occurred.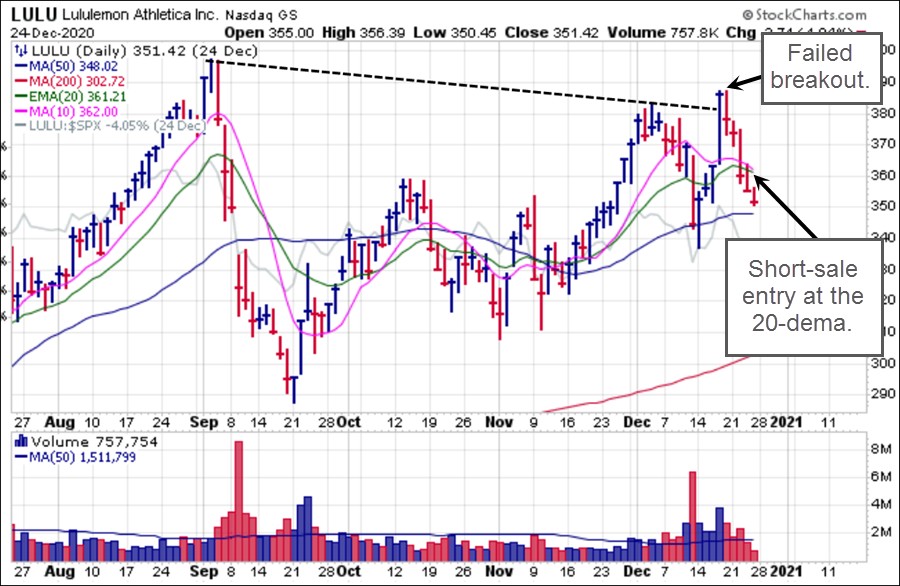 DAQO New Energy (DQ)
and
Fastly (FSLY)
are coming in fast here. Watch the 20-dema in both charts for possible support on these current sharp pullbacks.

NetApp (NTAP)
has continued to trend higher along its 10-dma and has now obeyed the line for eight weeks. This triggers the Seven-Week Rule whereby we now use the 10-day line as a selling guide. Twitter (TWTR) is pulling into the 10-day line on light holiday volume, bringing it into a lower-risk entry position using the 10-day line as a selling guide. The stock has done well since we first reported on its as a pocket pivot in late November.

Both
Lithium Americas (LAC)
and
Piedmont Lithium (PLL)
have sprung back to life after failing on earlier pocket pivot attempts that we reported on. After spending more time basing, both names posted pocket pivots on Tuesday, but LAC remains extended. PLL, however, is pulling back into its 10-day moving average as volume declines which may offer a lower-risk entry using the 10-day line as a selling guide.