Current Focus List

The VoSI Focus List is a compilation and reference list of stocks for which Pocket Pivot or Buyable Gap-Up Reports have been issued and which have been deemed suitable for inclusion on the Focus List. Not all stocks for which a Pocket Pivot or Buyable Gap-Up report has been issued will necessarily be added to the list. It is not intended as a "buy list" or a list of immediately actionable recommendations. Stocks on the list may or may not be in proper buy positions, and investors should exercise discretion and proper judgement in determining when and where stocks on the Focus List can be purchased. The following notes are intended to assist in this process. Please note that members can enlarge the Focus List image by clicking on the body of the email and then holding the Control Key while pressing the "+" key until it is large enough to read.
General Observations:
Major market averages ended the year with a whimper instead of a bang as they all staged outside reversals to the downside on the last day of trading. Volume, while well below average, was higher relative to Thursday. The S&P 500 Index closed at its lowest levels since its gap-up move to all-time highs nearly two weeks ago. Identical moves were seen in the
Dow Jones Industrials
,
NASDAQ Composite
, and small-cap
Russell 2000 Indexes
.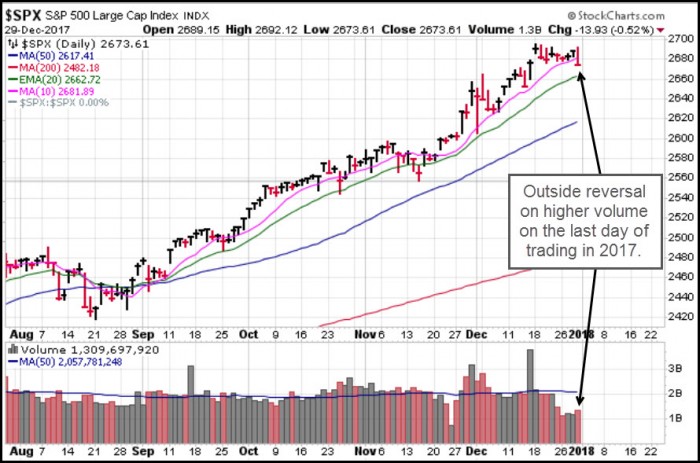 The Focus List has remained quite light in terms of the number of names on the list. But the reality is that despite new highs being logged in the major market indexes over the past month, nearly all of the names that were previously removed from the Focus List a few weeks ago have remained stuck within choppy ranges with no real upside progress.
One example would be
Alibaba (BABA)
which sits deep below its 50-dma after breaking down sharply in early December. So far, no recovery is evident, and the stock could just as easily break further to the downside as it could stage a reaction rally up towards it 50-dma. As of yet, there are no concrete clues with respect to either resolution.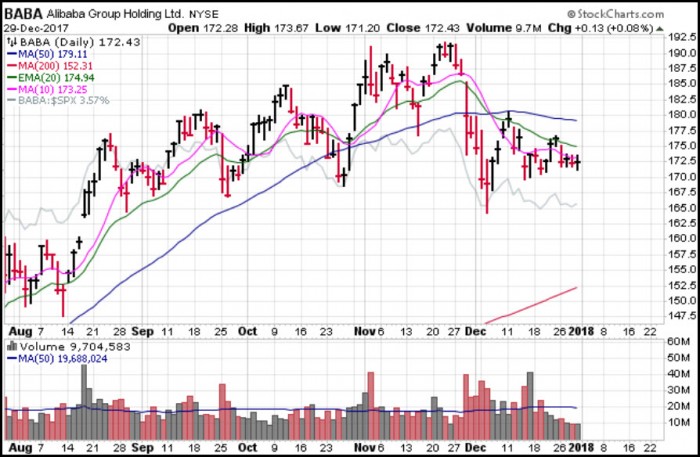 Even
Netflix (NFLX)
, which posted a strong pocket pivot on Thursday that we reported on that day, is having trouble holding its 50-dma. This is, however, not surprising since there is a significant area of overhead price congestion in the pattern as highlighted on the daily chart, below. Whether the stock can muster a significant upside price move ahead of its expected earnings report on January 22nd remains an open question. While this recent pocket pivot is technically actionable, the confluence of the 10-dma and 20-dma in the 189-190 price level should be respected as tight selling guides.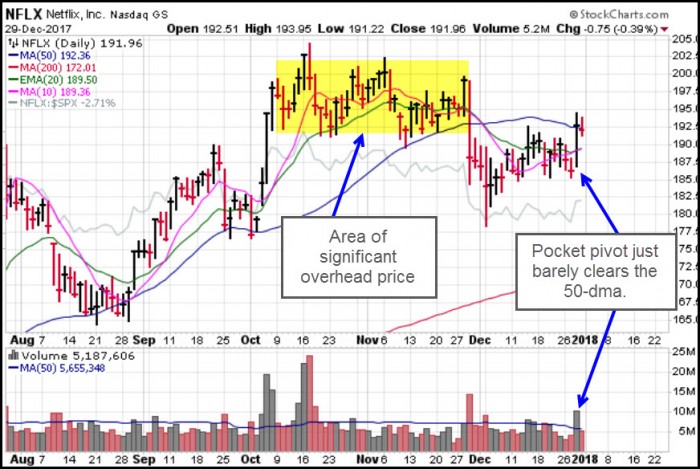 The
Market Direction Model (MDM)
is currently on a buy signal.
Removed from the List this Week:
None.
Focus List Stocks Expected to Report Earnings this Week:
None.
Notable Action:
Caterpillar (CAT)
broke its string of nine straight up days as it sold off slightly on Friday. The 10-dma or 20-dema would serve as near-term selling guides. Keep in mind that the stock has had a log price run since September and may be getting somewhat "late-stage." The current nine-day price run does have a "quasi-parabolic" feel to it as the stock has gotten extended from its early December breakout.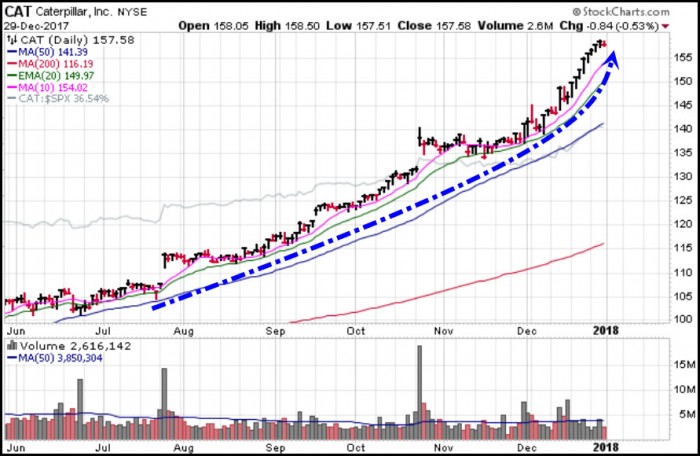 Facebook (FB)
is another example of a Focus List name that has gone nowhere even as the major market indexes have relentlessly made new highs over the past two months. On Friday, it broke below its 50-dma on light volume, but the bottom line here is that the stock has failed to make any significant upside progress since its base breakout of two months ago.