The S&P 500 ended the year in new-high price territory while the situation under the market's surface remains somewhat murky. The index's rise has been accompanied by weak breadth, less than half of all NYSE-listed stocks above their 50-day line, and new-highs vs. new-lows lagging the breakout. The S&P remains the only major market index to maintain a footing on all-time high price ground as 2021 comes to a close.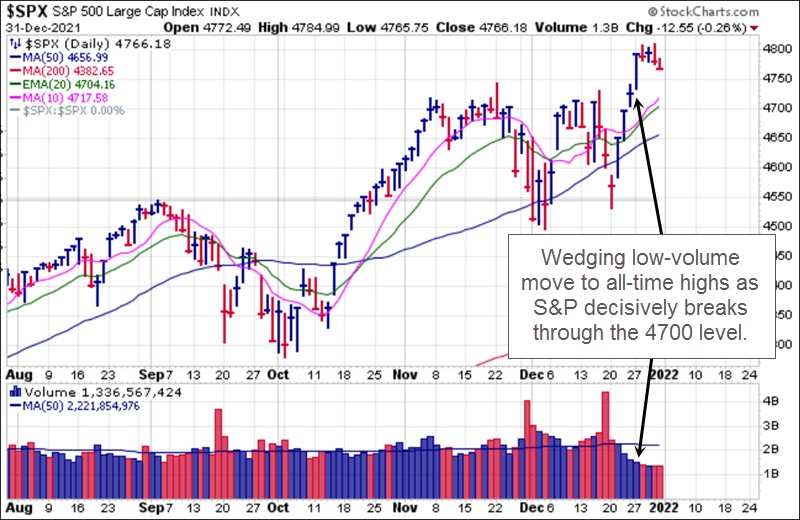 The broader market as measured by the
NYSE Composite Index
shows stalling near double-top highs in an extended melt-up move off the lows of two Mondays ago.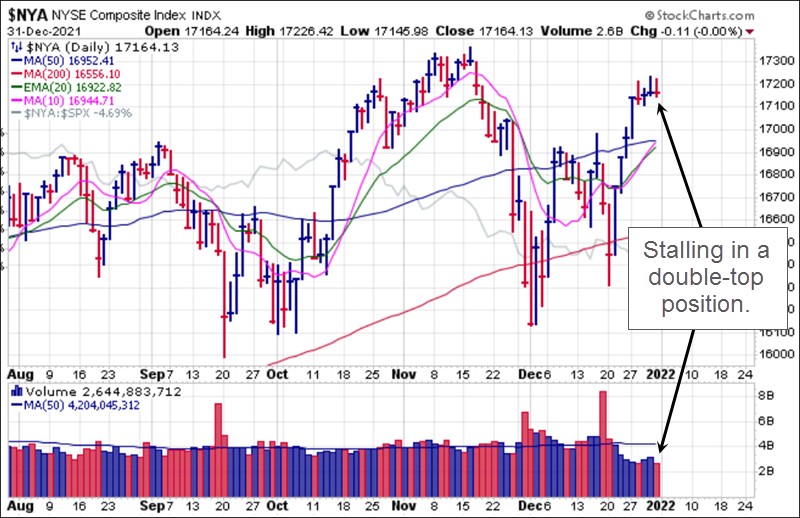 The
NASDAQ Composite Index
rallied up into resistance along the very late November and early December highs, so remains in a very broad and volatile bear flag after peaking in late November.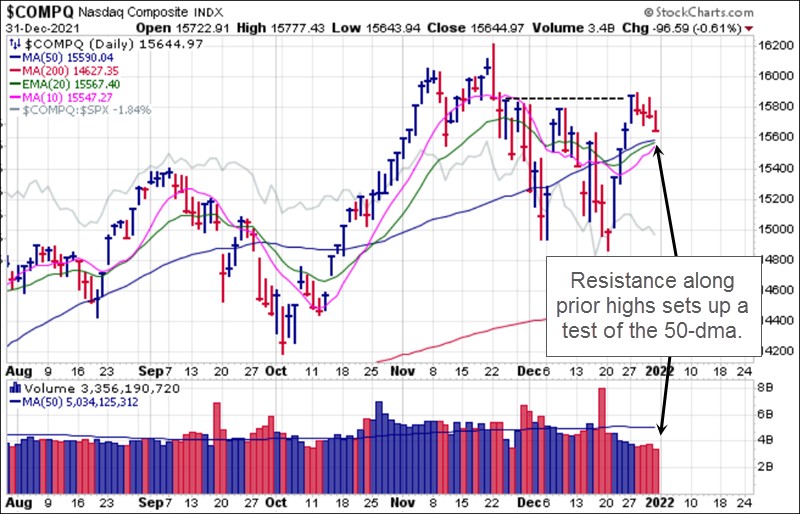 The Market Direction Model (MDM) remains on a SELL signal.
The
NASDAQ Six
, consisting of
Apple (AAPL)
,
Amazon.com (AMZN)
,
Alphabet (GOOG)
,
Microsoft (MSFT)
,
Nvidia (NVDA)
, and
Tesla (TSLA)
, which hold a combined weighting of about 49% in the
NASDAQ 100 Index
are starting to show some cracks.
AMZN
continues to trend lower as it breaks support at its 200-dma while GOOG breaks key support at its 50-day moving average.
AAPL
and
MSFT
are peeling off the highs of V-shaped double-top moves while
NVDA
tests its 50-dma and
TSLA
dips below its own 50-dma.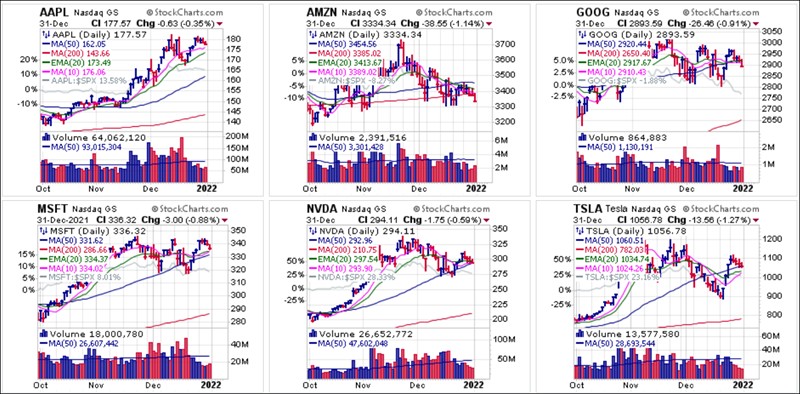 Bitcoin ($BTCUSD)
is now living below its 200-dma at the time of this writing on Saturday. It has been a sell/short since it failed on the double-top breakout attempt back in early November when media crypto-hype was at its peak. This latest move triggers a short-sale entry at the 200-day line which then becomes a covering guide.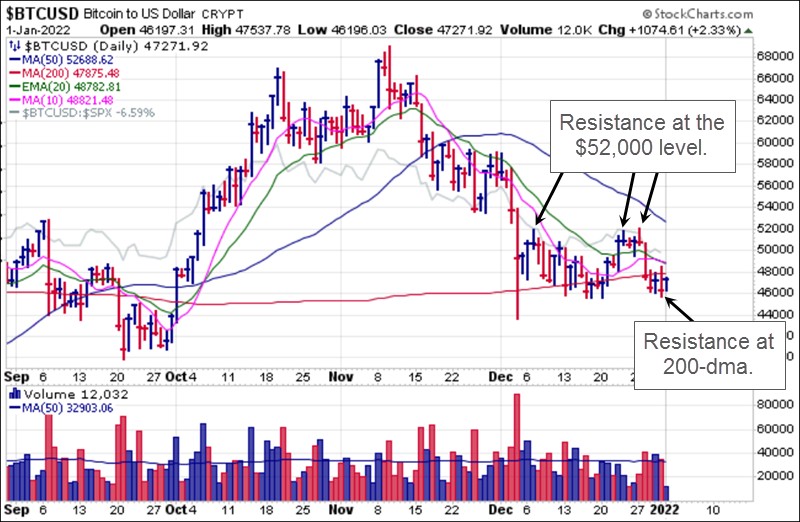 Ethereum ($ETHUSD)
is attempting to post a U&R long entry signal at the prior December low. The move has been tentative, however, but is still actionable using the prior low at 3651.32 as a selling guide. If
$BTCUSD
remains weak, however, we would look for this
$ETHUSD
U&R attempt to fail in anticipation of a corresponding move down to its own 200-day moving average.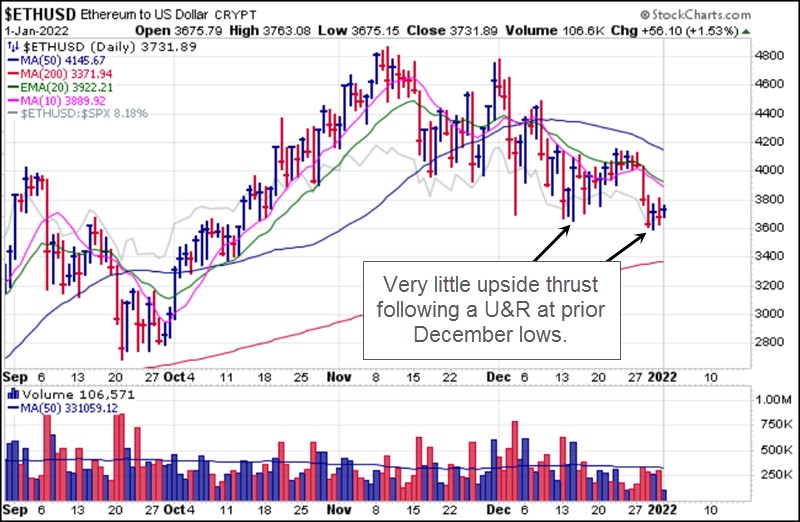 The breakdown in crypto-currencies has short-circuited any rally attempts by crypto-related stocks, and in most cases these have reverted to short-sale entry targets. Bitcoin miner
Marathon Technology Group (MARA)
failed almost immediately after posting a bottom-fishing pocket pivot (BFPP) six trading days ago. It ran into resistance at the 20-dema on Monday, a shortable move at the line, before breaking back to the downside to negate the prior pocket pivot move.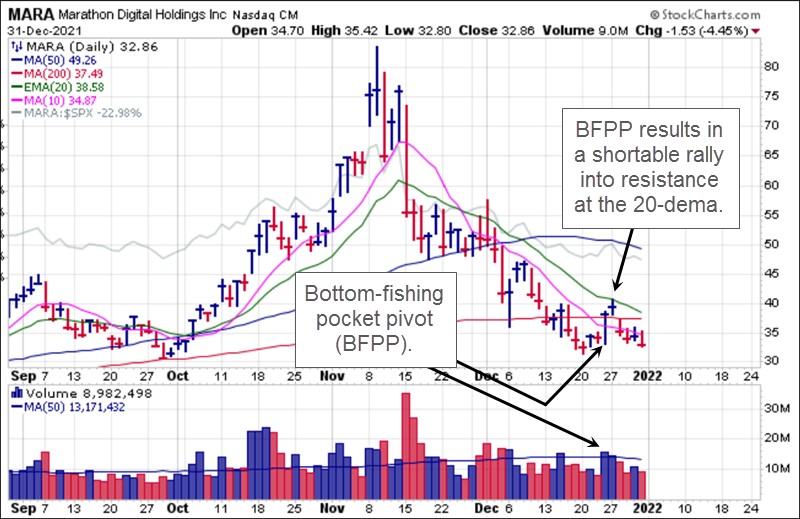 Crypto-currency broker and trading platform
Coinbase Global (COIN)
embarked on a sharp four-day run after posting a U&R at the prior December low,. That move gave way abruptly on Tuesday when
COIN
gapped-down and busted the 20-dema, triggering a short-sale entry at that point. It is now back below the 10-dma.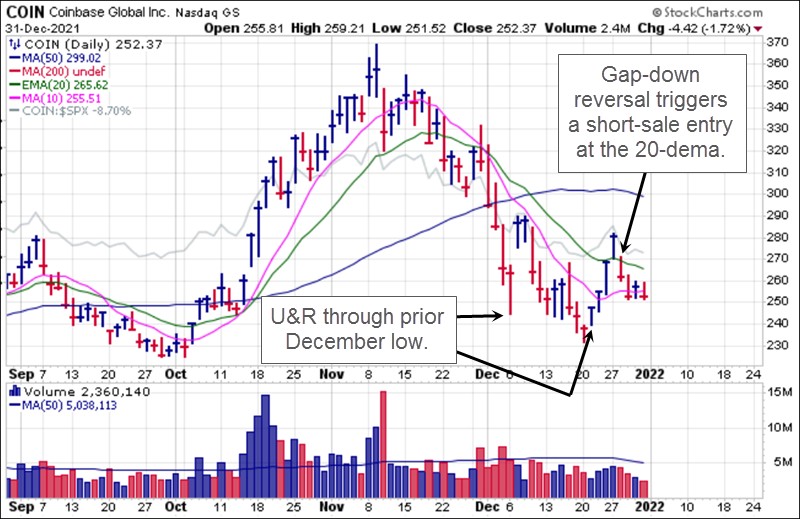 Materials names mentioned in last weekend's Focus List Review continue to display relative strength. Recent breakouts in aluminum producers
Alcoa (AA)
and
Century Aluminum (CENX)
, copper producer
Freeport McMoran (FCX)
, and fertilizers
CF Industries (CF)
and
Nutrien (NTR)
remain intact for now.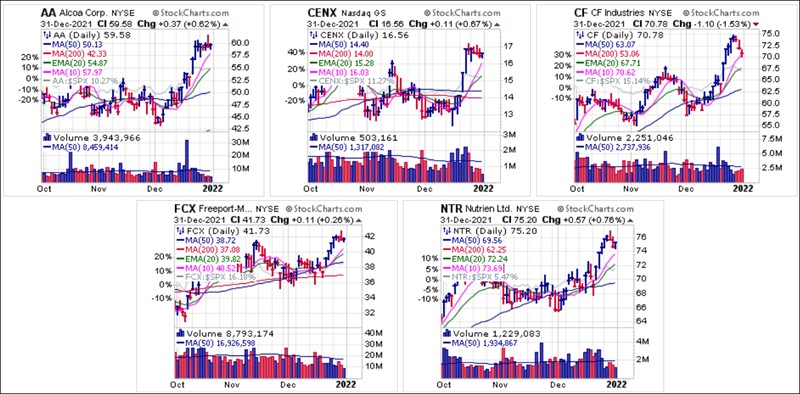 Despite the new highs in the
S&P 500
the situation underneath the market's surface, that is with individual stocks, remains mixed and murky. We reiterate our current view as stated last week: "This remains a difficult environment and we see no reason to force matters. Long set-ups, in the few cases where they have occurred as noted above, can be tested but we would position-size cautiously while maintaining strict risk-management."