Current Focus List

The VoSI Focus List is a compilation and reference list of stocks for which Pocket Pivot or Buyable Gap-Up Reports have been issued and which have been deemed suitable for inclusion on the Focus List. Not all stocks for which a Pocket Pivot or Buyable Gap-Up report has been issued will necessarily be added to the list. It is not intended as a "buy list" or a list of immediately actionable recommendations. Stocks on the list may or may not be in proper buy positions, and investors should exercise discretion and proper judgement in determining when and where stocks on the Focus List can be purchased. The following notes are intended to assist in this process. Please note that members can enlarge the Focus List image by clicking on the body of the email and then holding the Control Key while pressing the "+" key until it is large enough to read.
General Observations:
The Dow Jones Industrials, S&P 500, and broad NYSE Composite Index all posted all-time closing highs on Friday, while the NASDAQ Composite stalled near its 10-dma. Volume was lower across the board. The environment remains cautionary, however, as beaten-down techs, internets and other growth leaders appear to be engaged in natural oversold reaction rallies after selling off hard.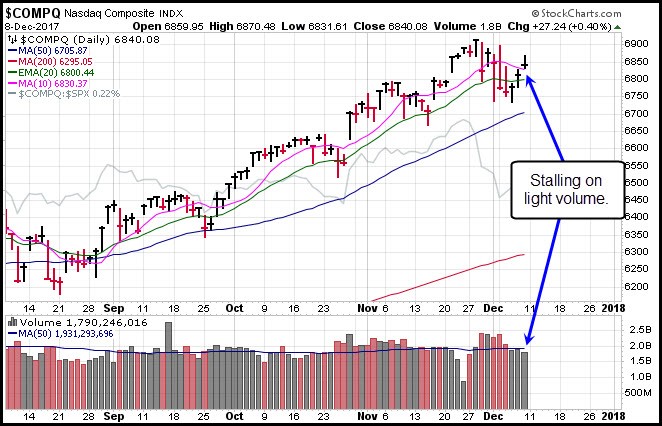 If we examine a chart measuring the percentage of stocks trading above their 50-day moving averages on the NYSE, we can see that in fact the market was experiencing a stealth correction as the percentage dropped precipitously between early October and mid-November. The NASDAQ experienced a nearly identical decline in the number of stocks trading above their 50-day moving averages during the same period. This is one more divergence we've been monitoring in this market since it occurred as the major market averages continued to make higher highs. The situation has been improving off the mid-November lows, so it remains fluid.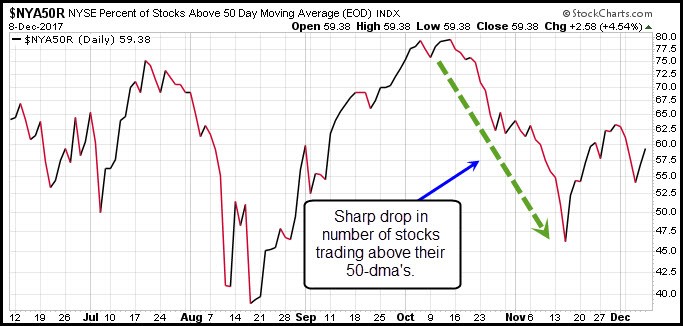 The
Market Direction Model (MDM)
remains on a cash signal.
Removed from the List this Week:
ANET
,
BABA
,
NFLX
,
NVDA
,
TTWO
,
WB
.
Focus List Stocks Expected to Report Earnings this Week:
None.
Notable Action:
Caterpillar (CAT)
has been buyable on pullbacks to the 10-dma, as we discussed in our morning Focus List Notes on Thursday. It is now extended to the upside from the 10-dma, but technically within range of its recent base breakout.
Facebook (FB)
was added back to the Focus List on a provisional basis by virtue of its ability to quickly regain the 50-dma on strong, above-average volume. As it rallied up to the 50-dma on Wednesday it looked like it could be setting up as a possible short-sale at that point based on the fact that it had failed on a recent base breakout. In this QE market, however, we have often seen leading stocks breakdown very hard, only to regain their 50-dma, a move we refer to as a "moving-average undercut & rally" buy set-up. For now we would like to see the stock hold the 50-dma with volume drying up on any retest of the line. If it does test the 50-dma with volume drying up, that would represent a lower-risk entry point with the idea of then using the 50-dma as a tight selling guide.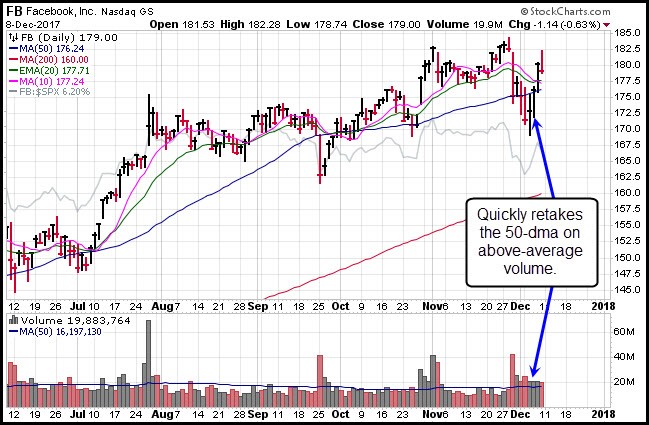 Focus List names that have been removed this past week are, in some cases, rallying up into areas of resistance in logical, oversold reaction rallies. Two examples are
Alibaba (BABA)
and
Take-Two Interactive (TTWO)
, shown below.
BABA
undercut three prior lows in its pattern after becoming quite oversold on Tuesday of this past week. This triggered a very logical U&R type of rally that took the stock as high as the confluence of three moving averages, the 10-dma, 20-dema, and 50-dma, a logical area of potential overhead resistance. Volume increased on the day as the stock stalled and churned within the area bounded by these three moving averages. This may indeed put the stock in a shortable position here using the 50-dma as a maximum upside stop.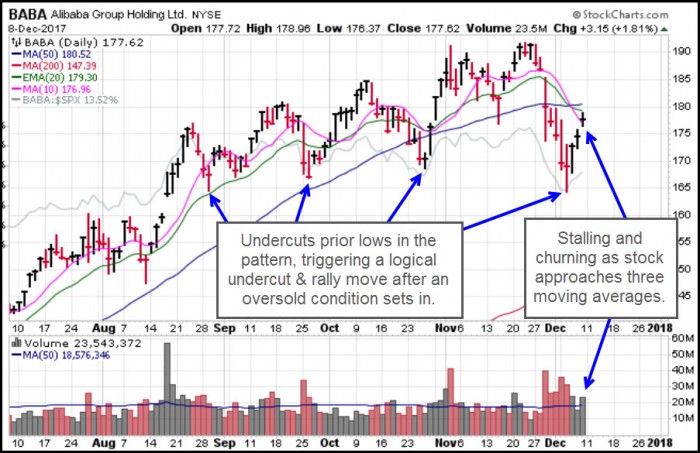 TTWO
executed a similar undercut & rally move after undercutting several lows within its pattern, as is clear on the daily chart, below. This triggered a logical oversold rally right into the 50-dma, where the stock ran into resistance and reversed to close near the intraday lows as buying interest waned. Another potential short-sale set-up using the 50-dma as a tight upside stop.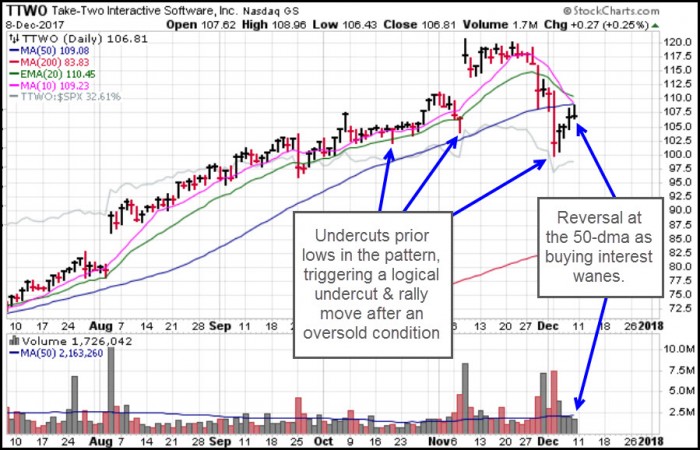 For the most part, these are "textbook" shortable rallies in broken-down leaders. In both cases, the stock would need to clear the 50-dma to become potentially viable longs again, as was the case with
FB
. However, there is no guarantee that even
FB
will hold support at its 50-dma, and it could easily morph back into a short if it breaches the 50-dma once again.