Current Focus List

The VoSI Focus List is a compilation and reference list of stocks for which Pocket Pivot or Buyable Gap-Up Reports have been issued and which have been deemed suitable for inclusion on the Focus List. Not all stocks for which a Pocket Pivot or Buyable Gap-Up report has been issued will necessarily be added to the list. It is not intended as a "buy list" or a list of immediately actionable recommendations. Stocks on the list may or may not be in proper buy positions, and investors should exercise discretion and proper judgement in determining when and where stocks on the Focus List can be purchased. The following notes are intended to assist in this process. Please note that members can enlarge the Focus List image by clicking on the body of the email and then holding the Control Key while pressing the "+" key until it is large enough to read.
General Observations:
The market has rallied sharply off the lows of two Fridays ago in an extremely deep, V-shaped move that show a large divergence from the character of the rally we saw from late September 2017 into late January of this year. The NASDAQ Composite Index stalled out after five straight up days, posting lighter volume on Friday as it reversed back to the downside. We would expect that this sharp move off the lows, given that it reflects a marked change of character, needs to settle down and show some signs of consolidation. This could imply that continued volatility might be expected, and for this reason we would remain vigilant and mindful of where exit points like in the event we see a move back to the lows. There is nothing in the chart of the NASDAQ Composite, or the other indexes for that matter, that would give us any confidence in trying to make predictions with respect to where the market will go from here. A retest of the lows, whether partially or fully, is still a possibility.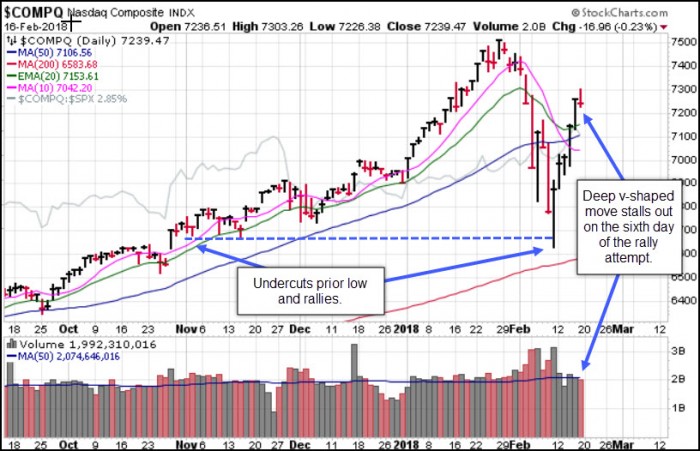 The
Market Direction Model (MDM)
remains on a cash signal.
Removed from the List this Week:
None
Focus List Stocks Expected to Report Earnings this Week:
None.
Notable Action:
While the daily charts of the remaining Focus List names might look okay, the weekly charts reveal what might considered a cautionary sign. For example,
Amazon.com (AMZN)
is showing one week down hard on heavy volume followed by one week back up to the highs on heavy volume. This is the old "one-up-one-down" that Bill O'Neil used to talk about as a possible topping signal. At the very least, we can see that the weekly chart isn't necessarily set up to create any lower-risk entries, at least not up at these levels.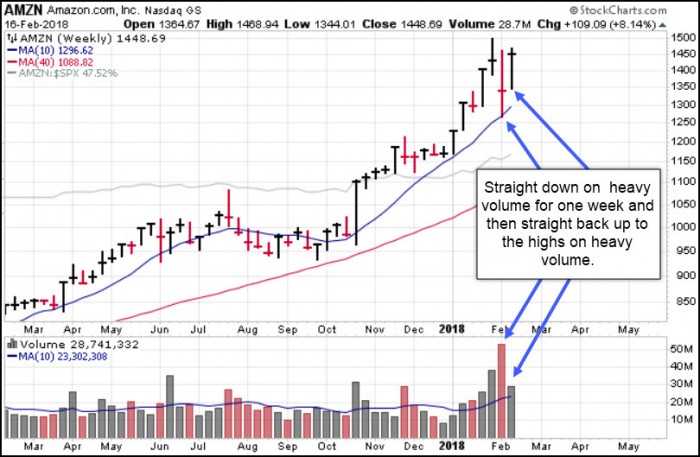 Netflix (NFLX)
is similar to AMZN, except that it is has gone straight down for two weeks and then up one to new closing highs, of what might be called "two-down-and-one-up." This can also be a cautionary sign, since these rapid moves in both directions that are out of character with the stock's prior chart action (e.g., tighter ranges in a steady uptrend) can indicate distribution. As with AMZN, the weekly chart does not reveal any lower-risk entry points at current levels.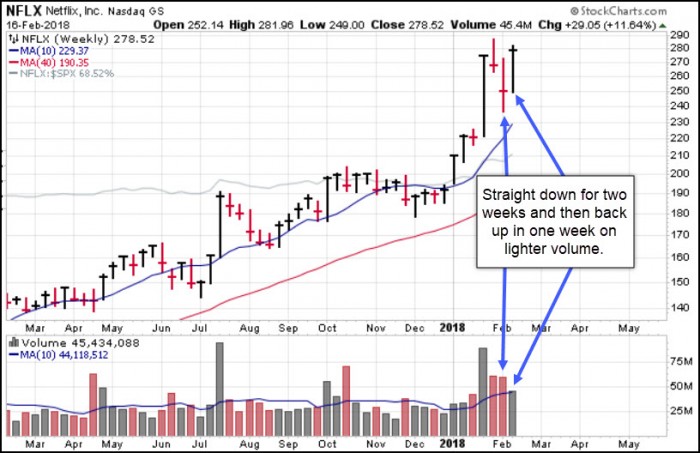 Nvidia (NVDA)
is a slightly different situation since it was able to recover and close in the upper part of its daily trading range the week before last, giving the pattern the look of supporting action along the 10-week moving average. That led to a move to new weekly closing high this past week, although overall the action has a straight-down-straight-up look that likely implies that at the very least, come consolidating action is required here.