Current Focus List

The VoSI Focus List is a compilation and reference list of stocks for which Pocket Pivot or Buyable Gap-Up Reports have been issued and which have been deemed suitable for inclusion on the Focus List. Not all stocks for which a Pocket Pivot or Buyable Gap-Up report has been issued will necessarily be added to the list. It is not intended as a "buy list" or a list of immediately actionable recommendations. Stocks on the list may or may not be in proper buy positions, and investors should exercise discretion and proper judgement in determining when and where stocks on the Focus List can be purchased. The following notes are intended to assist in this process. Please note that members can enlarge the Focus List image by clicking on the body of the email and then holding the Control Key while pressing the "+" key until it is large enough to read.
General Observations:
Major market averages all made higher closing highs following the lows of two weeks ago. Volume, however, was quite light, which keeps us in a cautionary mode. So far, however, the fourth-day follow-through we saw in the NASDAQ Composite Index two Wednesdays ago is still in force. It remains a matter of finding proper set-ups among individual stocks which is less clear. There is no reason, therefore, to rush headlong into stocks unless a proper, lower-risk set-up is seen, and we have issued reports on a select few names that have shown recent buy signals, such as
Blackberry (BB)
, which posted a roundabout pocket pivot on Friday.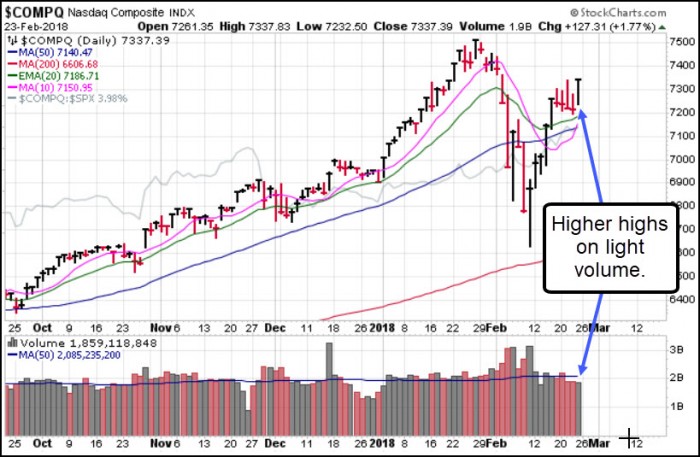 In addition, swing-trades such as that recommended in the VoSI VooDoo Report two weeks ago in
Roku (ROKU)
ahead of earnings with the idea of catching a reasonable price move in advance and then selling before the report have worked well. Note that even if one had decided to hold ROKU through earnings after gaining a decent profit cushion ahead of the report, the net loss after the post-earnings gap-down was very small. However, our view as discussed in the report was to look for a swing-trade ahead of earnings to sell into, although members can always decided for themselves how they want to handle any position through earnings, depending on the profit cushion they have in the stock.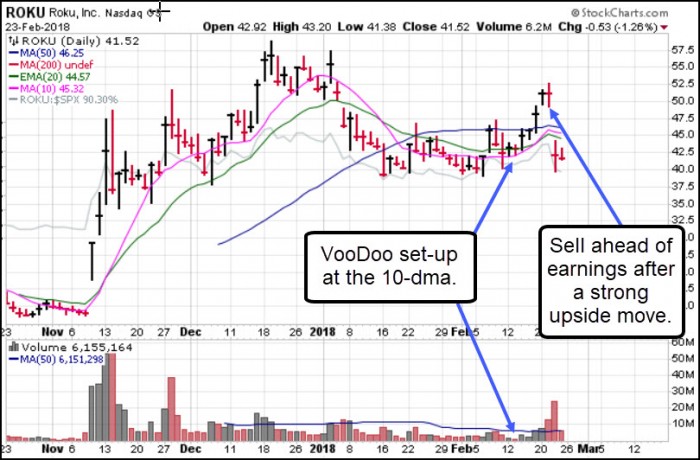 We also saw a strong move in
Abbvie (ABBV)
, which was discussed in the same VooDoo Report as it was sitting tight along the 20-dema with volume drying up. It has since moved higher and is now forming a small cup-with-handle formation. The VooDoo Report focuses on off-beat trade opportunities in stocks showing "voodoo" type action or other more subtle and less orthodox set-ups that do not fit within the typical Pocket Pivot or Buyable Gap-Up genres.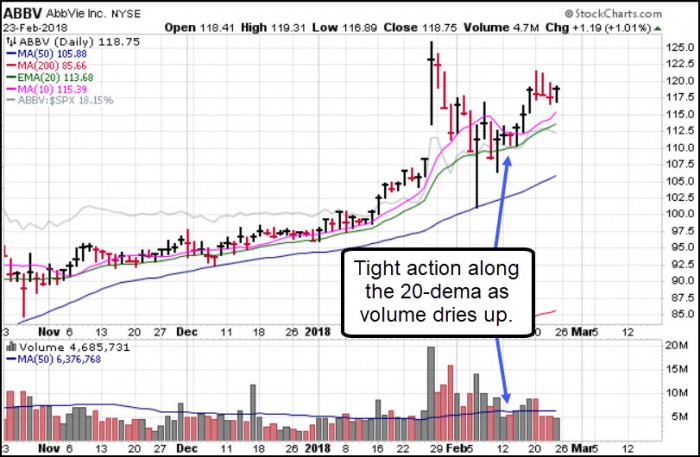 That said, the market may remain in a volatile state, and the recent, extreme V-shaped rally back up near the highs may be vulnerable to at least some sort of sharp pullback. However, it still boils down to what goes on with individual stocks. Meanwhile, the
Market Direction Model (MDM)
remains on a cash signal.
Removed from the List this Week:
None.
Focus List Stocks Expected to Report Earnings this Week:
None.
Notable Action:
Amazon.com (AMZN)
is wedging up into the 1,500 price level on light volume, despite receiving an analyst's buy recommendation at $2,000 price target on Friday. It continues to look vulnerable to a pullback from here.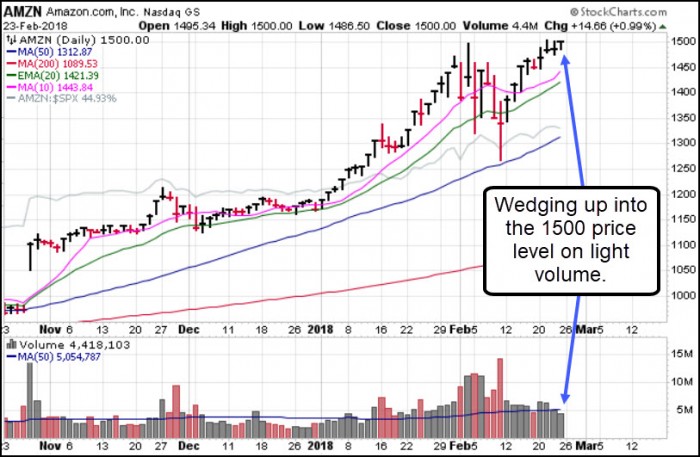 Netflix (NFLX)
is tracking sideways as it attempts to consolidate the prior V-shaped move off the lows of two weeks ago.
Nvidia (NVDA)
is moving sideways as it also attempt to consolidate the prior, extremely volatile movement it has had over the past two weeks.