Major market indexes bounced sharply off Thursday's panic lows on news that Russia had commenced an invasion of Ukraine. At that point, certain online newspapers had declared the market to in a
correction
the night before after persisting in calling the recent breakdown in the latter half of February as an
uptrend under pressure.
In addition, numerous pundits and talking heads on financial cable TV were lamenting the fact that various market indexes were "now in bear market territory" as of Wednesday.
All of this provides a real-time example of how useless labels are when it comes to deriving predictive value, a concept we discussed in Chapter 2 of
In the Trading Cockpit with the O'Neil Disciples
(John Wiley & Sons, 2013)
. which we titled Mind Games & Mazes.
In that chapter we
discussed the need for labels in investing as a heuristic "Achilles Heel" or crutch,
and certainly the events of the past two weeks have proven that point when it comes to the idea that one can label general market action as this or that with the idea that it has some useful meaning. It doesn't.
Thursday's gap-down open sent the indexes plumbing various lows seen in 2021, with the
S&P 500 Index
undercutting its June 2021 low while the
NASDAQ Composite
undercut its March 2021 lows. The rally on Thursday continued into Friday and the indexes are now in a two-day rally off the Thursday lows. The news flow regarding the Ukraine Invasion remains extremely fluid, and creates a very slippery environment for traders. We continue to view this as a market for nimble, alert, and resourceful swing-trades on the long and short side, while intermediate trend-following investors are best advised to stay in cash, sit back, and enjoy this crazy market show.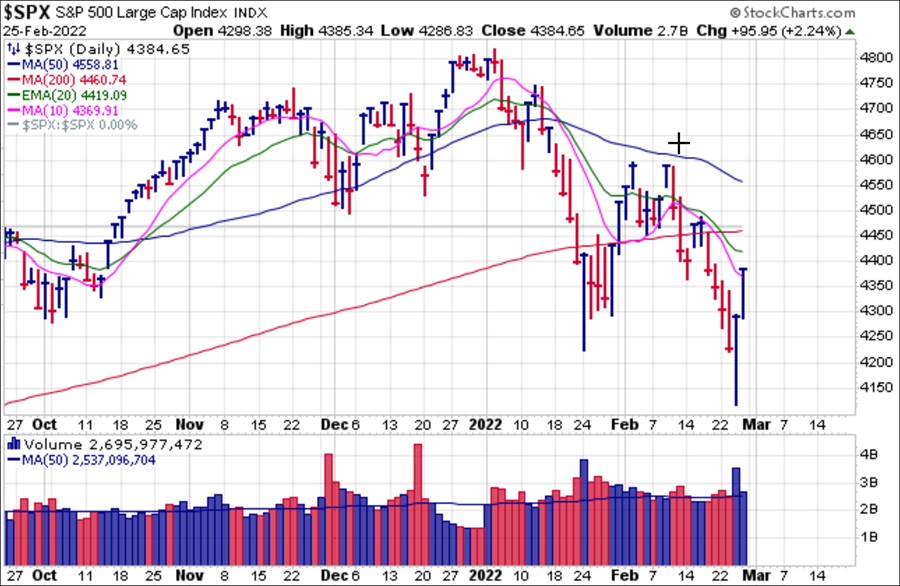 The
Market Direction Model (MDM)
remains on a
SELL
signal.
Semiconductor short-sale targets that we first reported on in early June finally hit near-term lows on obvious cover signals when they undercut prior lows in their patterns and rallied. As discussed in
Short-Selling with the O'Neil Disciples
, Gil uses undercuts of prior lows in a pattern as downside price objectives and cover points. Like clockwork, these all signaled cover points on Thursday as they pulled U&Rs at prior January lows.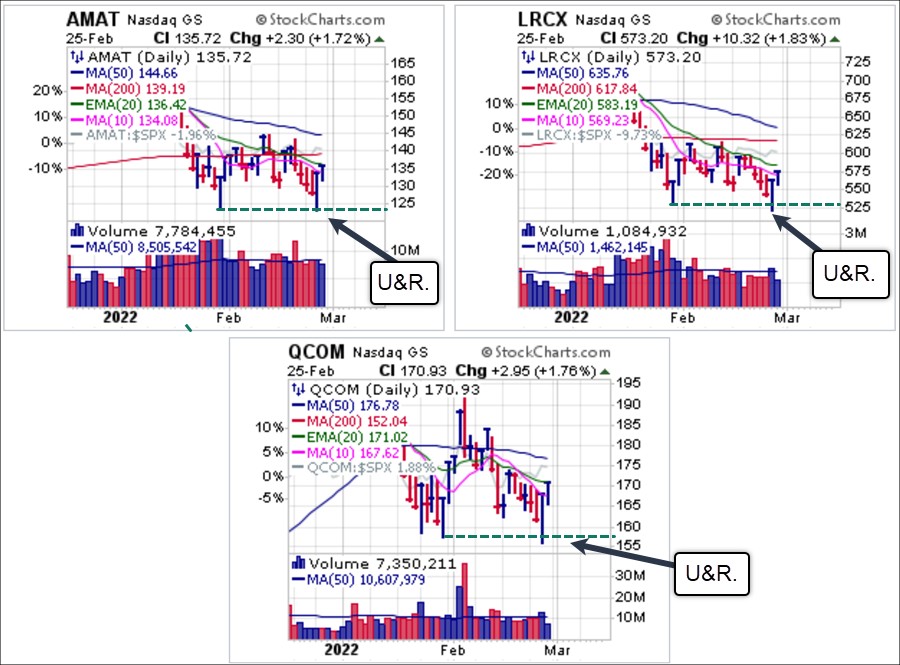 Chewy (CHWY)
and
Iridium Communications (IRDM)
were reported on as short-sale entry targets at their 50-day moving averages two Fridays ago. Both stocks then came down with CHWY breaking the hardest before undercutting its January low, a clear cover point for short-sellers who had taken positions at the 50-day line two Fridays ago as we reported.

Palo Alto Networks (PANW)
, which we reported on as a short-sale entry along its 20-dema around 505 on Wednesday morning after it gapped up on earnings, reversed hard that day and closed at 477.61. That was a successful short-sale entry, but the next day cyber-security stocks of all stripes rallied hard on fears of Russian cyber-attacks, which sent PANW back up through its 20-dema. Alert short-sellers would likely have recognized the turn quickly enough to react and cover the position with at least some profit. Otherwise, the 20-dema served as a minimum covering guide on the ensuing news-driven rally.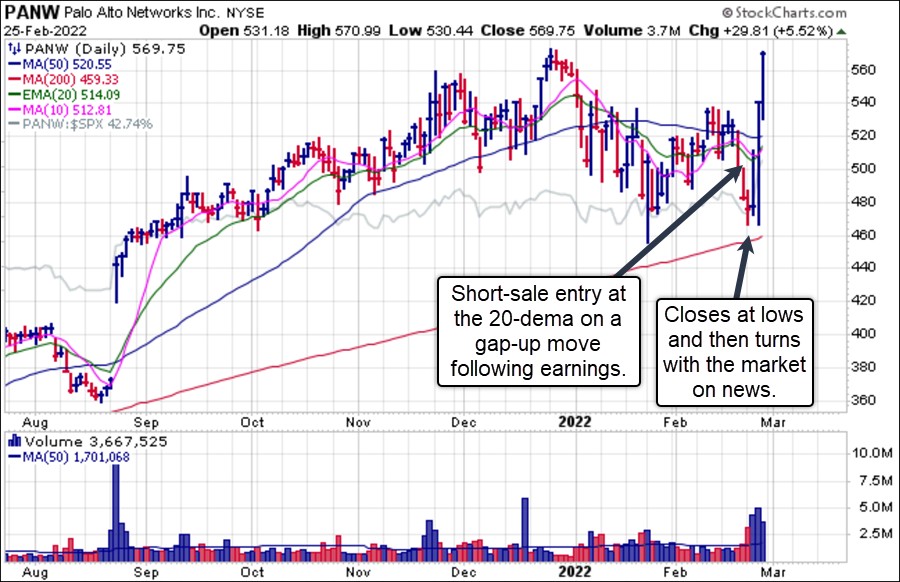 Near-term the short side has played out, with textbook cover signals seen in all five of the stocks we have reported on as short-sale targets prior to this past week and a quick breakdown in PANW the day before the market turned. While we are skeptical that the market has put in a final low, especially given global tightening and Powell hawkish stance, we will now sit back and watch this rally closely as it could bring short-sale target stocks back into shortable resistance along moving averages or prior price levels. For now, unless one is seeking to swing-trade the market on a very short-term basis, or unless one wishes to market time using the Market Direction Model, cash remains king.