Current Focus List

The VoSI Focus List is a compilation and reference list of stocks for which Pocket Pivot or Buyable Gap-Up Reports have been issued and which have been deemed suitable for inclusion on the Focus List. Not all stocks for which a Pocket Pivot or Buyable Gap-Up report has been issued will necessarily be added to the list. It is not intended as a "buy list" or a list of immediately actionable recommendations. Stocks on the list may or may not be in proper buy positions, and investors should exercise discretion and proper judgement in determining when and where stocks on the Focus List can be purchased. The following notes are intended to assist in this process. Please note that members can enlarge the Focus List image by clicking on the body of the email and then holding the Control Key while pressing the "+" key until it is large enough to read.
General Observations:
Major market indexes began the week off in volatile fashion with a sharp sell-off that saw the NASDAQ Composite and S&P 500 Indexes both hold support at their 50-day moving averages on Monday, but the move was short-lived. Both indexes rolled back to the Monday lows on Thursday and Friday with the NASDAQ Composite closing the week below its 50-day moving average. The S&P 500 Index held support just above its 50-day moving average.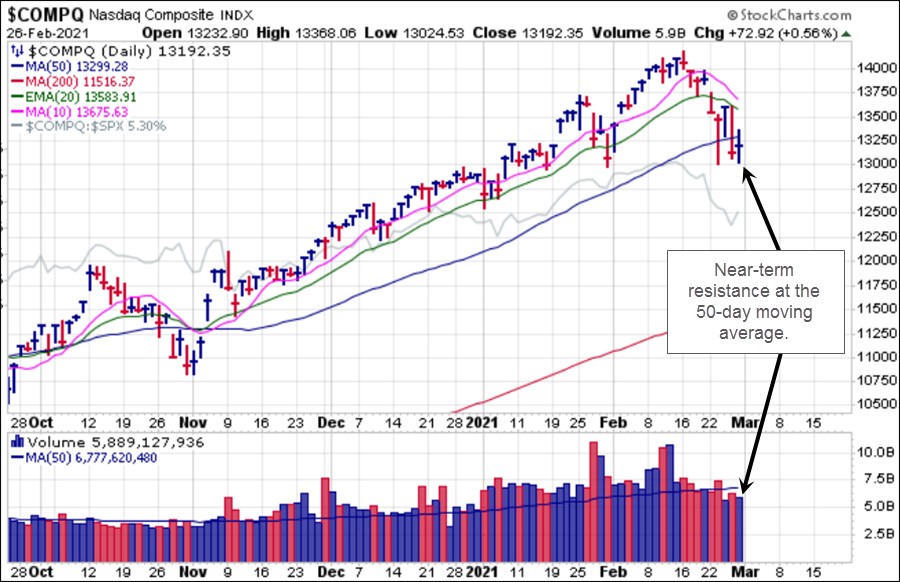 The
10-Year Treasury Yield
cleared the 1.50% level on Friday before backing down to end the week at 1.44%. The market's sell-off has been correlated to the rise in rates, bringing into question the Fed's control over interest rates and monetary policy. Higher rates attract capital away from stocks in a massive allocation trade. In addition, higher rates make stocks which have experienced extreme, even absurd, PE-expansions vulnerable to sharp pullbacks, and we have seen many of the FOMO areas of the market split wide open. For now the market is in a correction, and we do not see anything attractive on the long side of this market at the current time.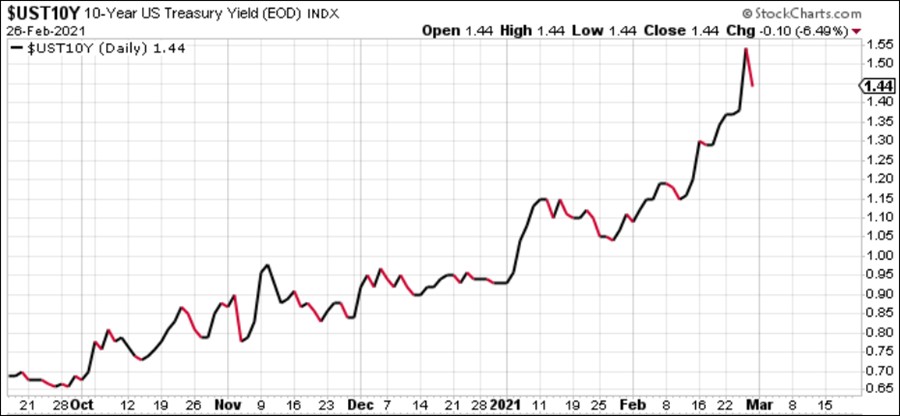 The
Market Direction Model (MDM)
remains on a
BUY
signal. The spike in rates is likely to be short-lived as the Fed has no choice but to buy bonds to keep rates in check. The huge stimulus package will also have an effect as the capital flows, as it has since 2009, into stocks, bonds, precious metals, and bitcoin.
Removed from the List this Week:
Apple (AAPL)
and
Tesla
(
TSLA
).
Notable Action:
Bitcoin is correcting, and has yet to find support as illustrated by the chart of the
Grayscale Bitcoin Trust (GBTC)
. The GBTC has failed on a recent breakout from a V-shaped cup formation and is now below its 20-dema. This has the look of a later-stage base-failure with the 50-day moving average looming just below as critical support, as it was back in late January. That said, bitcoin metrics are showing an exhaustion of selling from bitcoin F2 miners (one of the largest mining pools) and a slowing of bitcoins moving onto exchanges (a bearish sign as they generally are sold). Both of these metrics have been largely responsible for the recent selloff in bitcoin as they were in January when bitcoin had a steep correction. A number of other bitcoin oversold metrics have also reset or bottomed which, in prior corrections, often occur near price lows in bitcoin. Also keep in mind that bitcoin typically corrects 30-40% in bull markets as it did a few times in 2017. Each time, investors eventually give up as mainstream media dogpiles the FUD (fear, uncertainty, doubt), marking a significant floor in bitcoin each time.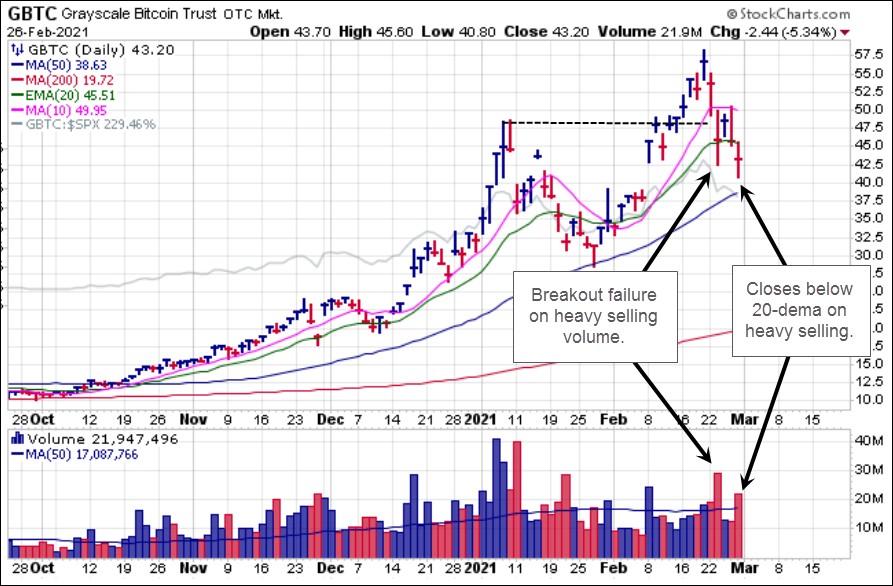 Microstrategy (MSTR)
has declined over 42% from its peak of less than three weeks ago illustrating the danger in getting overly caught up in the FOMO aspects of the current Bitcoin mania. It too is now back below its 20-day exponential moving average, which it had previously held all the way up into the recent climactic top of nearly three weeks ago.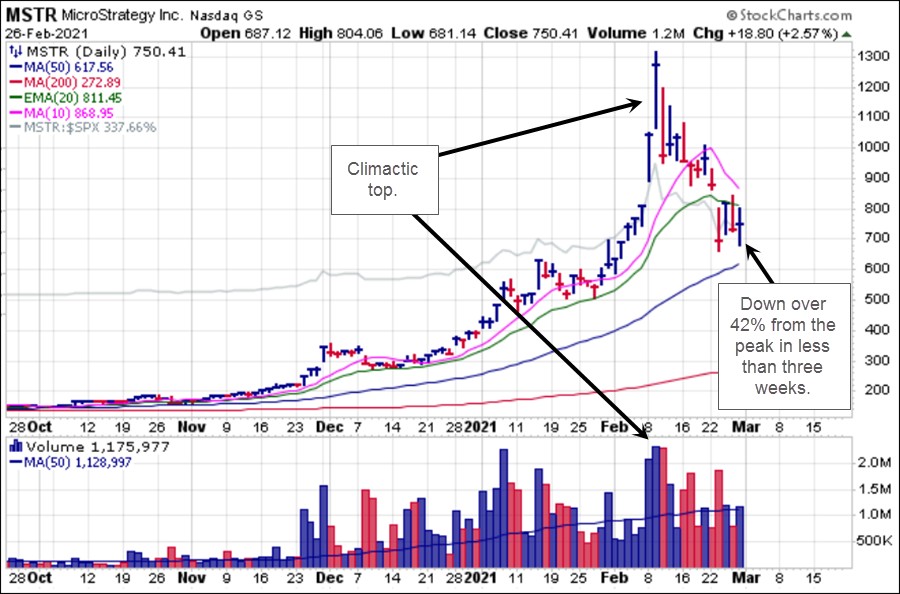 The
Sprott Physical Silver Trust (PSLV)
remains in the upper region of its current base, and was able to hold at its 20-day exponential moving average on Friday despite a deeper intraday sell-off. It remains in an indecisive position, and no doubt higher interest rates have put a lid on further upside. There has been talk of a run on physical silver as we push into March, which is a COMEX delivery month, and that may be putting a bid under the PSLV.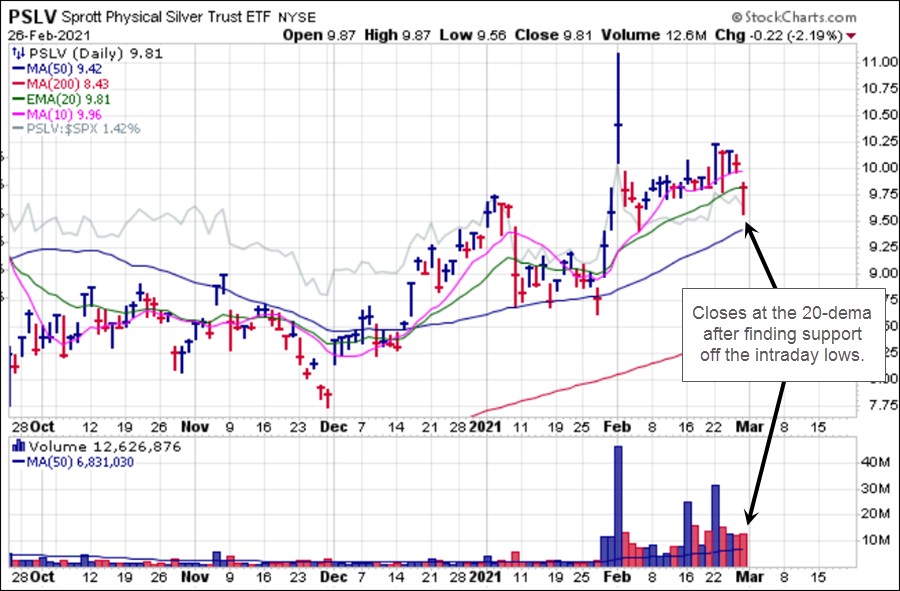 The
Sprott Physical Gold Trust (PHYS)
reflects extreme weakness as it breaks below the late November low. Generally, gold has been better bought on weakness than chased on strength, but for now we prefer to sit back and see how things develop from here while standing clear.