An exhaustion type of gap-up move in the major market indexes on Thursday resolved with a break to the downside on Friday. The move was triggered on Wednesday when Fed Chairman Jerome Powell uttered the word disinflationary during his press conference following the Fed policy announcement that day. The NASDAQ Composite gapped up sharply on Thursday and ran into double-top resistance along the September 12, 2022 peak. It reversed sharply on Friday even as Apple (AAPL) posted a big-volume pocket pivot at its 200-dma after earnings.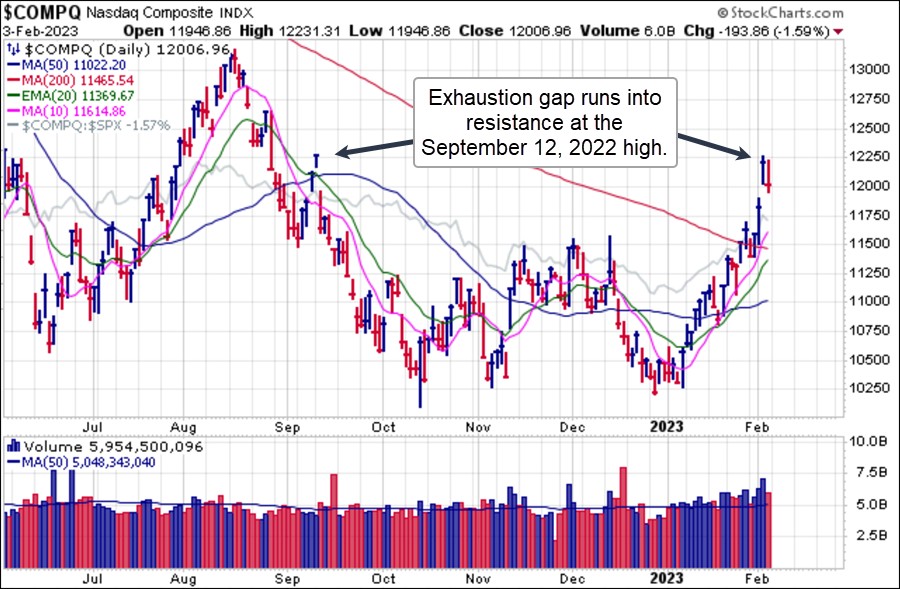 If Powell's use of the word disinflationary was in fact fomenting hopes of a Fed pivot it was not evident in the action of interest rates and the dollar on Thursday. The 10-Year Treasury Yield ($TNX) found support at its 200-dma and rallied off the lows on Thursday before pushing higher on Friday. The U.S. Dollar ($USD) reversed sharply to the upside on Thursday and slashed back above its 20-dema on Friday. This was not consistent with any idea that the Fed will soon be reversing its hawkish monetary policy any time soon.

Further evidence of this was seen in the action of precious metals, gold and silver, as the
VanEck Merk Gold Trust (OUNZ)
and the
Aberdeen Physical Silver Trust (SIVR)
gapped lower on Friday as they now fall out of constructive consolidations on heavy selling volume.

And, as the precious metals rolled over so did the related stocks, such as gold miners
AngloGold-Ashanti (AU)
and
Gold Fields (GFI)
. Both stocks are now below their 50-day moving averages as they had already issued sell signals at their 20-demas earlier in the week per the Seven-Week Rule.

We remain extremely wary of the current environment as conflicting signals and divergences abound. As we have said before, we have never seen a new bull market begin as the Fed was continuing to raise interest rates in an ongoing bear market environment. The sudden FOMO action we have seen in infinite-PE stocks and other highly speculative areas of the market leads us to believe that this rally may be on its last legs.
The Market Direction Model (MDM) remains on a SELL signal.