Current Focus List

The VoSI Focus List is a compilation and reference list of stocks for which Pocket Pivot or Buyable Gap-Up Reports have been issued and which have been deemed suitable for inclusion on the Focus List. Not all stocks for which a Pocket Pivot or Buyable Gap-Up report has been issued will necessarily be added to the list. It is not intended as a "buy list" or a list of immediately actionable recommendations. Stocks on the list may or may not be in proper buy positions, and investors should exercise discretion and proper judgement in determining when and where stocks on the Focus List can be purchased. The following notes are intended to assist in this process. Please note that members can enlarge the Focus List image by clicking on the body of the email and then holding the Control Key while pressing the "+" key until it is large enough to read.
General Observations:
The daily chart of the
NASDAQ Composite Index
illustrates the extreme daily price ranges and volatility that has overcome this current market environment, making it dangerous to play in either direction unless one is very fast on their feet. As the NASDAQ undercut its prior November lows on Friday, the
S&P 500
found support around its 200-dma, leading to an oversold bounce in the indexes on an intraday basis. We might look for this rally to carry back up as far as the 50-dma, at which point the market will again reach a "moment of truth" as it did on Wednesday, when it failed to hold the 50-dma, plunging back to the downside.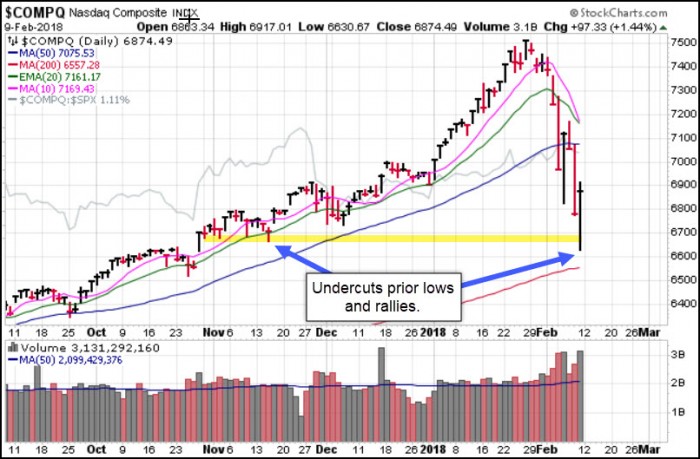 Nearly all leading stocks have broken down severely over the past several days, and all now suffer from "busted" chart patterns. At best, we might see some oversold rallies in these names following Friday's reversal, but it is unclear how these will play out from here. Danger is high, and we believe that maintaining high cash levels is warranted.
The
Market Direction Model (MDM)
is currently on a cash signal. The model has remained on a cash signal primarily because of the intense volatility inherent in this market. For this reason, we consider that the environment poses a high level of danger and risk, and we may continue to experience high volatility over the next few weeks. This may make it difficult to discern a clear trend in the indexes, although we do not discount the possibility of a bear market developing in the coming weeks and months.
Removed from the List this Week:
Caterpillar (CAT), Electronic Arts (EA), Facebook (FB), Take-Two Interactive (TTWO), and Square (SQ).
Focus List Stocks Expected to Report Earnings this Week:
None.
Notable Action:
Only three names remain on the list, but they have exhibited volatility that has made them difficult to hold. All three names have recently broken below their 20-demas, which we tend to use as tight selling guides. Anyone using the 20-dema as a selling guide for any Focus List name over the past 2-3 weeks has been stopped out and forced into cash. So while they remain on the list, the reality is that all three names currently on the list,
Amazon.com (AMZN)
,
Netflix (NFLX)
, or
Nvidia (NVDA)
could have easily stopped investors out over the past week as they have become extremely volatile, trading in wide daily price ranges.
NVDA reported strong earnings and guidance Thursday after the close, and gapped up to around the 240 price level on Friday morning. It then plummeted to a low of 217.52 before rallying to close at 232.08. This created a pocket pivot at the 20-dema, but the stock fell short of closing above the 10-dma. The extreme volatility and wide price ranges in the pattern make this a difficult name to gauge currently, although it could rally higher from higher IF we see the major market averages push up further towards their 50-dmas.