Current Focus List

The VoSI Focus List is a compilation and reference list of stocks for which Pocket Pivot or Buyable Gap-Up Reports have been issued and which have been deemed suitable for inclusion on the Focus List. Not all stocks for which a Pocket Pivot or Buyable Gap-Up report has been issued will necessarily be added to the list. It is not intended as a "buy list" or a list of immediately actionable recommendations. Stocks on the list may or may not be in proper buy positions, and investors should exercise discretion and proper judgement in determining when and where stocks on the Focus List can be purchased. The following notes are intended to assist in this process. Please note that members can enlarge the Focus List image by clicking on the body of the email and then holding the Control Key while pressing the "+" key until it is large enough to read.
General Observations:
There are certainly no shortages of "2021 Outlooks" out there among the pundits and commentators as we turn the corner into a new trading year. In our view, however, this is a pointless exercise, and 2020 is a year that proves, hands down, "outlooks" are meaningless. Markets are at all times dynamic, underlying conditions are always shifting, and the way the market reacts to shifting and changing underlying conditions can itself shift and change as the expected reaction does not play out as, well, expected. Had we published a "2020 Outlook" a year ago it is doubtful that it could have come close to predicting what the investing year would turn out to be like in 2020. 2021 is likely to be the same and may offer more fireworks as we work through the year.
With the major market indexes remaining in uptrends and ending 2020 at or near all-time highs the
Market Direction Model (MDM)
remains on a
BUY
signal.
Notable Action:
We like to think that our initiation of Crypto Reports back in 2018 was prescient as these critical alternatives to global fiat-currencies begin to gain favor not only among retail investors but, more importantly, major institutional investors, including individual corporations like
Microstrategy (MSTR)
,
Square (SQ)
, and
PayPal (PYPL)
seeking to diversify their cash holdings away from the continued devaluation of the dollar. This trend is likely to continue in 2021, and we would not be surprised to see other corporations, perhaps even one as big as Apple (AAPL), which has a huge store of free cash lying around do the same. A move to protect at least a portion of their cash position, currently around $192 billion, from severe dollar devaluation as the Fed likely continues with further waves of QE in 2021 would certainly not surprise us. It is why we moved further away from dollars and more towards crypto-currencies and other alternative-currencies in 2020 and look to continue doing so in 2021.
At the time of this writing, Bitcoin has just cleared the $30,000 level as it continues its parabolic run. This will likely send the
Grayscale Bitcoin Trust (GBTC)
, one of our biggest winners of the year, gapping higher on Monday if it holds.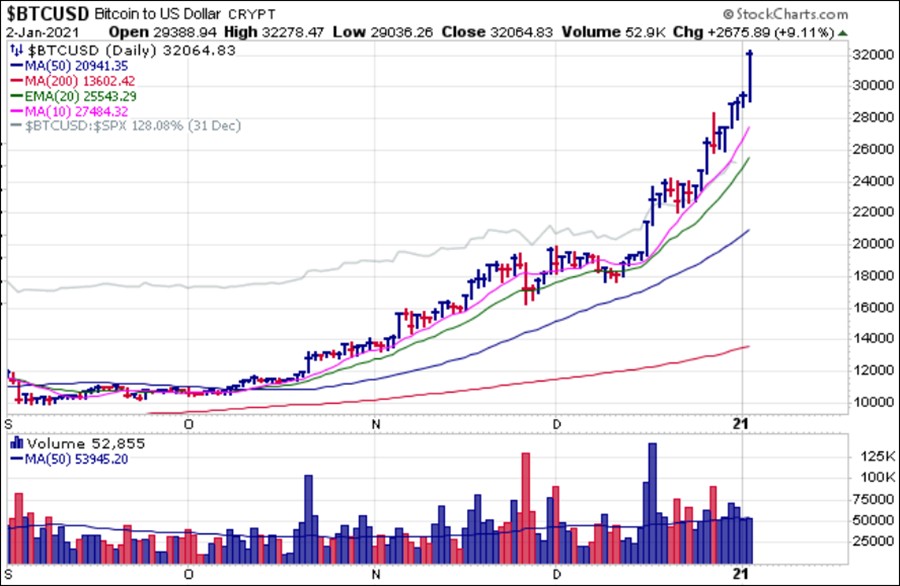 Apple (AAPL)
was recently added to our Focus List, for reasons detailed above as well as its recent pocket pivot. It is now pulling back into its 10-day moving average, which brings it into a reasonable add position using the 10-dma or 20-dema as selling guides for the added portion.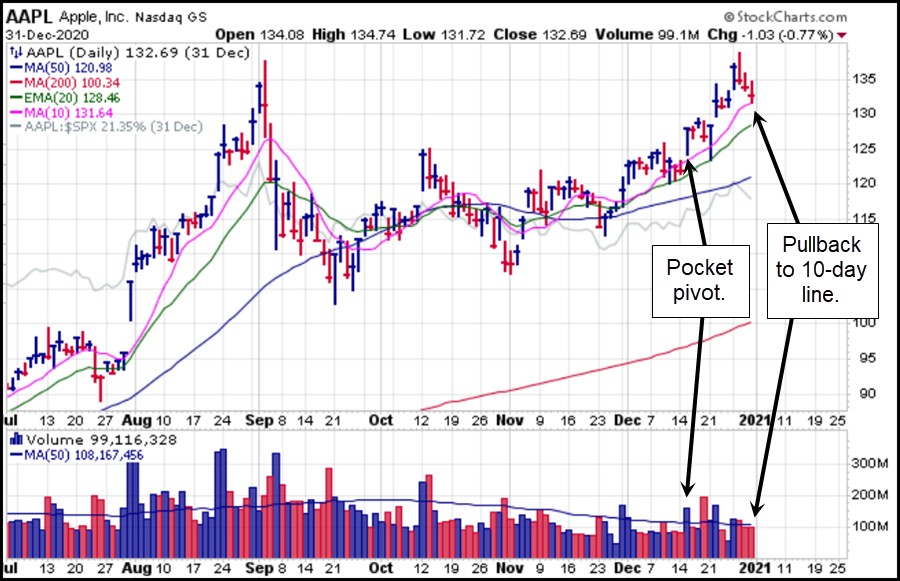 Microstrategy (MSTR)
, which now has over $1 billion worth of Bitcoin on its balance sheet, is now pushing towards the $400 Century Mark. If the Bitcoin price holds up on Monday, expect this to shoot through the $400 level, potentially triggering a new buy point based on Jesse Livermore's Century Mark Rule. We last reported on MSTR as a buyable gap-up over a week ago, but the stock has been a mainstay of our Focus List for the past several months.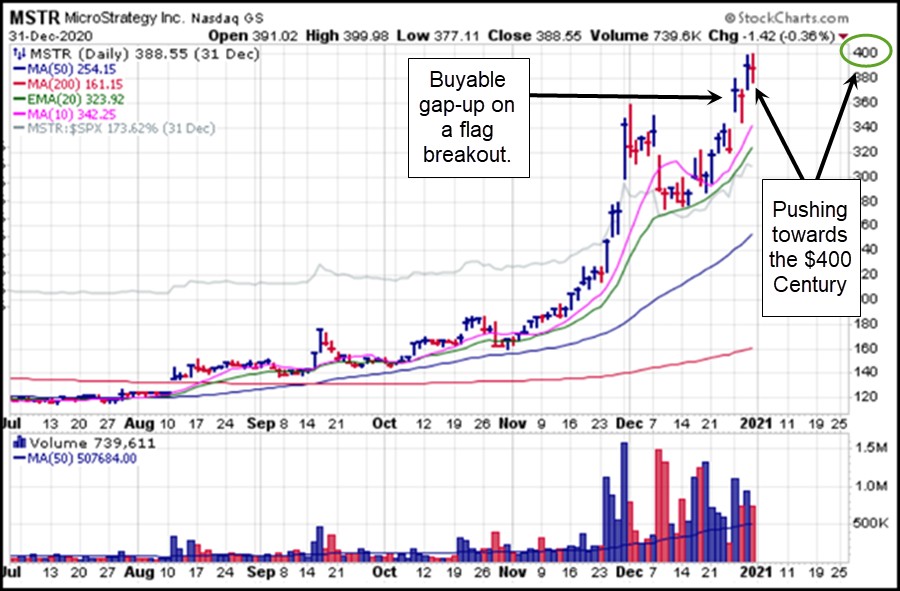 We reported Thursday on big-stock fertilizer name Nutrien (NTR) as a pocket pivot. NTR consists of a merger between two big-stock fertilizer names Agrium (AGU) and Potash Corp. of Saskatchewan (POT). The stock pushed above its 20-day exponential moving average on a strong pocket pivot volume signature and is in a buyable position here using the 20-day line as a selling guide or looking for any pullback closer to the line as a lower-risk entry. Consistent with the theme of continued QE in 2021 that will help to drive continued upside in alternative-currencies, we believe there is a reasonable chance of an inflationary commodity rally in 2021 that can potentially be played on several levels. In such an environment, similar to the strong commodities and commodity-related bull market of 2006-2008, stocks related to commodities like agricultural products and inputs (e.g., fertilizers), industrial metals, precious metals, chemicals, shipping, etc. may be areas to watch. We tend to stick with the set-ups to guide us in the right direction, and so the pocket pivot in NTR recently is one such example.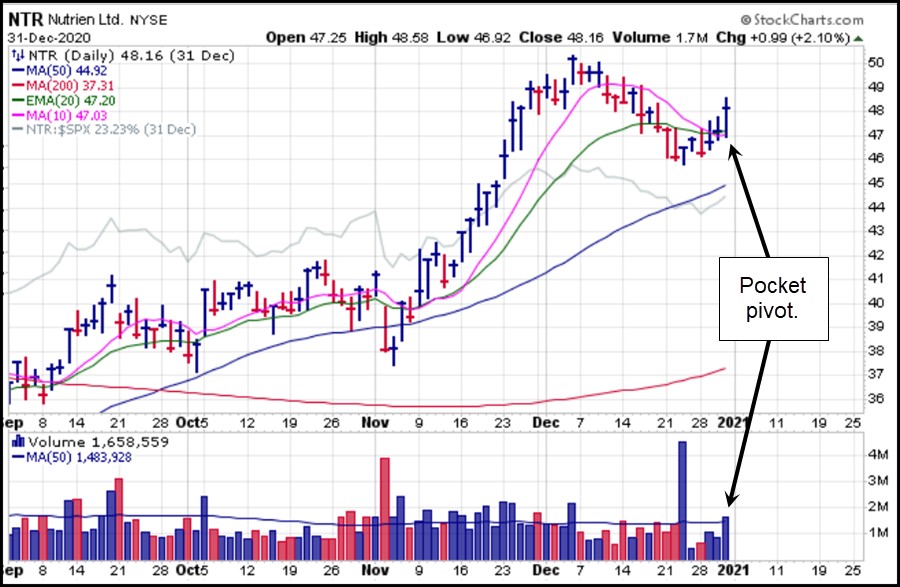 The electric vehicle space may remain a potent one in 2021, but truly the only one left in a strong uptrend is the big-stock EV leader,
Tesla (TSLA)
. The stock cleared the $700 Century Mark on Thursday, which puts it in a buyable position per Jesse Livermore's Century Mark Rule using the $700 price level as a tight selling guide. Chinese EV names have fallen by the way side, and we recently removed
Nio (NIO)
from our Focus List as it continues to base. Our expectation is that the EV space will continue to evolve in 2021 and we will report on individual stocks in this space as appropriate.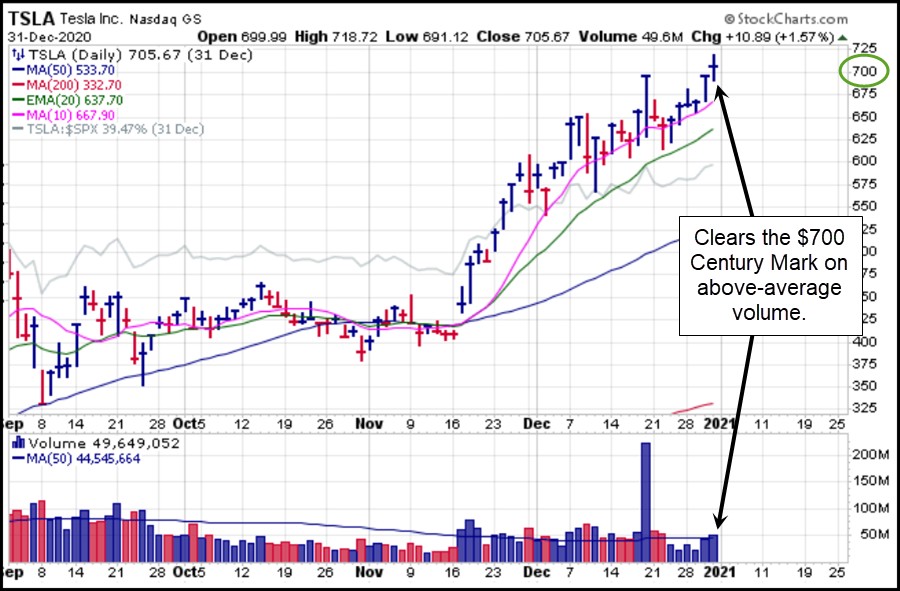 Despite its trials and tribulations since peaking in early August, we have kept the Sprott Physical Gold Trust (PHYS) on our Focus List for most of the year. That has been based primarily on the continuing alternative-currency theme. Despite being well off its highs for 2020 by year-end, gold still had its best year since 2010. The PHYS is now turning sharply up through its 50-day moving average which now serves as a reference for near-term support.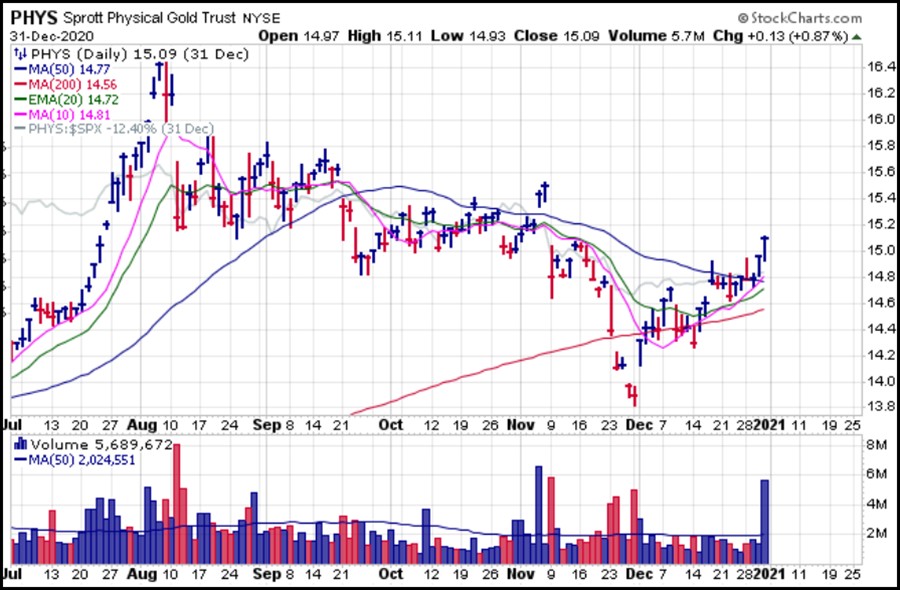 Silver has outperformed its yellow cousin as of late, but it was the U&R through the prior 7.75 low in the
Sprott Physical Silver Trust (PSLV)
that marked the turning point for both metals. Since then the PSLV has been trending steadily higher to post a 20% gain from November 30th into year-end. Silver futures ended 2020 at 26.41 after reaching a peak of 29.91 in early August and currently look set to challenge those prior highs. We would not be surprised to see it exceed its 49.82 high reached in 2011.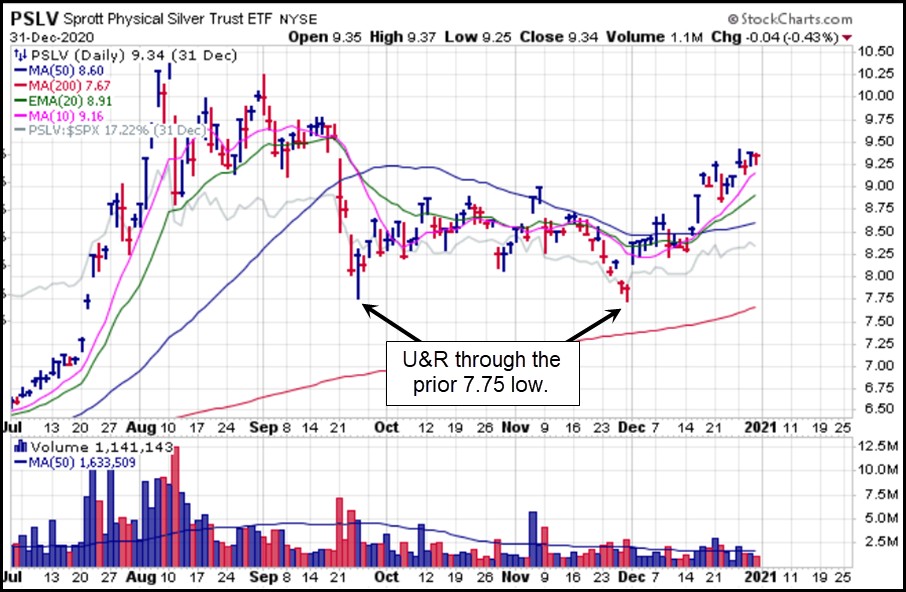 While we have reported on numerous stocks throughout the year, in 2020 we tried to adhere to the concept that a Focus List should be just that, a list that focuses on what we feel are the very best thematic ideas in the market at any given time with as little dilution as possible. While we expect to report on many more names during 2021, we will again seek to establish a very tight Focus List of names that we feel, as a team, offer some of the best prospects in what are and will likely remain unique times in human history. Happy New Year!