Current Focus List

The VoSI Focus List is a compilation and reference list of stocks for which Pocket Pivot or Buyable Gap-Up Reports have been issued and which have been deemed suitable for inclusion on the Focus List. Not all stocks for which a Pocket Pivot or Buyable Gap-Up report has been issued will necessarily be added to the list. It is not intended as a "buy list" or a list of immediately actionable recommendations. Stocks on the list may or may not be in proper buy positions, and investors should exercise discretion and proper judgement in determining when and where stocks on the Focus List can be purchased. The following notes are intended to assist in this process. Please note that members can enlarge the Focus List image by clicking on the body of the email and then holding the Control Key while pressing the "+" key until it is large enough to read.
General Observations:
The
NASDAQ Composite
and
S&P 500
Indexes both posted new all-time highs on Friday after being up eight out of nine days in a row in 2018. The indexes remain extended, so could be vulnerable to a deeper pullback than that seen on Wednesday morning solely on that basis. It remains a matter of watching the action in individual stocks. Remember also that the "optics" have changed as a 1% pullback in the
Dow
would be the equivalent of 258 Dow points, which may look "scary" on a quote screen, but it is the percentages that one must remain focused on, not the point moves.
Meanwhile, much is made of the "Trump Rally" and the allegedly strong economy as drivers of this current market rally. However, one factor that strikes us as perhaps a bit overlooked as an important driver is the action of the U.S. Dollar. The US Dollar Index broke down to a new three-year low this past week. Note also the very steep decline in the dollar throughout 2017, which was also likely a strong driver for higher stock prices last year. Gold has also rallied strongly as the dollar has fallen, closing up five weeks in a row as it pushes closer towards resistance at the 1362 price level.
The
Market Direction Model (MDM)
remains on a buy signal.
Removed from the List this Week:
None.
Focus List Stocks Expected to Report Earnings this Week:
None.
Notable Action:
Alibaba (BABA)
has pulled down near its 10-dma on declining volume, which puts it in a lower-risk entry position.
Facebook (FB)
gapped down Friday on heavy selling volume and closed just below its 50-dma on news that it would be making changes to its news-feed. While the move may appear to be based on a triviality, the huge selling volume is concerning. A move below Friday's low would constitute a technical violation of the 50-dma. However, we would watch to see if the stock might undercut the prior lows just below the prior 174 price level or, alternatively, the 170 price area and potentially set-up an undercut & raly move at either of those price points.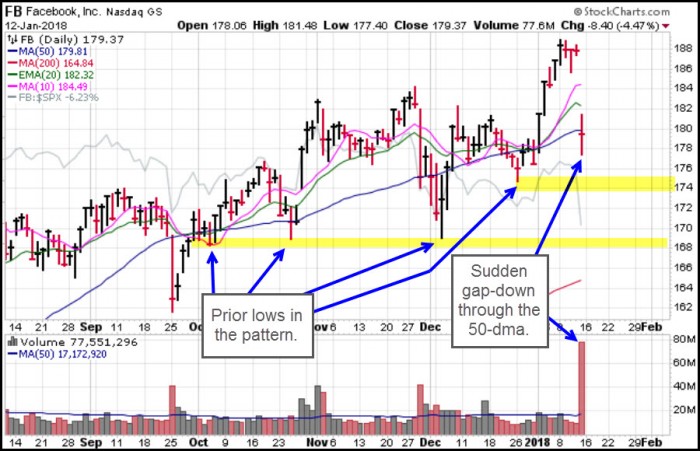 Electronic Arts (EA)
successfully tested its 10-dma on Friday and held support. closing up on the day on increased but below-average volume.
Nvidia (NVDA)
is within technical buying range of its buyable gap-up (BGU) and base breakout of this past Monday. The has come straight up off the lows of its pattern, which previously looked quite bearish before it gapped out of its stupor on January 2nd. For this reason, it may be more prudent to wait for any potentila pullback to the 10-dma, which is closer to the 215 price level.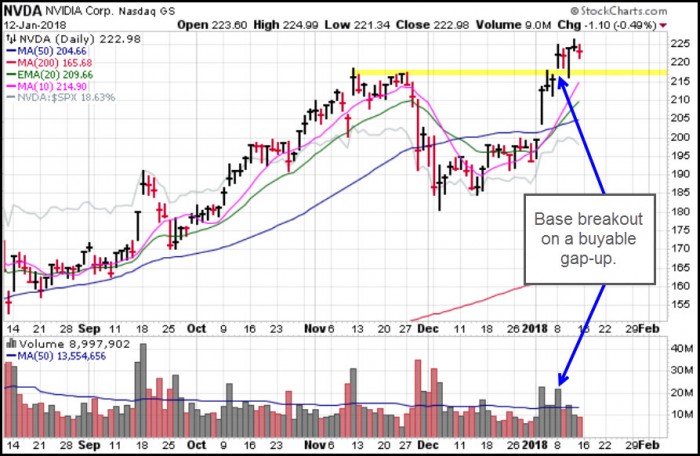 Take-Two Interactive (TTWO)
posted a pocket pivot volume signature on Friday but from a point slightly above the 10-dma. It has been buyable on pullbacks to the 10-dma, but should also be watched for any potential base breakout as it looks to be setting up here within a nine-week base.
Weibo (WB)
is forming a cup-with-handle formation with tight sideways movement over the past week. Watch this for a possible breakout in the coming days.